This is from the Richard Quinn Collection that is in the Crown Lynn: Pottery for the People Exhibition at the Gus Fisher Gallery.
The medium swan and it's the first swan that I've seen that has a gold beak.
The wings and head appear to have been waxed before glazing to resist the glaze, except for the tips of the feathers where pearl lustre has been applied onto the glaze.  Couldn't get close enough to see if the whole swan was lustred, but it is more than likely to be.  Very unusual and extremely beautiful.
Saw a large Female $700 and a Medium $400 swan today at the Central Flea Market in Balmoral Road.
The trader called them 'After Hours' swans as they were taken home by Crown Lynn workers who glazed and lustred them for a Pearl wedding anniversary present, and only 2 of each were made, according to the person he got them from. Neither swan has any stamps or numbers on their bases.
Te Toi Uku has a Medium Swan in this glazing technique in their Richard Quinn Collection and it has 2147 on the base.
I have seen this same glaze technique on something else, perhaps a vase or even a dolphin, but I can't locate it. A small pottery like Cera Ceramics perhaps.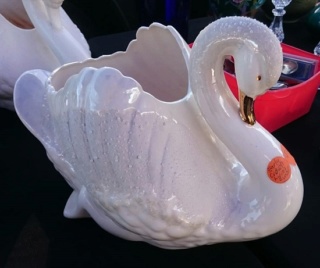 ---
Permissions in this forum:
You
cannot
reply to topics in this forum