There are no markings on the base.... ?
Last edited by Ev on Sun 9 Jul - 8:46; edited 1 time in total
I picked this lamp base up at Tikipunga market because it reminded me of the Orzel Basket Weave.
The base without electrics stands about 18cm high and it is 11cm across the bottom.
The bottom is open but covered with woven grass fabric.
The cord exits through a hole at the back, just above the bottom.
It has allover fine crazing.
The glaze colour matches the upper clear glaze on the Orzel mug, the only example I have with this colouring.
I put the sugar canister in the photo to compare with the irregularities where the basket weave breaks open.
It has the same depth of relief in the molding as the canister but the more open design makes it less apparent.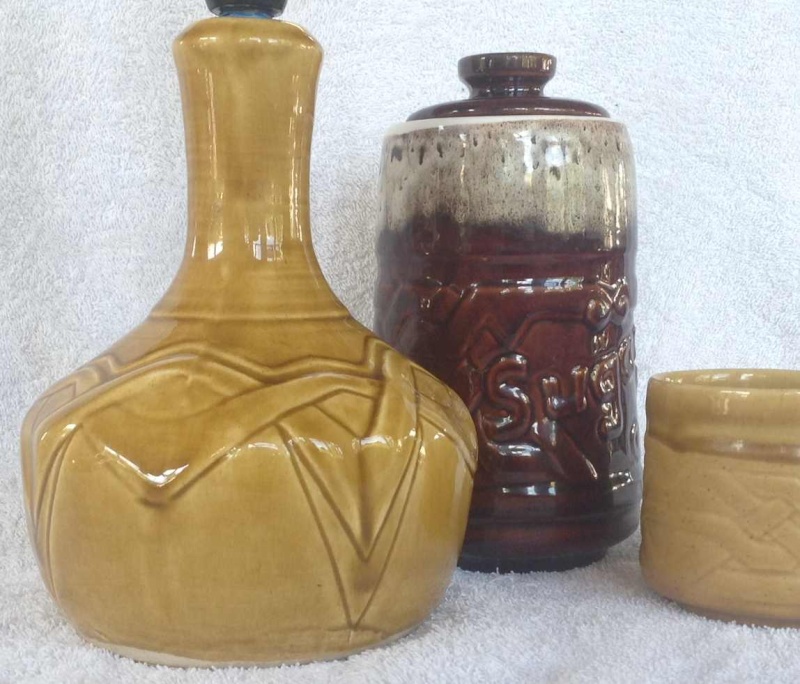 I don't really like this but thought I should find out about it.
Anyone have any ideas?
(BTW There is an oval sticky patch on the lampholder where a label has been removed.)
-----------------
update 15/2/14, another lamp!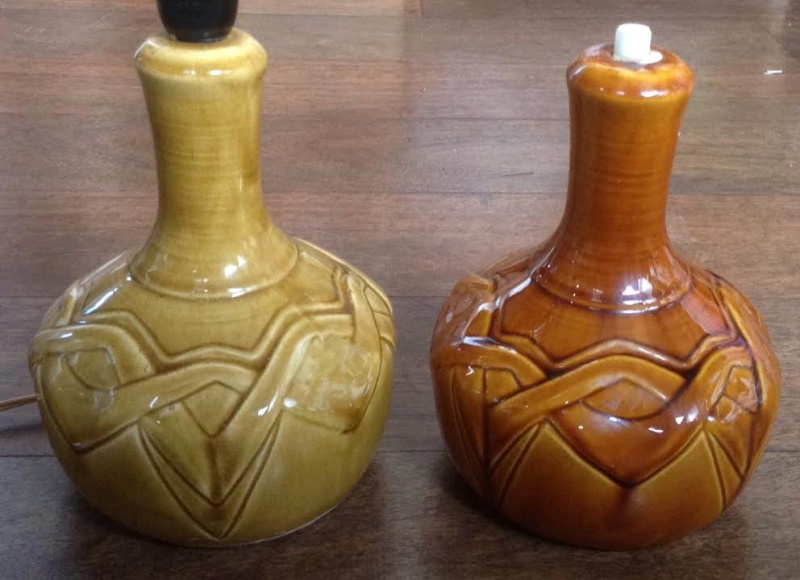 This one has lost its fitting and matting.
There are no marks either on the base or inside.
Last edited by Jeremy Ashford on Fri 27 Nov - 10:06; edited 5 times in total (Reason for editing : typo, housekeeping, update incl new photo)

Jeremy Ashford




Number of posts

: 3149


Location

: Whangarei, New Zealand


Registration date :

2010-09-11



Great thanks Jeremy and I've seen this before, but can't for the life of me think where! It may come to me in my sleep .... hopefully. Could it be Putaruru Ceramics? I will do some searching to see if that is likely.
Aha! I found this on Google and now can recall seeing this shape.
John wondered if it was Crown Lynn or Titian ....
and all this time later we still don't know!!
Ev,
I am pleased with myself. If you are still thinking "Crown Lynn or Titian" then,
despite my dislike of the glaze, I think I've done OK for a beginner (outside my comfort zone).
I've put the two photos side by side to compare the glazes. (They are obviously the same shape.)
John's certainly is a lot nicer, richer, warmer. And I don't think it's just the lighting.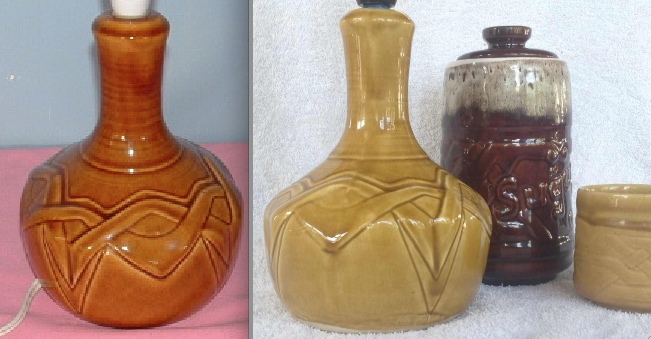 As someone who has played around with lamps and light-fittings for the last 20 years, I should be able to date them by their lampholders, which are identical except in colour. But I can't because I preferred to play with brass ones! Looking at the other two lampbases with fittings on the forum, I see that they too, both, have the same lampholder, and one base is a Titian ( http://www.newzealandpottery.net/t1777-titian-lady-lampbase ), and the other Crown Lynn ( http://www.newzealandpottery.net/t1303-the-fabulous-crown-lynn-three-faces-of-eve-lampbase-431r-from-newbie#3423 ).
From my placement of Orzel basket weave you know where I was leaning.
The molded patterns certainly share something. It suggests the Titian/Orzel stable.
We know that the Browns kept some Titian designs when they set up Orzel,
so the basket weave may have been a carry-over.
One or the other, I'm fine. Crown Lynn's OK too. My four dollars wasn't wasted.
(I spend a lot on some things so the cheap bits make me feel better about it.)
I'm going to have to do some more study on this.
Thanks for finding John's lamp topic and putting this where it belongs.
Last edited by Jeremy Ashford on Mon 18 Nov - 17:14; edited 2 times in total (Reason for editing : stuff, houdekeeping)

Jeremy Ashford




Number of posts

: 3149


Location

: Whangarei, New Zealand


Registration date :

2010-09-11



John has something like 30 plus years experience with commercial pottery, compared to my meagre few.  He is the one that came up with the Crown Lynn/Titian ideas at the time he sent it to me to load for him ..... I didn't have a clue.  Now, I'm prepared to say that it's neither of these companies.  I would like to find out who made it though. That is why darling lamp base is still languishing in the 'Is This Crown Lynn' category .....
Sure I can merge these topics ....


Jeremy Ashford




Number of posts

: 3149


Location

: Whangarei, New Zealand


Registration date :

2010-09-11



The jury is still out re whether these lamps are Orzel. Here is Cam and Bev Brown's pink baking dish for comparison of the style. This baking dish was photographed in their house.

Maryr




Number of posts

: 1707


Location

: Whangarei


Registration date :

2011-11-17



Re: http://www.trademe.co.nz/1364887860

Even after being advised by Andi, Val, and Kat that the this lamp was not what it was advertised as two hapless bidders slugged it out for the right to make an unearned donation of $353.65 to a wilfully ignorant trademe seller.

I paid $3 for my golden one, much the same for my orange one and and found two more for Brooke and Val for $8 and an exorbitant $15.

I did not particularly like my first purchase, as I said above, but felt a lot warmer towards the second. I should cherish them both now that their value has just increased one-hundred-fold, but, no disrespect to their maker, whoever that might be, I'd rather have one of Val's Beach lamps any day.

Btw Andi, do you have one of these? The yellow one is free to you if you want it, blacklisted Lamp Queen!

Jeremy Ashford




Number of posts

: 3149


Location

: Whangarei, New Zealand


Registration date :

2010-09-11




---
Permissions in this forum:
You
cannot
reply to topics in this forum