Underglaze colour [I used slip with turquoise stain]
Liquid soap [not detergent]
A straw.
Add a couple of drops of soap to the underglaze add water to a milk consistancy.
With the straw, blow bubbles into the underglaze colour and let them spill over onto the bisqued piece. Clear glaze and fire.
Results:
Some colours worked better than others, eg yellow didn't show up that well, where as lilac and pale green worked a treat. It seemed that the thinner the mixture the more definite the bubbles showed up, almost like wire netting

This would look different again if a base colour was first applied and a contrasting colour was used for the bubbles.
Lots of possiblities and heaps of fun!!!!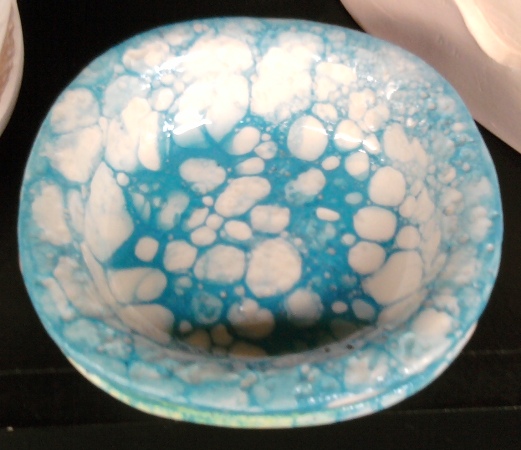 ---
Permissions in this forum:
You
cannot
reply to topics in this forum