I found this yesterday. Comparing it to Carousel, they are the same shape/size, weight. Has anyone seen this pattern before? I couldn't see it on the gallery.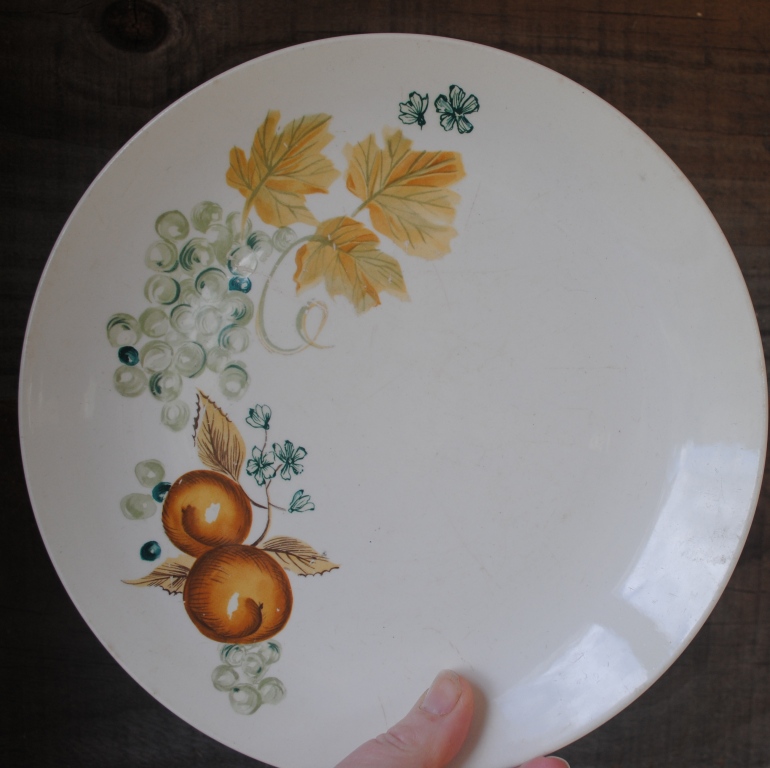 JanPots




Number of posts

: 1759


Registration date :

2012-05-10



No I haven't seen that pattern before and I'm certain that it's crown Lynn
This most unusual handpainted side
plate
was only 50c as it had no backstamp.
Ha!  It didn't fool me, as it stood out with that brick background

This may not have a pattern name, as it could have been a decorator playing around.
Time will tell I guess.
wow.. this bears a simalar pattern to that random plate I found , mine had no backstamp either... Saturday girls having a practice?
http://www.newzealandpottery.net/t4056-c-l-no-name-lunch-plate-no-backstamp

JanPots




Number of posts

: 1759


Registration date :

2012-05-10



Gosh it does look like the same leaves and grapes even!
Perhaps done by the same hand?

Hi Ev...
There was a TM listing, now expired but look on the second photo, this plate is there. When this person re-lists I will ask the question again as to whether there is a name on the back of it. The plate style looks like a "older style" Hard to tell though from the angle of the shot. I wonder if this Trader is part of the forum?
http://www.trademe.co.nz/Browse/Listing.aspx?id=675559961

JanPots




Number of posts

: 1759


Registration date :

2012-05-10



Not sure if they are a member, but there is no member with that name.
I'm thinking this is an on-glaze pattern that has faded as I found these 2 plates together today, both have no backstamp & are on brickette background.
The side
plate
is in the best condition with just some surface scratches to the transfer.
It has a pattern of Grape leaves, grapes & Olives.
The larger 25cmd
plate
has Grape leaves grapes Pears? & random flowers.
Makes me wonder if any of our mystery patterns are just slightly different patterned sides that match bigger dinner plates...or viceversa
Last edited by Kat & Co. on Fri 8 Sep - 7:51; edited 1 time in total

Kat & Co.




Number of posts

: 2257


Location

: Whangarei


Registration date :

2012-12-03



Nice find...  

The larger
plate
is like the one I found but no grey background on mine... I have merged the 2 threads so they are all together.
Janice

JanPots




Number of posts

: 1759


Registration date :

2012-05-10



I noticed that Thelma found a plate with this pattern on the brick background and her comments can be found on the photo of this in the No Names Gallery.

Today I found this pattern of grapes and grape leaves etc on a plain background.
It is a decal and I could tell this by a scratch on one of the olives. No backstamp like the other ones above. There must be a pattern name out there somewhere for this.
Photos of my finds .... and the quest continues as there are no stamps on these !!!!!!
They are not handpainted as they match perfectly, so they are a transfer.

---
Permissions in this forum:
You
cannot
reply to topics in this forum