We are trying to figure out what the main difference is between a 3050 and 3051 coffee mug
Mumof1: The cup in the gallery 1314 is cross-referenced with 3050
http://www.newzealandpottery.net/gallery/Crown-Lynn-Shapes-with-Four-Digits/Castware-Earthenware-0900-1599/1314-pic_4391.htm
page 4 of this thread....
http://www.newzealandpottery.net/t2158-show-us-your-mugs-crown-lynn-of-course?highlight=mugs
,  
shows that some of these mugs have a different docking base.. I wonder if you can look at your 1314 and see what the base looks like .. maybe that is the difference between the 2 cups. I have both types and one weighs heavier than the other as well.. ahh all adds to the mystery !  


JanPots




Number of posts

: 1540


Registration date :

2012-05-10



Yesterday I took photos of my 3050's and 3051 with this question in mind.  
I have 12 of these coffee mugs and only two have the small docking ring on the base.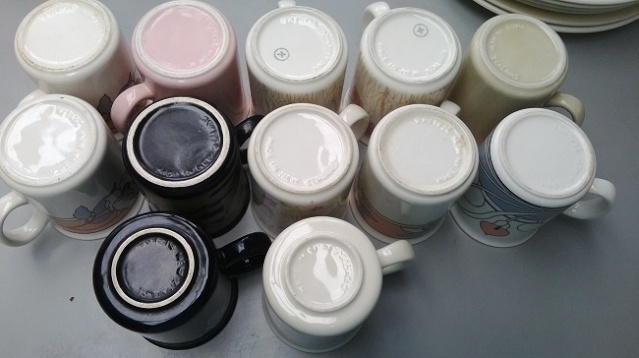 I know that one mug I have is the 3051 shape which is from an old catalogue and it has a wide base ring and its the leadlight yacht mug.  This photo shows the 3051 leadlight mug with another for height comparison and there is barely a mm difference!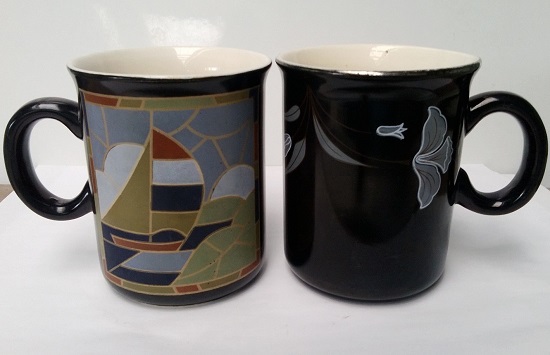 These are the two with the small base ring and wouldn't they require a different saucer to the other? I have saucers for the Café 3050 mugs and will check out the others on them.
It is interesting to note what the records say for these mugs ...
3050 - Like 1314 - First made 18.8.80
3051 - Striated Coffee Mug - First made 18.8.80
I checked out Dictionary.com to see what striated means ....
marked with striae; furrowed; striped; streaked.
Ok so now I'm more confused than ever, as there are no stripes, streaks or furrows on my 3051 !!

Kat & Co.




Number of posts

: 2143


Location

: Whangarei


Registration date :

2012-12-03



Kat & Co. wrote:Would it be the 8 sided mug it is similar? 

ps.. it has a 5cmd base rim.
That is the 3077 mug Kat, the yachting mug above is a 3051 according to a 1988 Price List.
The 1314 has the wide docking base as does the one I like to think of as the stoneware one.

Jeremy Ashford




Number of posts

: 3030


Location

: Whangarei, New Zealand


Registration date :

2010-09-11



Finally spied the Modellers drawing for the 3051 yesterday !!! 

3051 Small Footed Mug - otherwise a 3050 First made 21.8.84 91mmh x 76mmw

Thank goodness that is now sorted and the description is nothing like the one in the hand written records !
I will change the description in the Gallery.
---
Permissions in this forum:
You
cannot
reply to topics in this forum