These were made to fund his railway project
DCR stands for Driving Creek Railway
Here is his mark although one 'spoke' is missing due to placing it on the curve of the plate...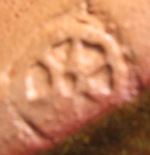 A link to an essay included in the book ...Barry Brickell – Man of Steam and Clay written by Pauline Dawson.

http://books.scoop.co.nz/2009/12/19/barry-brickell-man-of-steam-and-clay/

I wonder why only 45 copies were printed?
The book is the catalogue for an exhibition at the Brett McDowell Gallery 12th December 2009 to 18th January 2010, is handmade by Kilmog Press and retails for $180.
Last edited by TonyK on Mon 21 Dec - 1:47; edited 1 time in total (Reason for editing : adding details)
An article about him: http://www.nzhouseandgarden.co.nz/Articles/Earthandfire.asp

and an interview with him: http://www.jamradio.co.nz/index.php?tag=13

It's the sixth link down: CULTURAL ICONS: Hamish Keith interviews Barry Brickell / Added 04 Aug 09
What a wonderful surprise to find that Manos had this huge crock pot made by Barry Brickell !!
It has his wheel stamp potters mark and also 1952 is written on the base.
Thank you Manos!
A great shot of Barry's mark from 1976 ......
please notice that there are 6 spokes on his wheel stamp -
https://www.facebook.com/photo.php?fbid=563684660344668&set=a.563684557011345.1073741854.156520184394453&type=1&theater

---
Permissions in this forum:
You
cannot
reply to topics in this forum