While I have Val's 1649 here I have taken the opportunity to photograph it with my own Chateau Range wares.
The Chateau Range was produced at the Titian factory but the green and blue glaze, Aquamarine (Deco No 172), looks like a high-fire version of the Lucow glaze (Deco No 147) used at Luke Adams.
from left to right:
1619 Small Coffee or Water Pot 11oz - lid 1617 - 11.11.67
1644 one lugged butter dish 12.9.69
1647 - 24oz Casserole - lid 1650 12.9.69
1645 individual casserole 12oz lid 1646 12.9.69
1649 stewpot 65oz Lid 1650 12.9.69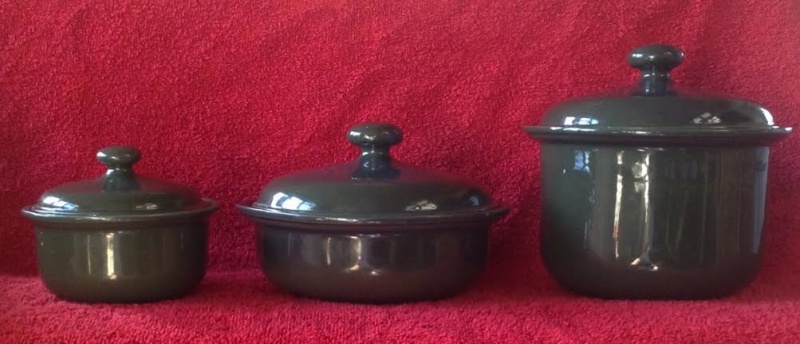 just the pots
Some of these shapes were used in the Geyser Room at Expo 70 in Osaka Japan.
http://www.newzealandpottery.net/t4726-photographs-from-expo-70-osaka
5/8/14 - New Additions to my collection: 1656 and 715-01
I didn't present these as a reply as both shapes are already on the forum in this glaze:
http://www.newzealandpottery.net/t1811-need-help-with-identification-715-1645-1656#5225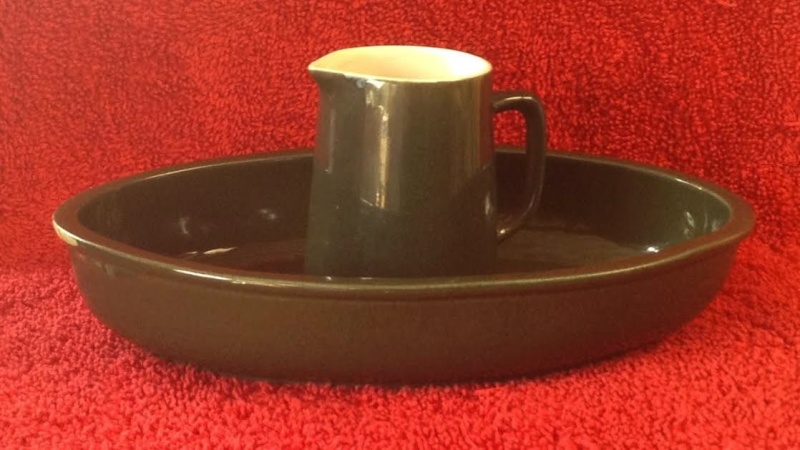 Last edited by Jeremy Ashford on Tue 31 Mar - 15:57; edited 1 time in total

Jeremy Ashford




Number of posts

: 3149


Location

: Whangarei, New Zealand


Registration date :

2010-09-11



In "Crown Lynn A New Zealand Icon" Val Monk wrote that the Chateau Range, made at the Titian factory, was created for Expo70 Osaka in its "green" glaze and was later sold commercially in "brown" glaze from the Crown Lynn shop in 246, on Auckland's Queen Street. It was "as close to a hand-potted look as the factory could achieve." (pages 109 and 119)
It is not the shape of the pots in the Chateau Range (some of which were later reproduced, for the extended Cook & Serve range, in only slightly modified form as jiggered rather than cast ware) but the glazes, which reproduced the effect of the Luke Adams glazes Basalt 124 ("brown") and Lucow 147 ("green", Aquamarine 172), that effected the resemblance to handmade pottery.
It is also interesting to note Mark Cleverley coffee sets and the 1029 "Handle Coffee Mug", both produced at the Adams factory, on display in a photograph of the CL shop. These would have been sold alongside the Chateau Range. The Adams product, with its banded surface, went even further in producing a "hand-potted" look.
Is there any chance of a brown Chateau Range deco number for the 1645s that I posted in the 1645 topic?
http://www.newzealandpottery.net/t5976-1645-and-5620-yet-another-missing-link
Here's a photo I added to that topic showing the comparison of Luke Adams (Basalt) and the Chateau Range glazes.
Luke Adams Basalt      Titian glaze        Titian glaze         Luke Adams Basalt
I've really enjoyed rereading Val's first book while doing this.
The passage of time has given me new eyes and a new understanding.
--------
8/4/15
I showed these to Ev today: "Basalt."
So, clearly there is more work required here, but as the pieces are not turning up maybe some paper work is needed.
---------
3/10/17 update
This is it now, with the addition of coffee can and sugar bowl. I think I also have one other size of casserole.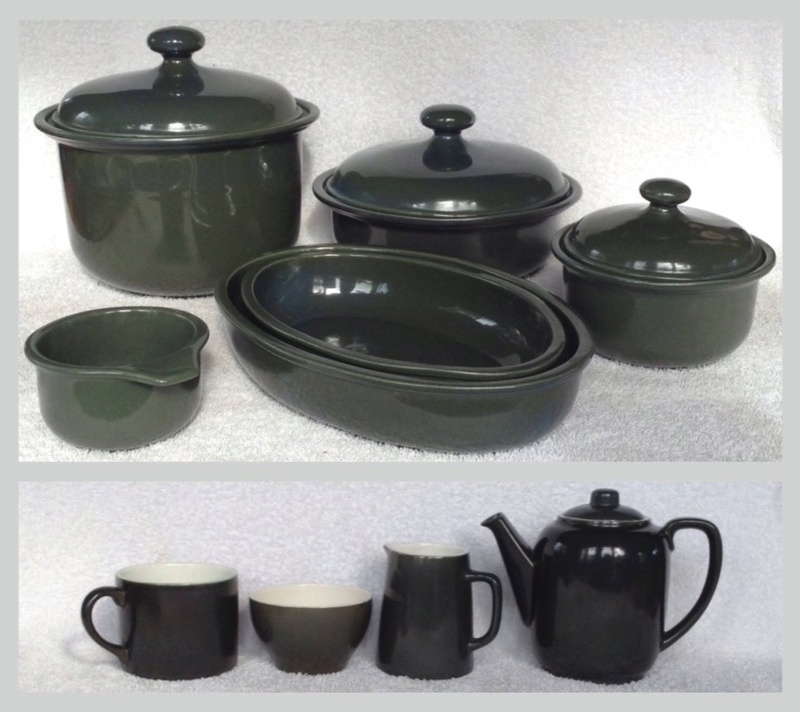 Last edited by Jeremy Ashford on Tue 3 Oct - 8:50; edited 4 times in total (Reason for editing : To add references, photo)

Jeremy Ashford




Number of posts

: 3149


Location

: Whangarei, New Zealand


Registration date :

2010-09-11




---
Permissions in this forum:
You
cannot
reply to topics in this forum