I found this mug in my M-I-L's pantry. It was left behind by a tenant who who worked for NZR catering in Auckland, a few decades ago.
At first I thought it was Temuka, but a site linked elsewhere in the forum said these were early mugs, from their examples that would be pre-WW2, but frankly I'm sceptical.
(I'll add the link as an edit later.)
Is anyone familiar with the simple "Vitrified" backstamp?
Same size as smaller Crown Lynn 700 (85mm OD.). The handle is similar to an early E/W C/L cup in the Auckland Museum collection, and to a C/L vitrified hotel coffee cup (3610). The hole is really small.
I wonder which station was #10. Guessing Auckland atm.
This one is an op shop buy.
Handle-less cuo?
It appears to be vitrified, but the glaze has the texture of hand-brushing.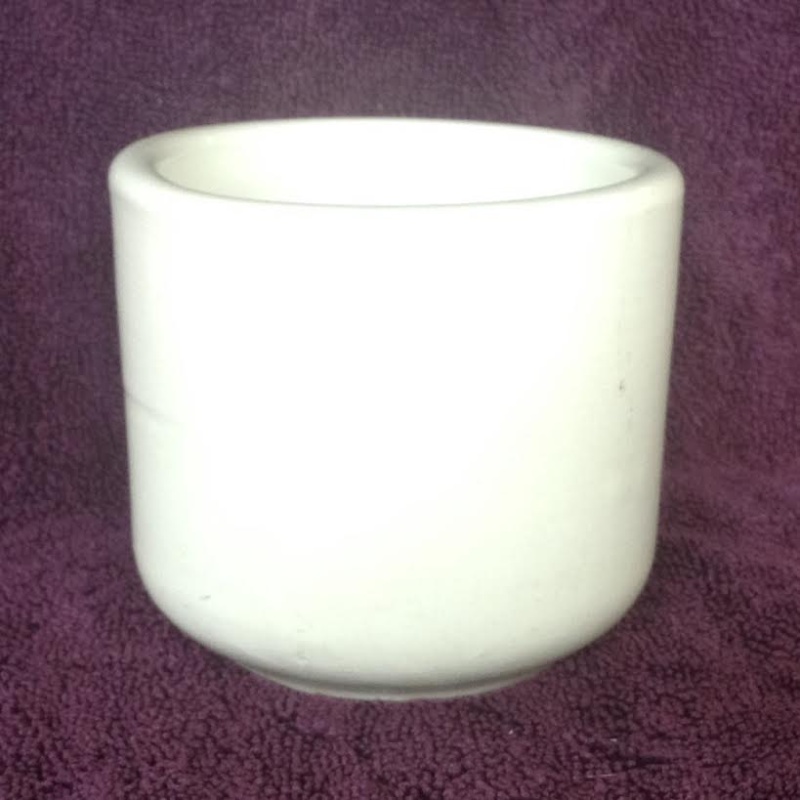 This is about the size of the really big E/W cups.
Way bigger than the two insulator cups based on the C/L 700s.
Last edited by Jeremy Ashford on Sat 21 Mar - 9:31; edited 6 times in total (Reason for editing : correct measurement)

Jeremy Ashford




Number of posts

: 3149


Location

: Whangarei, New Zealand


Registration date :

2010-09-11



Crikey those Refreshment Room cups are extremely collectable Jeremy!!
Railway enthusiasts bid frantically on them!

This tells me that No 10 is from Taumarunui -

https://www.flickr.com/photos/let_them_eat_cupcakes/6203268576/in/photostream/

Found the whole list here for future reference -

http://www.westportrailmuseum.org.nz/?page_id=69


Thanks for those links, Ev.

OK, I am no longer sceptical about its age!
It's just in such amazing condition.

These ones will be the model for the Temuka and Crown Lynn NZR vits then I guess.

A great addition to my vitrified mug collection. I just need a Temuka now.

So how much do you think? More than Crown Lynn ones?

Jeremy Ashford




Number of posts

: 3149


Location

: Whangarei, New Zealand


Registration date :

2010-09-11



I hummed and haaaed over a Temuka mug for $25 and ended up getting a Crown Lynn one. I really should have got both!
Refreshment Rooms cups were made by many different manufacturers, so with the only mark being a stamp saying "VITRIFIED", it has been a chore trying to work out who might have made this cup.
It is that stamp however that brings me right back home, as I believe it is an Ambrico stamp. Before explaining that I will point out that the various English manufacturers operating from established potteries had very elaborate and detailed base marks. The English Refreshment Rooms cups I have seen on internet searches and on trademe since acquiring this cup are all well marked.
Below are photographs of a Crown Lynn Vitrified 700 cup and my Refreshment Rooms cup. There are many reasons to think they are different manufacturers (shape, handle, glaze) but just one to link them as the same: the stamp.
Left: Crown Lynn Vitrified 700 monogrammed "CCC"
Right: Refreshment Rooms cup
In the bottom pair of pictures can be seen the stamps on the bases of the two cups. What they have in common is the word "VITRIFIED". Above the cups you will see a piece of paper with pen marks: this is my ruler. The marks indicate positions of the bottoms of each vertical line in the stamps. They match. The stamps are the same font, size and spacing. The only difference is the upward extension of the letter "V": close examination shows these extensions have been added by hand.
They are the same stamp.
I have other Ambrico vitrified, my Paris cup, saucer and porridge bowl. I'd like to say that the glaze matches but to do that I'd have to lie. It really is hard to tell if the glaze on those items is white or clear; the glaze on the Refreshment Rooms cup appears to me to be white, but looks clear where it pools around the handle. Ambrico Paris vitrified here: http://www.newzealandpottery.net/t5334-vitrified-paris-ware-and-early-white-earthenware-paris#20031
A lot has been written in various forums about the early Ambrico NZR cups and there are many different examples to be seen, lots of different attempts to get it right, but none like this. All the earthenware examples are very early and I don't think any vitrified railway cups have surfaced from before Ambrico became Crown Lynn.
I need to assess what is known, work out timelines, and cross-reference with other Ambrico vitrified wares which is a big job.
So, for now, based solely on the stamp I'd like to propose that this "Refreshment Rooms 10" cup is Ambrico.
---------
Later ...
Looking at handles on various Railway cups the closest I get is the one in the righthand photo of a CL earthenware cup. The handle is nothing like the Temuka examples I have seen so far.
[cup, clear glaze over oatmeal body, Crown Lynn, 1940s, Auckland, New Zealand. Collection of Auckland Museum K6293]
I see we have one on the forum too:
http://www.newzealandpottery.net/t3458-made-in-nz-backstamp#11250
And not that it means anything, my "10" cup is currently sitting very happily on a CL Railways saucer. The transfers don't match but their colour does which makes them look good together. I just cleaned the saucer with Chemico; I'll see what I can do for the cup.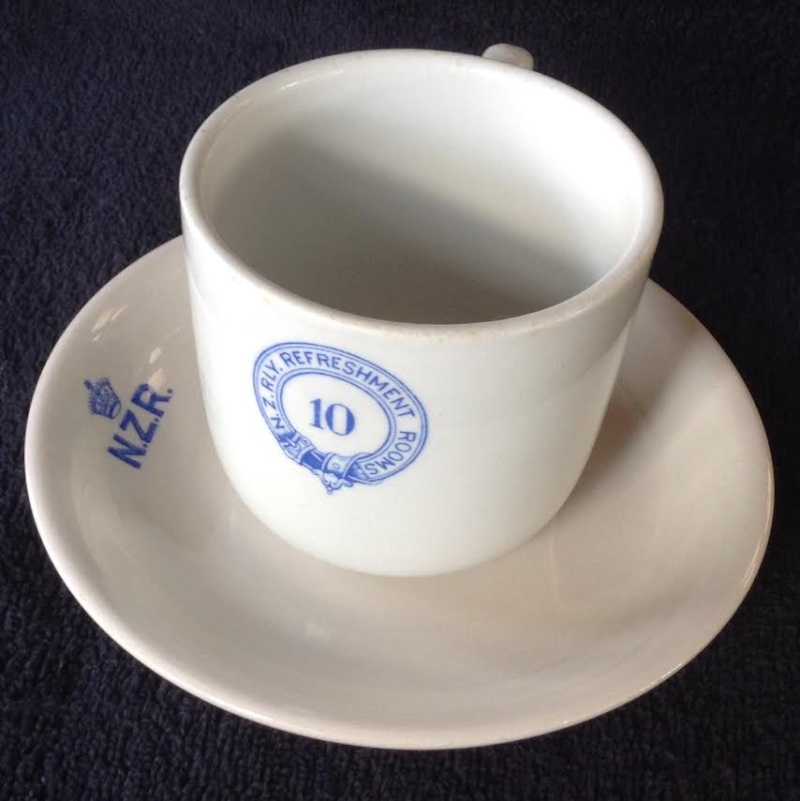 I'll work on timeline now ...
(Work in progress)
From the Westport Rail Museum site I read that Railways effectively nationalised refreshment rooms in 1917, (presumably some time between then and 1936) North Island stations were numbered, and from December 1936 all (numbered) crockery had to be returned ASAP to its home station. Wartime limitations to imports required sourcing cups locally and Ambrico made their first "stoneware" (earthenware?) NZR cups in 1940. http://www.westportrailmuseum.org.nz/?page_id=69
Whether the numbering of stations commenced in 1936 (or earlier) I do not know. Nor whether importation of English cups recommenced after the war. If the answer to question 1 is YES and 2 is NO then the period of importation of numbered refreshment room cups is very small (at only 3-4 years). Change either parameter and the number has potential to increase dramatically.
Ambrico made domestic wares in its specials department but also had a porcelain department for heater elements, electrical insulators etc. The first noted vitrified tableware is the 1943 US Armed Services bowls etc of 1943. I have yet to date my vitrified Paris ware but as the body is so much whiter than the services bowls and some of it bears 43-50 stamps I am guessing in that period. The earliest backstamp I've seen on a Crown Lynn 700 (railways shape) vitrified cup is the 48-55. I have yet to locate information on how long the use of station numbers on tableware continued or even whether Crown Lynn produced (station-) numbered cups. Those for sale on TM all appear to be English.
With the information I have so far, based on what I have read, and what I have seen passing through the auctions, assuming my mug is Ambrico, that makes it very very rare.
Later again ...
Modelling comparison. The shaping of the footring is comparable with the big earthenware "700" shape that appears in Gail Henry's book as "the first piece of non-industrial ceramic made at AMBRICO". (Gail Henry, New Zealand Pottery, 1999, page 187.) Val has one of these but I have used photos I took of Jim's one that appear in my vitrified 700 topic: http://www.newzealandpottery.net/t4828-vitrified-carlton-700-3638-and-insulator-cups#17676

It's the one on the right. The Refreshment Room cup is the size of the middle one.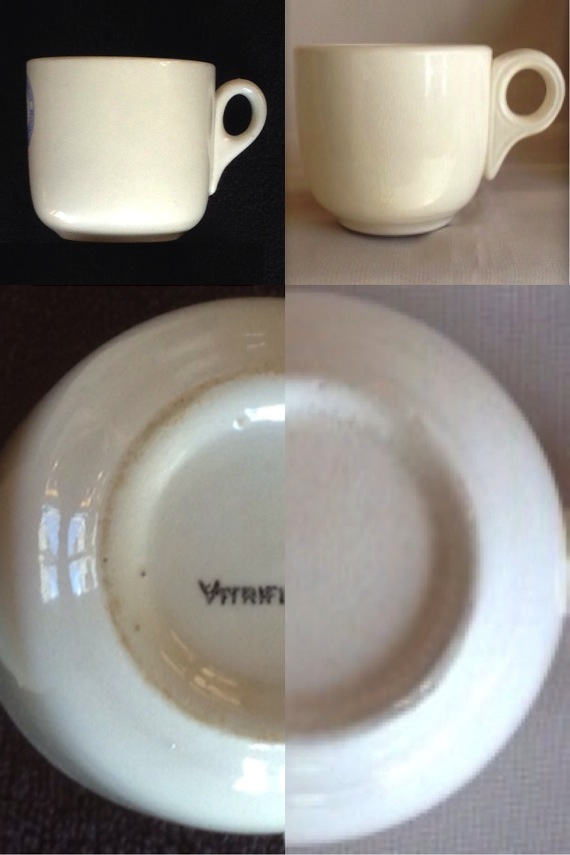 Val Monk (Crown Lynn A New Zealand Icon, page 18) wrote: "Within a year or two [of the first earthenware railway cups] the factory was making jiggered cups of vitrified porcelain, complete with handles" and then describes the block handles. My vitrified Refreshment Room 10 cup fits Val's description. I do now believe it IS Ambrico, and I have yet to see one that would predate it.

Jeremy Ashford




Number of posts

: 3149


Location

: Whangarei, New Zealand


Registration date :

2010-09-11



There is a link on this thread that showed all of the Railway cups.... it doesn't work now, but maybe you can work out who put it on Jeremy ...
http://www.newzealandpottery.net/t2407-new-zealand-railways?highlight=railways
Thanks, Ev.

I've searched google and google images and I think I've followed all the leads I can from there. I think I tricked something at an earlier date to get another page from one of the museum sites which had quite a few foreign cups but could not locate it yesterday.

The link you put up has simply disappeared as the domain name is no longer in use.

I may find something if I trawl through the 5000 pictures on the iPad.

I will ask one of our antique club guys who also drives trains.

I need to get as much info as I can. I really like this cup and really want it to be Ambrico but that is not enough!

Works again ...
Try:
http://pspt.wellington.net.nz/exhibitrlycroc.htm
and:
http://pspt.wellington.net.nz/exhibitrlycroc2.htm
Last edited by Jeremy Ashford on Wed 17 Sep - 3:35; edited 1 time in total

Jeremy Ashford




Number of posts

: 3149


Location

: Whangarei, New Zealand


Registration date :

2010-09-11



Here's another refreshment room cup.. Whangamomona, a tiny town on the Forgotten Highway between Stratford and Taumaranui. It is famous for declaring itself independent and having annual Independence Day celebrations which included such events as the 'running of the sheep'.
Anyway. I digress. Here is the cup. A very odd shape, not like anything else I have seen with that stepped base. H 7.5 cm, and the print says 1933-56.  The Whangamomona railway closed a few years ago when it was deemed uneconomic to repair a large slip. I think this mug was made some time before the declaration of independence.

Maryr




Number of posts

: 1711


Location

: Whangarei


Registration date :

2011-11-17



My broken cups arrived.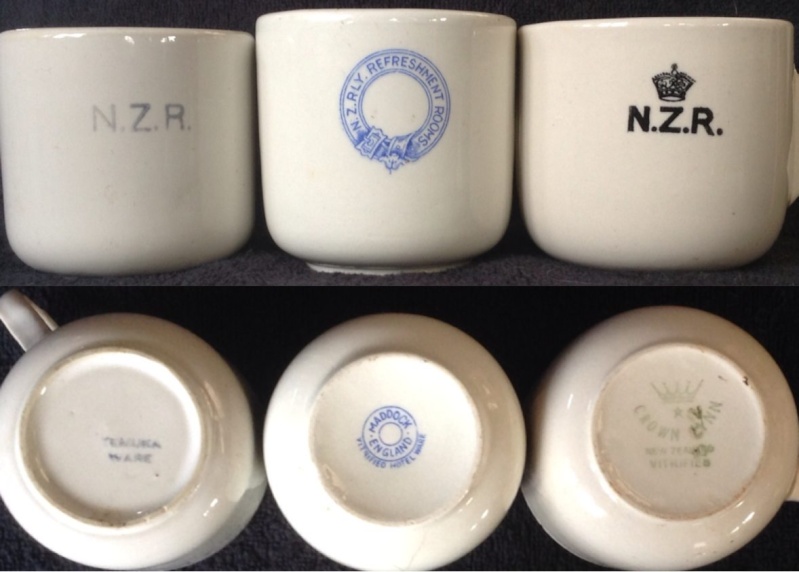 Temuka Ware, Maddock, CL crown and star
Number 10 is definitely not a Maddock, who appear to have been the major English manufacturer of these.
Pity Maddock has no handle to compare!
---------
3/10/14
Just spotted a refreshment room 14 cup on tm:
http://www.trademe.co.nz/pottery-glass/porcelain-pottery/other-nz-manufacturers/auction-786009564.htm
It's a Grindley. Same handle and stamp as mine, but mine does not have "Grindley" impressed like this one.
C'est la vie.

Jeremy Ashford




Number of posts

: 3149


Location

: Whangarei, New Zealand


Registration date :

2010-09-11



NRZ Refreshment Rooms saucer
I bought this when I was still thinking my refreshment room cup may be Crown Lynn (I beilieve it's Grindley) but do not regret the purchase as Crown Lynn refreshment rooms ware is very rare. I am presuming at this stage that it is earthenware as the backstamp does not have "vitrified" on it.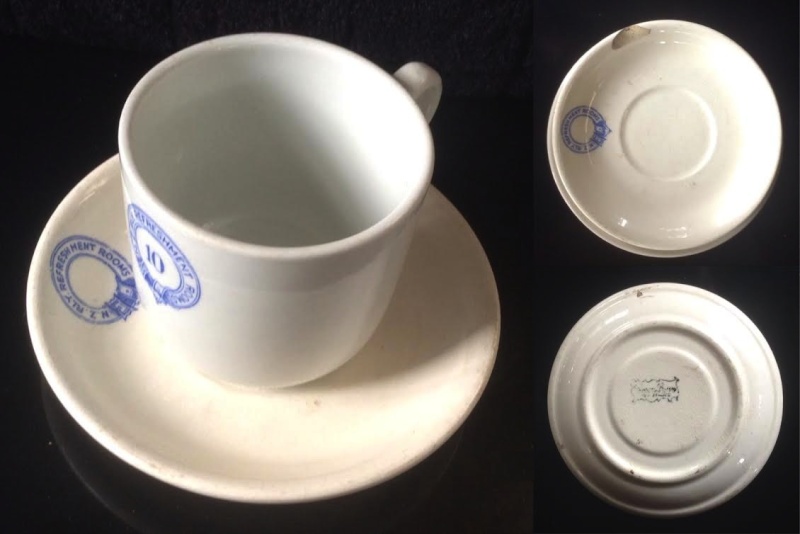 48-55 backstamp, 150mm OD, 62 ID well, fine crazing all over, chip
This is smaller than my 1971 NZR saucer, which differs from my usual finding that a vitrified piece is smaller than the corresponding earthenware, and has a larger well  (156mm, 55 well). I should also note that while the profile is pretty much the same as the vit saucer it also has a wider diameter foot ring (100 OD vs 92).
Photo top right shows "Refreshment Rooms" saucer sitting atop "NZR" one.
I have no idea of a shape number at this stage and it may turn out that there is none.
I will keep this with my items to peroxide, then shift to my items for chip repair.
---------
Ev has seen this saucer and says it IS vitrified. Sorted.

Jeremy Ashford




Number of posts

: 3149


Location

: Whangarei, New Zealand


Registration date :

2010-09-11




---
Permissions in this forum:
You
cannot
reply to topics in this forum