These test plates were waiting for me at the Salvation Army shop in Henderson... they are Forma shape, unmarked on the back.  Crown Lynn bought lots of glazes from Blythe Colour Works in Stoke-on-Trent, and they had several Prouty kilns which fired their glazed ware,  so I am confident these are actually from the CL factory.  An exciting find. I think I will find a place on the wall to display them. 26.5 cm across.  Ev or other potters, you might be able to add some thoughts here, I have very little idea about glazes.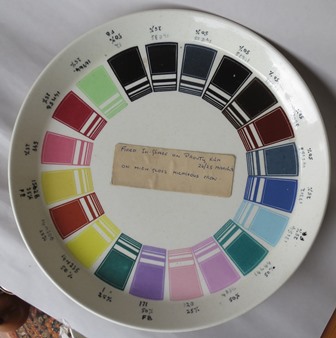 This is a close-up of the label. The date squeezed in at the end is 78 ie 1978.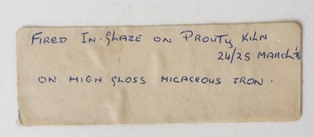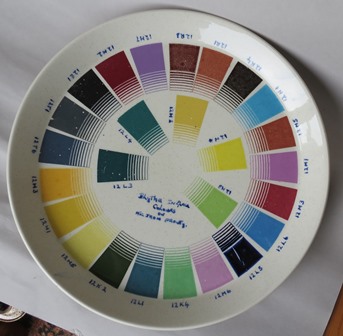 Last edited by Maryr on Tue 3 Jun - 14:35; edited 1 time in total (Reason for editing : add info)

Maryr




Number of posts

: 1816


Location

: Whangarei


Registration date :

2011-11-17



Awesum find!!! 


Kat & Co.




Number of posts

: 2272


Location

: Whangarei


Registration date :

2012-12-03



Five of these test plates were listed on Trade Me last week and four sold for between $42 and $64 which I find ironic as Val found these 2 in the same week ....?
Val I really think these are coloured stains rather than glazes and would be used under a clear glaze. For example the Colour Glaze colours. Another example is the Fleurette hand-painted on colour. Endless examples really!!
Thanks for that Ev. Um... should I mention that mine were $1 each. I can't imagine selling them tho.

Maryr




Number of posts

: 1816


Location

: Whangarei


Registration date :

2011-11-17



Would suggest these are from the time CL was developing its own in house screen printing department across the road from the factory.

They needed inglaze colours so as to be dishwasher safe. Although the transfer was applied to a glazed plate it was fired again at the higher prouty kiln temperature which enabled the pigments to fuse with the slightly molten glaze and sink in. This is as opposed to an onglaze transfer which was also applied to a glazed plate but fired at a lower temp in the electric shuffle kilns and never really sank into the glaze.

You can often tell early onglaze transfers when you feel the slightly raised edge of the transfer as you run your finger over the design. These would last OK given most people only used washing up water hot enough to be able to put their hands in. Dishwashers however needed to use much higher temperatures and very caustic solutions to remove food from plates as there was no scraping rubbing as when washing by hand with a dish cloth. This would actually fade or even remove some on the older patterns. Particularly if it had Gold trim.

It was at this time that the factory, reluctantly, started to include the term "Dishwasher Safe" on the backstamp when applicable.

Blythe Colour Works were a supplier of choice for a number of reasons but mainly for consistency. It was critical that colour produced to-day matched one made yesterday, last week, last year and to-morrow. This often limited the design choices and was so different to studio potteries who often emphasized the differences.

Dale Ritter




Number of posts

: 34


Registration date :

2015-07-06



Dale thank you again for your interesting and valuable info.

Maryr




Number of posts

: 1816


Location

: Whangarei


Registration date :

2011-11-17




---
Permissions in this forum:
You
cannot
reply to topics in this forum