I've been trying to find out which shapes the Fleurette d750 is made in without much luck, as all of the Trademe d750 listings have disappeared.
The Portage is confusing me as they show the 3061 cup in Fleurette as shape 3081 and as I don't know what shape 3081 looks like I can't argue, so will check it out soon.
I have found that this pattern was exclusive to D.I.C. and Milne and Choyce at one time and I've just found a record from 1970ish for 3019 Fleurette d373 cups for D.I.C.
All of the listings on the Portage site show from 1959 to 1989, even shapes that have four digits that wouldn't have been made until after 1964

They also show the 4046 plate in Fleurette, but that doesn't have the 3061 or the 3056 cup, it has the 3066 cups. Arghhhhh
I have two Fleurette cups one is a 3019 and the other is the 3056 shape and I am wondering if there are more pattern numbers for Fleurette to go with the different shaped ware?
Check out the colour variations hahaaa
I know it's tableware shapes you're looking for, Ev, particularly cups and saucers but I thought this might be a good spot to air this auction.
I haven't checked the shape but I think we're looking at some Cook & Serve.
Fleurette oven dish on tm:
http://www.trademe.co.nz/Pottery-glass/Porcelain-pottery/Crown-Lynn/Other/auction-872593500.htm
Back to topic, I always look at Fleurette when I see it and I can't recall other than what you have shown so far, but then again, as soon as I see it is not coupe I stop taking notice. I just checked the cup shapes gallery and cannot see any shapes that ring a bell. Unlike transfer patterns that can be stuck on anything Fleurette is handpainted so what we see, post-Brereton-ware, should all be part of dinner sets or at least teasets.
I do of course have the Fleurette tumblers and Cook & Serve coffee cans, but they are all Brereton Ware.
I was just in the process of copying one of my Fleurette cups to sit beside the competition pic for Reflections when I spotted this new topic which I guess you've started to follow up the idea of Fleurette being the longest enduring pattern. I know you are looking for later shapes and the newer pattern number, but I still wonder about the earliest.
Anyway, I know that the illustration of Reflections is on a stylised 781/805 but the handle join looks more like the typical 1960s tulip than my earliest one which has a whole lot more handle joining the cup. If the drawing is a fair representation of a 1959 tulip then my one with Fleurette must be 1959 or earlier.
I'm talking about the one on the left here: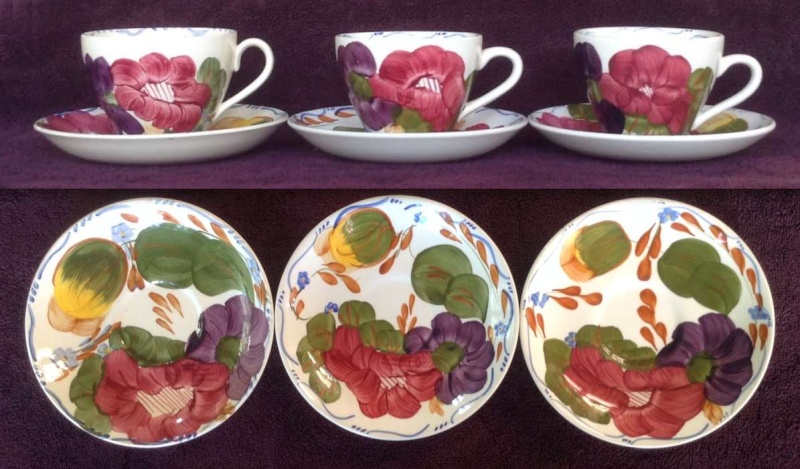 And here's the Reflections pic:
I haven't got round to checking yet where it was I saw 1959 for Fleurette.

Jeremy Ashford




Number of posts

: 3010


Location

: Whangarei, New Zealand


Registration date :

2010-09-11



How wonderful to finish work early, so I chose to sweep around the opshops near where I work before they close for the holidays and I found a Fleurette d750 saucer and it is the rimmed shape.  Even though it had an odd crack on the underside I had to get it and part with $1.  Photo to come when I get some time.
---
Permissions in this forum:
You
cannot
reply to topics in this forum