Now I know what I am looking for....  These lamp bases are the first thing that Peter and Eva and Sharon Beach made after Peter left his job at Crown Lynn.  The order was for 1500, so there are a few around!  
I have two colours and two shapes.  Both are about 15 cm tall.  The shades and wires were added after they left the Beach workshop.   Sharon Beach told us that these shapes were designed by Daniel Steenstra then slipcast.  Two lamps I bought with the shades, but there is of course no guarantee that they are the originals.  The blue/green glaze reminded me of Clay Craft but i was delighted to discover that they were very early Beach Artware.  There are no marks that I can see on any of these lamps.  The number on a sticker on the base is my ID.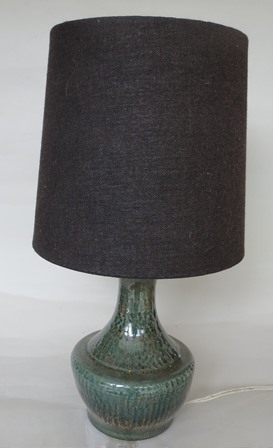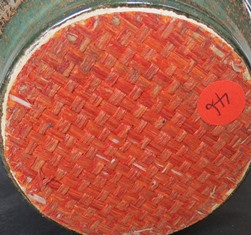 These two burnt orange lamps are the same glaze.. just looks slightly different in the light.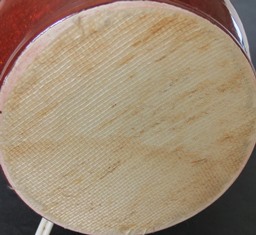 Maryr




Number of posts

: 1735


Location

: Whangarei


Registration date :

2011-11-17



Oh wow that you have found 3 of these lamp bases Val !!!!!
It gives me hope that I may find one too

Is this one of the Beach lamp bases?
The shape looks very similar to one of these ....

http://www.trademe.co.nz/Browse/Listing.aspx?id=1142222474
I don't think that is Beach Ev. Ps LOVE that orange incense burner which has appeared in the gallery.

Maryr




Number of posts

: 1735


Location

: Whangarei


Registration date :

2011-11-17



I agree now that I see the measurement is 10cm !!
Ev I have been told that the lamp bases were generally sent to the retailer as finished ceramic blanks - ie the retailer glued on the base and added the electric fittings and the shade. Thus we can have lamps by several different manufacturers which have the same raffia base and the same lampshades. (I can't remember for the life of me who told me this but I am confident i didn't make it up in my dreams).
Which doesn't answer any of our questions!
My Beach lamp bases have just the rim on the base and the rest is covered by raffia.
I wonder who Beach sold their lamp bases to?

Maryr




Number of posts

: 1735


Location

: Whangarei


Registration date :

2011-11-17



All lamp bases were to be wired by a registerd eletrician ,therefor it would be just another cost for the potter.

oakpot




Number of posts

: 99


Registration date :

2016-03-20



Another one of those honeyglazed lamp bases with the raffia on the base !!!

https://www.trademe.co.nz/pottery-glass/porcelain-pottery/crown-lynn/other/listing-1854006643.htm?rsqid=5f76fd473226450f8ad500b06fbc9933

The electrics makes me want to discount this as Crown Lynn.
What are others thoughts?
Ev I am confident that this lamp base is not Crown Lynn. It is likely to be Orzel but I haven't checked with Beach or the Browns so I can't be sure. Below I have re-posted a link to the other discussion about the lamp. One of these lamps sold for over $300 on TME to someone believing it to be Crown Lynn. I hope we don't have a repeat of that!
Re the raffia on the base, Sharon Beach told me that the raffia and wiring were added by the distributors, so it is possible that lamp bases from different makers have the same electrical wiring and raffia.
There are also a lot of lamp bases with green felt on the base - I believe that some of these are NZ as well.
http://www.newzealandpottery.net/t287-john-thinks-that-this-lampbase-is-either-crown-lynn-titian-but-we-are-still-waiting-for-identification?highlight=lampbase#14735

Maryr




Number of posts

: 1735


Location

: Whangarei


Registration date :

2011-11-17




---
Permissions in this forum:
You
cannot
reply to topics in this forum