-------------------------------------------------------------------------------------
Four Ross Mitchell-Anyon woodfired mugs.
[eds to say six now]
I have just bought three mugs by Ross Mitchell-Anyon from Hamish in Auckland and added a fourth from Rick Urban's shop in Warkworth. None of these pieces is marked for maker.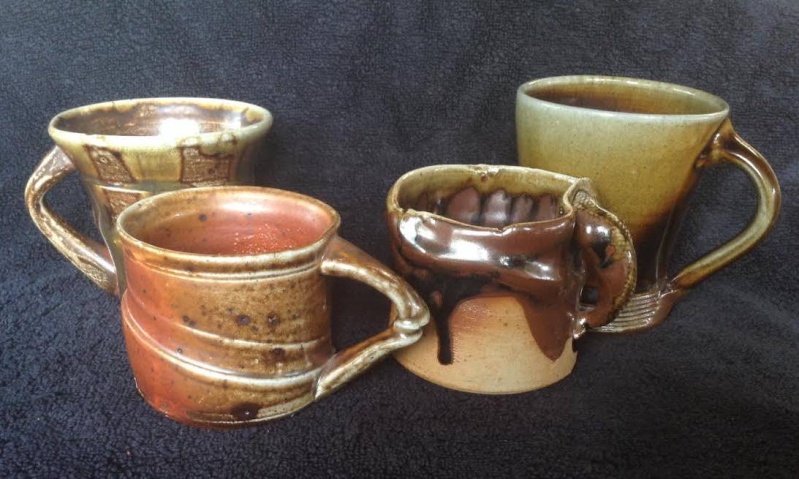 I have no idea of the dates of manufacture so the four mugs are presented here simply in order of height.
#1 7cm H x 7.6 OD top, seller's provenance
#2 4 7.5cm H x 8.5 OD top (approximate), from Ofhand&heart, seller's provenance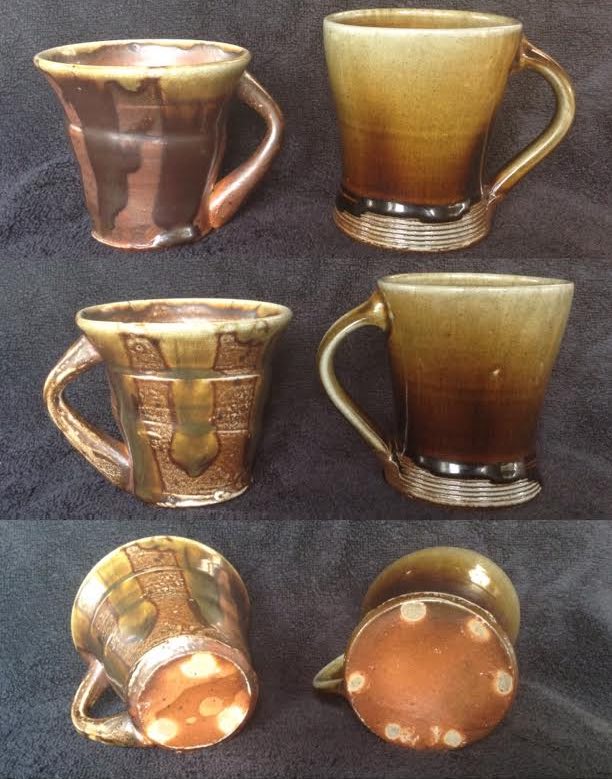 #3 9cm H x 9.5 OD top, seller's provenance
#4 10.3cm H x 8.1 OD top, seller's provenance
As I am relatively new to collecting handpotted work I have missed watching RM-A's work develop and have no idea of the chronology of these pieces. To me it looks a dramatic shift to the wares currently for sale in the galleries. Any help on dating these pieces would be greatly appreciated.
Rick Urban has one more mug (similar to #2 above) for sale. He told me he bought them from Ross about 10 years ago. This could perhaps have been in 2006 when Rick settled in NZ.
[12/3/16 On our recent trip to the shop Rick served Nicole a green tea from the remaining RM-A, while I drank mine from Rick's green Byron Temple mug!]
Jamie Young's Porcelain Rove blog shows quite a different type of work for sale in 2008:
https://jamieyoung.wordpress.com
https://jamieyoung.wordpress.com/2008/08/18/inspiration/
I have not read anything further about Ross's health since early reports of his fall in April.
---------
Links and more RM-A
Auckland Museum collection mug (which from the notes say is part of a larger assemblage)
https://www.pinterest.com/pin/429108670715503925/
The museum piece was my introduction to RM-A's work and I have been fascinated by it since I first encountered it, inclining me to pick up what I have taken to be similar scoraceous pieces as they turn up. When Marcus briefly showed me a RM-A cup, which I think from memory is also a shape match for #1, the similarity to the museum piece, did not register.
Rick Urban
http://ofhandandheart.jimdo.com/functional-pottery/ross-mitchell-anyon-nz/
http://www.pottersmarks.co.nz/2013/03/marks-ross-mitchell-anyon/
http://www.treeobjectspace.com/store/c16/Ross_Mitchell_Anyon.html
------------------------
Celebrating Ross exhibition:
http://www.quartzmuseum.org.nz/in-the-news/celebratingross
More RM-A mugs:
http://www.quartzmuseum.org.nz/in-the-news/celebratingross/Ross%20mugs.jpg?attredirects=0
.
Last edited by Jeremy Ashford on Thu 25 May - 9:13; edited 9 times in total

Jeremy Ashford




Number of posts

: 3030


Location

: Whangarei, New Zealand


Registration date :

2010-09-11



I don't have any of his work and would love to add him to my collection.
A shame that none of your pieces are stamped as we don't have his mark in the Gallery. Good On You Jeremy!
While I was showing Marcus through my hand thrown mugs (on the iPad) in an attempt to find the names of the potters he suggested that this mug might be by RM-A. Although I didn't have a clue at the time, and had doubts later, I have since looked through the many and varied mug shapes, glazes, and handles in the photo of 48 or so mugs at the Celebrate Ross exhibition (linked above, and below), and I now also consider it a possibility.
RM-A mugs at Celebrate Ross:
http://www.quartzmuseum.org.nz/in-the-news/celebratingross/Ross%20mugs.jpg?attredirects=0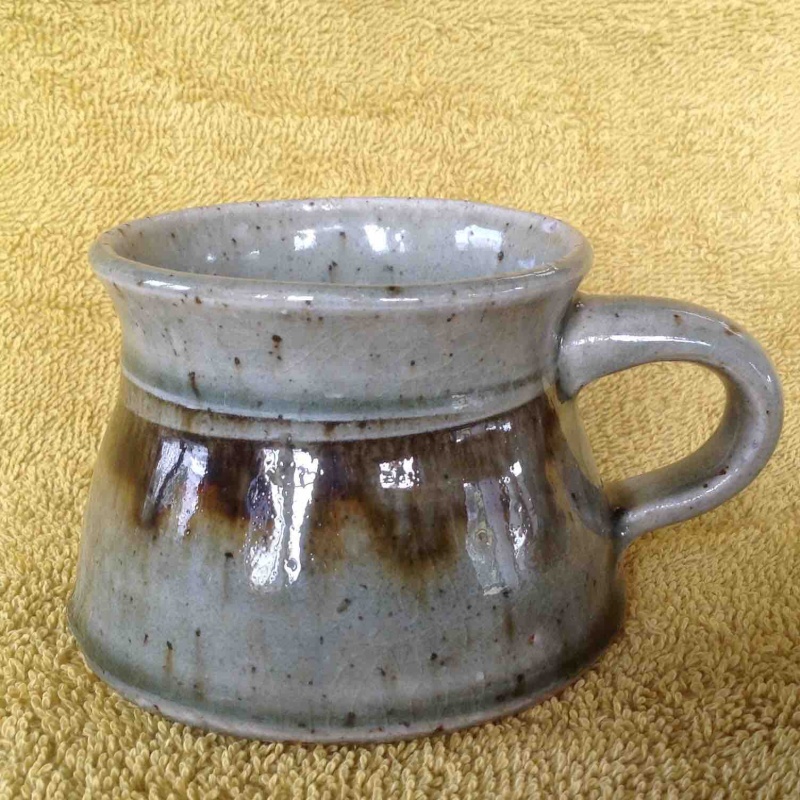 7cm H x 9.5 OD at base, unmarked for maker
if not Ross, then who might this mug have been made by?
----------
19/12/15
Marcus got to see this one today (for real not photo), along with the other mugs, and is still happy with his opinion so I am too!
---------
12/3/16
number six
quite tall: see banner at top of topic for relative sizes
Damaged but displays nicely and adds a new element to my RM-A collection.
Ross has applied the handle to a soft mug, using his stamp to support it on the inside: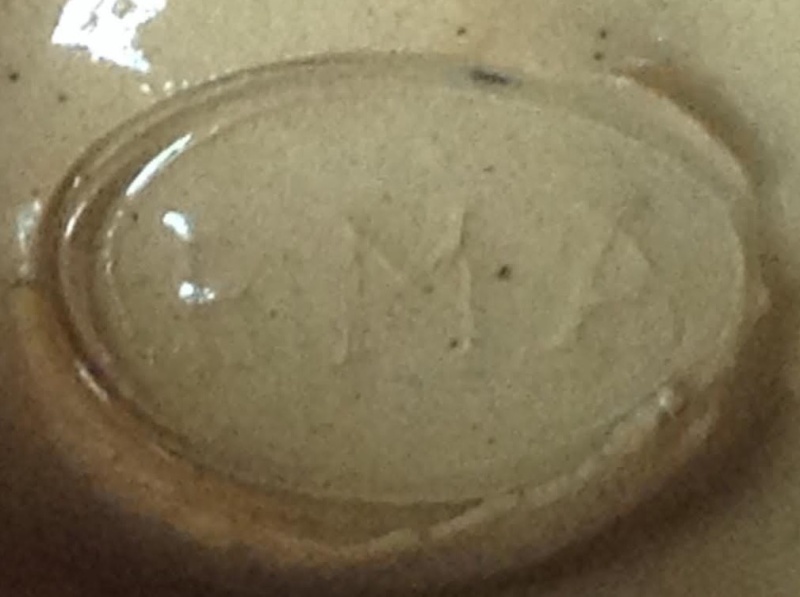 soft photo: I will try some different lighting situations later for a gallery pic
Bought on tm from St Johns Whanganui, thanks fi.
---------
19/1/17
The latest ...
A Wanganui seller recently put three RM-A mugs up on trademe while I was on holiday, two matching wood-fired, which I missed, and this one.
Marcus took the first wood-fired after I inadvertently bid him up, and the second topped my similar autobid by ten dollars.
I won this on my maximum autobid while enjoying dinner at a friend's bach.
So finally I have an RM-A mark that's clear enough to reproduce.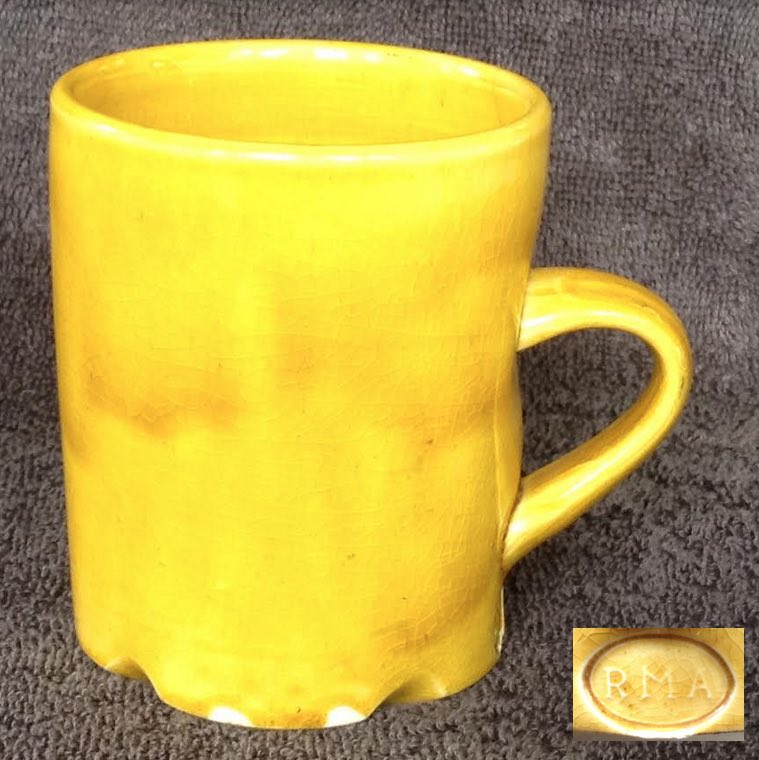 101mm H
Please note that I have not altered the colour on this image.
Recent Ross Mitchell-Anyon auctions:
http://www.trademe.co.nz/Browse/Listing.aspx?id=1234035240
http://www.trademe.co.nz/Browse/Listing.aspx?id=1234095719
http://www.trademe.co.nz/Browse/Listing.aspx?id=1234641869
.

Jeremy Ashford




Number of posts

: 3030


Location

: Whangarei, New Zealand


Registration date :

2010-09-11




Jeremy Ashford




Number of posts

: 3030


Location

: Whangarei, New Zealand


Registration date :

2010-09-11



---
Permissions in this forum:
You
cannot
reply to topics in this forum