I have been relatively quiet on the forum for the last month as most my time has been spent at the Quarry Arts Centre helping build the new kiln.
The old bricks here come from "Julie Ann", the kiln Barry Brickell built for Yvonne Rust decades ago. Julie Ann was dismantled in 2015.
I made a commitment to the Quarry to work on the kiln and although it has taken longer than expected (for reasons largely beyond our control) I have thoroughly enjoyed it.
The kiln was designed by committee, and all design and construction decisions are open to discussion, but ultimately Quarry trustee Mike Regan leads the project.
Here (today) Mike (left) can be seen with our steel man, artist Peter Brammer, partner of Julie Cromwell. The shiny object in the foreground is the form for the chamber arch.
Many volunteers helped out in the early stages, largely cleaning bricks, but the day-to-day team comprises Mike, Peter Yeates, Paul Mann, and myself.
The hard work involved is well balanced by the daily interaction with Mike, Pete, and Paul (all potters) and the trickle of Quarry regulars, strangers, and other potters dropping by for a visit, including Dave Wolland (on the design committee), David Huffman, Greg Barron, and Richard Parker.
I have also got to know Julie Cromwell and Peter Brammer quite well and have visited their Maungatapere studios for a raku firing a fortnight ago, and earlier this week an experimental firing of Julie's small wood kiln.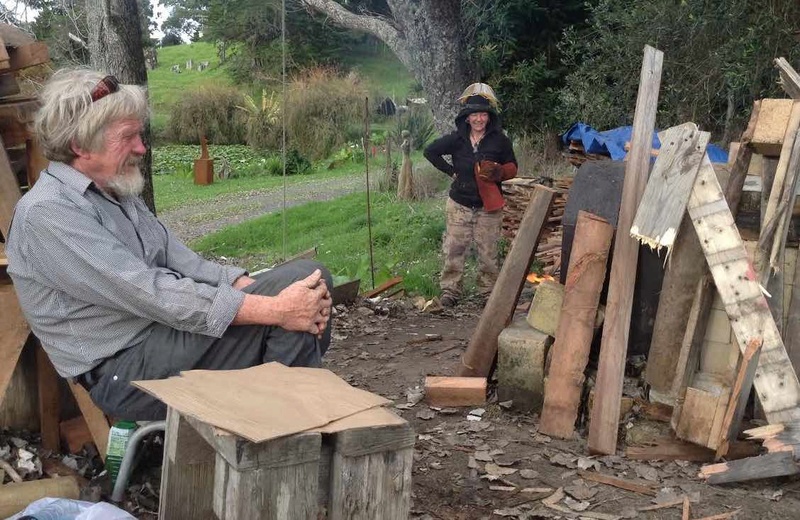 Peter Yeates looks on as Julie takes a break from feeding the fire.
Peter Y has made the forms for the firebox and chamber arches so laying of arches and chimney will continue as soon as the steel is ready, tomorrow most likely. I'll be back.
---------
10/6/17
This was the state of play at end of work Thursday 8th.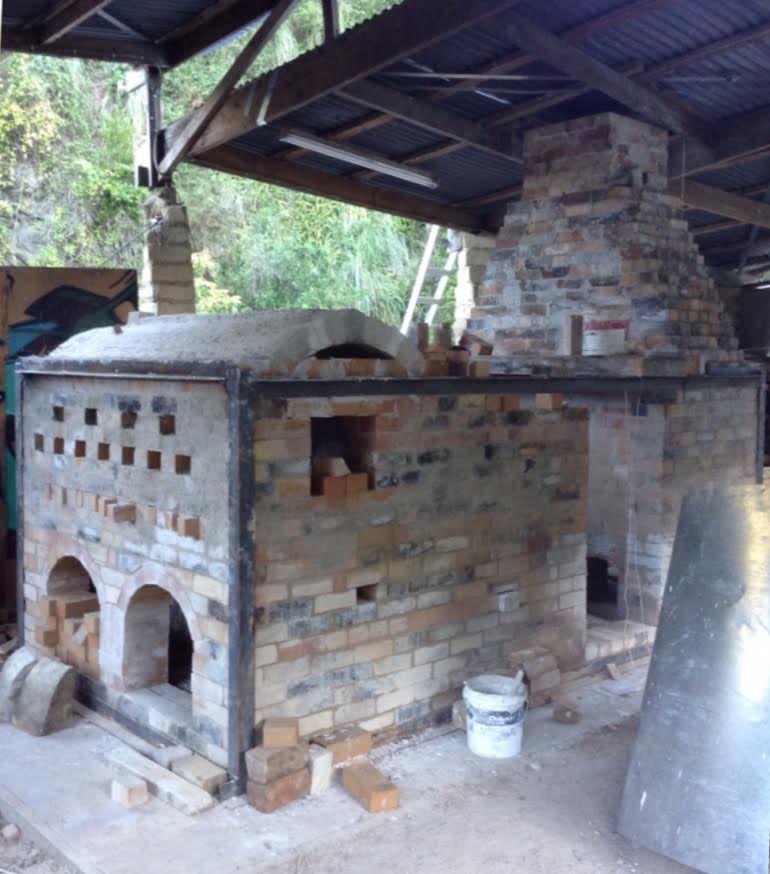 kiln with firebox arch completed,
welsh arch(es) to firebox opening(s),
chimney to roof
I had to move some roof framing and run new bracing to change the chimney hole slightly from the existing one from Juli Ann.
Yesterday we had a change of direction with the start of the chamber arch, but I have no photo yet. We have laid three courses out of 20 using the old arch bricks from Julie Ann, and it is looking beautiful. To complete we have some serious cleaning (hammer, grinder) to do on the old bricks and may come up short. We need a total of 200. If all else fails we can lift the chamber floor, which will provide enough bricks in good clean condition.
Last edited by Jeremy Ashford on Sat 17 Jun - 1:42; edited 3 times in total (Reason for editing : correct spelling of a name)

Jeremy Ashford




Number of posts

: 2891


Location

: Whangarei, New Zealand


Registration date :

2010-09-11



What a brilliant project to be involved in Jeremy.  And so much history at the Quarry.... Wonderful.

Maryr




Number of posts

: 1445


Location

: Whangarei


Registration date :

2011-11-17



I'm delighted to hear this Jeremy, as this experience will enrich your life forever and create a bond with that kiln.  Wood firings are amazing and give wonderful natural glazes where the ash and flames lick the pottery.  Fantastic news!!  Bravo

---
Permissions in this forum:
You
cannot
reply to topics in this forum