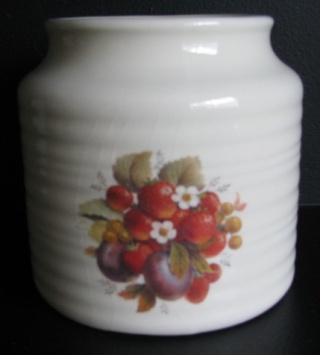 In case you can't read it .... it says -
1180
Titian
MADE IN NEW ZEALAND
Titian and first made in 1973 ( a four inch spice jar)

HeatherT




Number of posts

: 875


Location

: Whangarei, New Zealand


Interests:

: Crown Lynn animals, swans and vases


Registration date :

2008-08-28



Yes it's 4 inches high and around 4 and a half inches wide....
it would hold a lot of spice lolzzz
The Company Directory in the Ceramco 50th Anniversary publication says
"Titian Pottery (1965) Ltd
Est 1965. Ceramco acqd. 49% interest 1969.
balance 1971."

TonyK




Number of posts

: 653


Location

: Sydney Australia


Registration date :

2008-08-28



Just trying to get my head around this business...
so Crown Lynn/Titian began in 1969?
And turned into totally Crown Lynn in 1971..... ?
Then Crown Lynn continued using Titian moulds..... ?
Trickery and sorcery - done to fool the likes of me
The 1178-80 pots are on the list as being made at Luke Adams.
There is no date on the list for them but the numbering places them in 1973.
http://newzealandpottery.forumotion.net/t1355-crown-lynn-shapes-made-at-luke-adams-in-christchurch

Some have the raised "Titian" and "Made In New Zealand" marks, others do not.
All have the faised number in the same place followed by a dot, for example "1178.".

They look like a Luke Adams shape to me, and my guess is the ones with just a number were the earlier ones.

Jeremy Ashford




Number of posts

: 3183


Location

: Whangarei, New Zealand


Registration date :

2010-09-11



It's been a while since I've been in here and now that I'm more familiar with things I'd like to add that more than a few shapes were made at both factories and this is one of them. Heather had copies of the records at this stage.
signal red wrote:There is a great little book on Luke Adams called Luke Adams His Family and His Pottery By A.F.R.Adams. On page 25  In 1975  the whole business closed down.
Perhaps it's as simple as this: when Luke Adams closed down in 1975, production of their shapes moved to the Titian factory.

Jeremy Ashford




Number of posts

: 3183


Location

: Whangarei, New Zealand


Registration date :

2010-09-11



Only those that were there at the time will know the answer, but the records show :
1180  Large (4") Spice Jar Titian (Chch) - July 1973
not far away is another
1198 Onion Motif Soup Bowl (Titian & Chch)  can't read the year!
Last edited by Ev on Wed 19 Feb - 14:17; edited 1 time in total
I still have an 1180 Made In New Zealand no sign of Titian . This is a plain pot no decoration. Hard to be precise comparing my heavily glazed example with Ev's photo but I suspect that this is a different mould not only is the Titian missing but the ring details on the base are different. In addition the 1180 and the MINZ are closer to the foot rim so I would say a different mould even though a very close replica.

I did have another in the larger size with decoration and the Titian in script form.

Trust that this adds further confusion to this mystery.


Jonno




Number of posts

: 662


Location

: Milford,Auckland


Registration date :

2011-05-13



I have no 1180 (or can't find it)

I have:
2 1179s
1. "1179." (at top)
2. "1179." (top)/"Titian" (just below number)/MADE IN NEW ZEALAND

3 1178s
all: "1178." (at top)

1 1292
"Titian Pottery" (top)/1292 (bottom)/"NZ"(very bottom) and
1 1293
Marked the same way.

I mention the last two because the 1293 appears to have the same glaze as two 1178s that I was thinking may be Luke Adams, so FOR NOW I'm going with: all are Titian.

The 1408 mugs have a similar design the the 1197-80 canisters in that not only do they have regular soft grooves but also 2 annular "scratches".

Jeremy Ashford




Number of posts

: 3183


Location

: Whangarei, New Zealand


Registration date :

2010-09-11



---
Permissions in this forum:
You
cannot
reply to topics in this forum