Hi,
Can anybody help me here please. We have a vase #430 (round, floater) and with it is the frog shown in the photo. We are trying to establish if the frog is genuine Crown Lynn. The two pieces have always been together in our family for well over 50 years.
They look like the same material and the feel is pretty much the same but despite extensive internet searching (and even resorting to going to the library
I cannot find any information on CL flower holders. There is some kind of number or letters (2 we think) on the base of the frog (raised in the pottery rather than carved in) but it is impossible to identify them. Even a jeweller with his special glass wasn't much help.
Has anyone got any info that can assist please? Many thanks.

meganana




Number of posts

: 4


Registration date :

2013-05-11



Have you uploaded the photo somewhere?

Cat-a-lat




Number of posts

: 1036


Location

: Palmerston North


Registration date :

2012-02-15



Sorry - I have tried several times to upload the photo with no success. How embarassing given I own a software company. Ev has offered to help so I might have to impose and take up that offer... Thanks. Annette

meganana




Number of posts

: 4


Registration date :

2013-05-11



Hi Annette, try this link http://newzealandpottery.forumotion.net/t2355-photo-posting-trial?highlight=upload+photo. It may help to open the site in 2 tabs so you can go back and forth between the two.

In summary, once you have chosen the topic, choose Host an image, 15 from the left under the title, click choose file, click on the photo to upload from your files and hit open, choose the Host it option, when it is complete, choose the middle of the three, right click on it, click copy, then in your topic box right click in the margin and paste. Scroll down to the preview below the topic box to see if it worked. Good luck !

mumof1

Admin




Number of posts

: 2299


Location

: Mapua, Nelson


Registration date :

2011-03-21



I'm very pleased to load these photos for meganana as we may not see another frog/flower holder like this for a while ....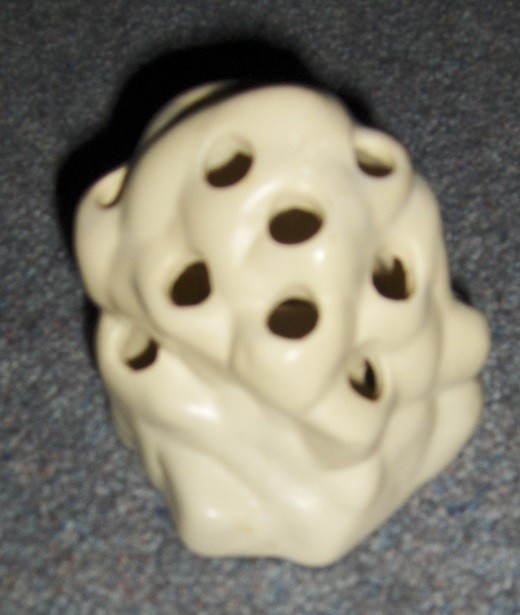 I would just like to add that if the numbers on the frog were Crown Lynn, they would be easy to see and read.
I found a similar frog on google and it has England on the base ....
http://hamilton.kijiji.ca/c-buy-and-sell-art-collectibles-Ceramic-Flower-Frog-W0QQAdIdZ482167577
Another similar frog by Clarice Cliff ...
http://www.ebay.co.uk/itm/Clarice-Cliff-Flower-Frog-Style-225-/321001884214
*Coughs* I found one of these flower holders .... how about that ?
I can't see any markings ........ the colour is more cream than white.
Will post a photo when I get around to it .....
Here is the flower holder that I found for 50c ....
it is around 10cm high and doesn't have any markings
Ok so this has been painted !
It is possible that it was painted by Salisbury, but who knows?
It is too light to be Crown Lynn ...... the end.
---
Permissions in this forum:
You
cannot
reply to topics in this forum