Page 2 of 2 •
1, 2
Tim, I'm waiting to research Harry's writings, hoping then I can identify the bottle with it's Shape number. I want to add that David Jenkin was involved with the Wharetana Ware range.
Hi Ev, can you just give me a basic rundown of the shape number. I am not very familiar with Crown Lynn. But I do know that the bottle in the museum has nothing on its base. The museum sent me an image of it. Also the one sold at A+O in the Drummond collection didn't have a number either.....or branding of any sort. The Parker moulds have a very simple separate plaster base with the Parker and Lincoln brands....easy to change or remove. I know as I had a go. So it's still possible that David Jenkin had a hand in its design? I asked his daughter about it but she didn't recall anything. But best to check all the paperwork as you say. I think this might just get solved completely. Which would be a major bit of research success. I'm hoping to go to the CL museum this week to talk to who ever I find there!

TimCaulton




Number of posts

: 158


Location

: Auckland


Registration date :

2009-12-29



Tim here are the Wharetana Ware shapes and numbers that we have confirmed so far ...
https://www.newzealandpottery.net/gallery/More-Crown-Lynn-Galleries/Wharetana-Ware/Wharetana-Ware-cat_c3.htm
There are several shapes missing : 1016, 1030, 1035, 1036, 1037, 1038 and perhaps more after 1043, not sure?
I saw Harry's records briefly at Te Toi Uku and noticed that there were shape numbers that we didn't have and information varied. The family seemed to be very interested in finding information and photos of all of the shapes for reference and we agreed that I would go through all of Harry's records with them. For various reasons this hasn't happened and I'm trying to work out what to do next.
Ok yes I get it now. And yes it can be hard working when things get in the way. Hopefully some info will come from it all. It's like I always say "don't ask, don't get"

TimCaulton




Number of posts

: 158


Location

: Auckland


Registration date :

2009-12-29



Re the David Jenkin connection to Wharetana:

Gail Henry mentions that Harry (Hargreaves) became involved with Dave Jenkin in the development of a range of Maori artware shapes called Wharatana (sic) on page 200.

I have seen other references as well and one that sticks in my mind is David Jenkin saying how proud he was of Wharetana Ware.

I also have checked with Sue the daughter of David Jenkin to see if she has any knowledge of her Dad's connection to Wharetana Ware and she responded that she only knew what was in Val Monk's book. As this range was developed in the 1940's it may have been too early for her to remember, unlike the 3 Faces of Eve lampbase, which she recalls readily.
Continuing on the HH Saga ....
I cannot get access to the digitized photos at Te Toi Uku of Harry Hargreaves writings, the reason being that they are Culturally Sensitive.  They are working on this. .. .... ......
The Hargreaves family have since sent me a list of shape numbers and the names of each shape that they have compiled from Harry's writings which is a godsend.
There are a few differences to my Wharetana Shapes and the Hargreaves one, but these are minor differences.  The Hargreaves list has two Lamp Base Shapes that are not included in the known shapes that I have found during research.  
These are:
Papahou - Lamp Base (No.1 for my reference)(Wakahuia/Treasure Box)
Mask - (No 4)
(No2 is Shape 1043/2 Hei Tiki)
(No3 is Shape 1042/4 Atua Design)
There is also a Small Tray - Taiaha or Hane that doesn't have a number.
Also there is mention of 3 drawings, which I may never see.
I'm still working on this and an unexpected bottle ended up in my hands that lends it'self to this ware and needs considerable consideration to compare styles to what we already have. This bottle is in the Crown Lynn Modellers' drawings as a trivet type piece and in the Shapes Catalogue as a bottle that doesn't have a number associated with it.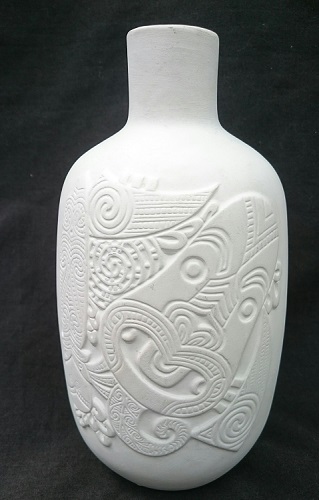 Page 2 of 2 •
1, 2
---
Permissions in this forum:
You
cannot
reply to topics in this forum