Usually I miss the Waipu Antiques Fair because we go to Auckland but this weekend was to be different...
...until Tuesday when we we received word that our friend Dr Marianne Turner had finally succumbed after four months of coma.
With the funeral occupying most of Saturday we decided to stay all weekend.
Sunday morning, thinking I had missed op-shops and cheap Auckland buying I was about to head out Avondale to try out my recently acquired Atomic Home Espresso, and see if we could get one of Joss Campbell's very old Atomics up and running too, when Nicole returned from a walk to the dairy and told me there was a fair at the Returned Services Club. A quick scout around turned up a complete and barely-used, complete Royal Oak coffee set, complete with stickers. I had bought the Lava glaze set earlier in the week so I thought $10 was my top price.
Driving to Avondale it occurred to me that I could join Melissa on her visit to the Avondale Racecourse flea market. Joss said he'd come too so we bundled the kids into the car and took off. I wasn't actually very hopeful, but as the money went down in my wallet I was consistently astounded that the market had been set up just for me that day. I got a complete, and perfect Bodum coffee press for $5, 3 four digit CL mugs, the two Orzel jugs I needed to (almost) complete my Orzel set, and last but by no means least, a beautiful teapot by Clay Craft. There was much more I could have bought!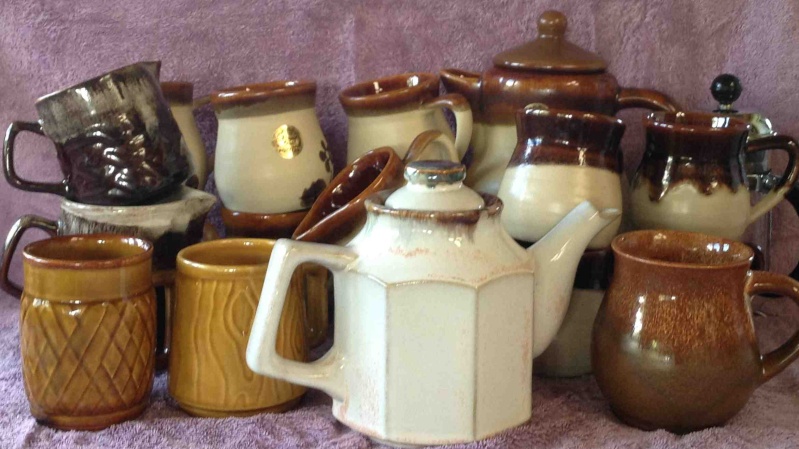 Sadly I dropped one 4-digit while unpacking my haul.
Oh, and guess what container my Royal Oak set came in!
On the way back up to Whangarei we stopped in at Jules' shop in Waipu, ages since I'd been there. She had a further two Orzel jugs of a different pattern which she offered to me quite cheaply but I told her sadly that I was all shopped out.
See further pictures of Orzel and Clay Craft buys elsewhere on the forum:
http://newzealandpottery.forumotion.net/t4084-orzel-basketweave#14295
http://newzealandpottery.forumotion.net/t191p15-clay-craft#14293

Jeremy Ashford




Number of posts

: 3183


Location

: Whangarei, New Zealand


Registration date :

2010-09-11



Marianne was a collector of many things. We shared an interest in Crown Lynn but there was little overlap in our collections. I had hoped to find a picture of her with her extensive Crown Lynn jugs collection but I couldn't so here's a picture of her at work:

I don't know who the other person is.

Jeremy Ashford




Number of posts

: 3183


Location

: Whangarei, New Zealand


Registration date :

2010-09-11



---
Permissions in this forum:
You
cannot
reply to topics in this forum