Hi- Question has anyone any knowledge about this pottery? I have seen a cup like this on my travels, its square in shape and has "shiney grain/ wood veneer finish".
http://www.trademe.co.nz/antiques-collectables/art-deco-retro/kitchenware/auction-668342602.htm

JanPots




Number of posts

: 2062


Registration date :

2012-05-10



Ooooow How interesting and they even mention Titian! There is something about Titian making domestic ware in the woodgrain finish in Gail Henry's book. I will check it out when I get time, but right now I'm off to get ready to go to the Auckland Studio Potters Exhibition at Wallace House.
Don't worry about checking, have a fab time today.
Just checking this blog site and it shows some woodgrain items. http://titianpottery.blogspot.co.nz/
Next time I am in town I will grab the cup - its not expensive and on the half price shelf!

JanPots




Number of posts

: 2062


Registration date :

2012-05-10



Yes... Manos showed me a Titian woodgrain vase and it was much more like varnished wood and more sophisticated than that cup.
Meanwhile here is something I have been meaning to put on the site for a while.. a small  (10 cm) vase I picked up hoping it was Te Rona. Having compared it with the pics on the site, I don't believe it is -  but I wonder if it is related to that cup. It is much paler but has the same swirly look.  We need to have a look at the base of the cup! Good idea to grab it.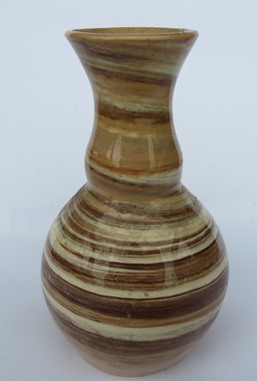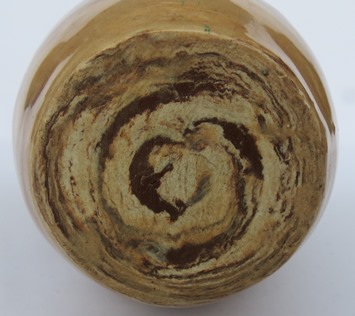 Maryr




Number of posts

: 1928


Location

: Whangarei


Registration date :

2011-11-17



I am in town again tomorrow.. I will make sure I have my eftpos card with me, then I can SPEND more

JanPots




Number of posts

: 2062


Registration date :

2012-05-10



Interesting vase using marbled clay ...... did Steenstra use this technique?
Only a teeny weeny bell is ringing, but I will check that out as well.

I have a couple of the Titian wood grain vases and they are far superior to that cup, but they had to start somewhere I guess ~.~
Curiosity got the better of me!
Gail Henry New Zealand Pottery page 169

Tableware:
Square cups with rounded edges in Teddy Rennie's woodgrain finish, mahogany, made for a Rotorua company.
Also Lazy Susan dishes for Sargoods, with woodgrain glaze finish in various colours.

Actually that cup looks similar to the Crown Lynn 'fat bottom' cup doesn't it?
---
Permissions in this forum:
You
cannot
reply to topics in this forum