This sugar bowl, creamer and six mugs were sold as a set.
But they appear to me to be three separate styles.
There is no tea or coffee pot.
The sugar basin is the only marked piece.
The jug appears to be a different style from both sugar and mugs.
It has a crudely ground flat bottom, typically Orzellian.
Unlike all other items, it is banded beneath the thick glaze,
and it has a different handle from the mugs.
The mugs have foot rings but no obvious marks.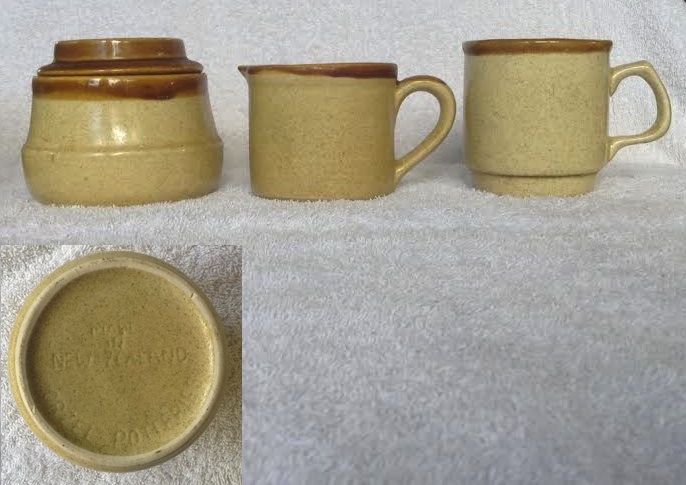 Basin 70mm H to lip x 90 OD at lip
Jug 75 H x 80 OD
Mug 85 H x 85 OD
Ev, I think the sugar is a match for yours at http://newzealandpottery.forumotion.net/t4064-orzel-sugar-in-the-fine-speckle-glaze#13806
The lid on mine appears to fit, and appears to be the same glaze but as this set is so mismatched it may not belong either.
I have seen cups matching this sugar elsewhere, indeed there is one in the gallery at
http://newzealandpottery.forumotion.net/gallery/Titian-Gallery/c100-pic_4827.htm
marked c100.

Jeremy Ashford




Number of posts

: 3183


Location

: Whangarei, New Zealand


Registration date :

2010-09-11



As I see that there are casseroles in the same style as the lidded sugar and they have that cumbersome weird looking lid the same as this sugar I would say that it's definitely the correct sugar lid. The casseroles have the same body shape as the sugar. They are on another pottery site, but here is a link to the photo -

https://www.google.co.nz/search?tbs=sbi%3AAMhZZivZpntubipQzZ4IiBU_125Snkm77fGzB0P_1SGb9dyLnNWj9hbCL8SNBhSszKug65aKDYpPkr47EQtabDLn2ikT66PPcmXoZ7VNWcmbw5cESw4L5jyCLvOM9bYPUo35XcRDp0Qstaq2Ows4ouWfksrr8aJrUmK0F0QPYQMEAJNgFy2kmaaC57vWUHiX9yZ01LvrSswCnkv7rY0HmqsBlrcUHzqUyOZcEEj1zjDoQp3p7vSEchb-Oy8PQoTE6NQ_1wwV52zHj2fI-muBYxTuGFNj4rwHy7h9sxNYwC_1gNnUOK9WLwMIqRN8-WsXwNZPGh0Pz7J2BsqsAzd5A-vOQdMAAJU8YXxEkw&ei=csjBUqjqMMONkwXWooDoCg&ved=0CAcQiBw&biw=1366&bih=673&dpr=1


---
Permissions in this forum:
You
cannot
reply to topics in this forum