NOTE.. since I posted this I have found it out is Parker Pottery, see link below.
http://newzealandpottery.forumotion.net/t4880-parker-pottery-more-examples-and-info?highlight=parker
Oh NO... I'm not obsessed with weird brown stuff!  But this margarine pot popped up on my travels and I was impressed by the quality. Then I found more in Whangarei Hospice shop (there were still some ramekins last time I looked.)  I have no idea who made it. The shape doesn't look like Orzel or Royal Oak etc, and these are very well made, quite fine and without the usual irregularities of Orzel etc. Can anyone help?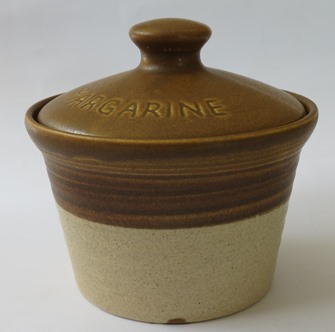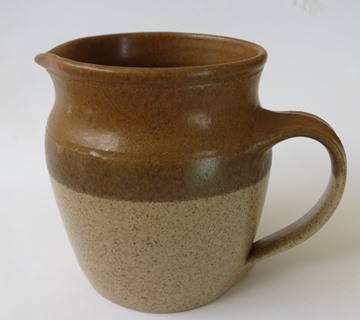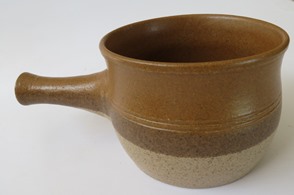 Sugar bowl without lid.
Each of these except the Milo jar has a flat dry base. The milo jar has quite a tidy foot ring. Interesting.. .I thought that Milo was a reliable indicator that an item was made in NZ.. until I googled and discovered that Milo is actually invented in Australia. There goes that theory!
Last edited by Maryr on Mon 28 Apr - 12:22; edited 1 time in total

Maryr




Number of posts

: 1857


Location

: Whangarei


Registration date :

2011-11-17



Maryr,
Yesterday when I picked uop this spoon jar I realised that all this stuff IS by the same maker as our "random mugs": http://newzealandpottery.forumotion.net/t4287-a-totally-random-mug-or-five#14922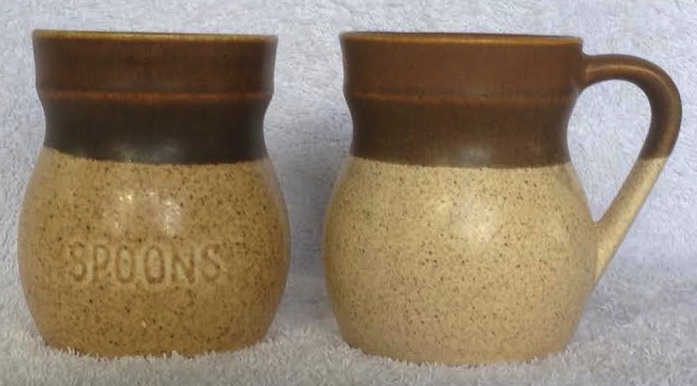 The shape of the spoon jar and random mug is the same.
[Dateline tomorrow: the spoon jar has a footring.]
The glaze is the same.
The glaze and the writing on the spoon jar are a match for your
"unknown brown stuff".
Ev has offered ORZEL for the random mugs based, I think, on the speckle glaze.
But with a "random mug" and an Orzel speckle mug sitting in front of me I can say the glazes are quite different. That on the "random" and "brown stuff" is thin smooth and satin (or matt) while the Orzel speckled is matt on some items but trying to be shiny on others with varying degrees of texture from the sand. A Beach-shaped Kiln Craft mug I picked up yesterday also has a sand glaze and that is speckled, occasionally sand-textured and shiny (without being glossy).
With all the different Orzel pieces I've been picking up lately I wouldn't be surprised to find more new Orzel shapes and styles but to be honest I think that, although I find the brown stuff a bit boring, albeit well-designed, the regularity of shape and evenness of glaze in my examples shows a greater degree of quality control than my Orzel.
If it isn't Orzel then another maker needs to be found. Yes, there IS a lot of this around so a maker should be obvious. Comparing my random mugs with the makers I know of from Auckland (Royal Oak, Kermiko, Clay Craft and Orzel, and Stewart too) my closest fit in quality (of mass-produced items) is KERMIKO.
I was discussing slipcast yesterday with my former pottery worker acquaintance and she picked up a piece of Clay Craft and said this is not ours it's too heavy, then took that back saying the slip had probably just been left in too long, possibly from an over-long smoko break. The point I'm getting to is that the brown stuff is consistently light-weight, lighter than those makers I parenthesised above, perhaps with the exception of Orzel, where the thickness/weight varies from pattern to pattern.
Beyond continuing to pick up "random mugs" in different glazes I think I'll leave this one to you, as I have been told I have too much already! I'll certainly chech out whatever you've left behind tomorrow though.
By way of signing off I'll throw another one at you:
I don't know who made these two pots, which look a bit like like Orzel, and have a similar lip to the "random mugs" but striated rather than smooth body.
_______________
Dateline tomorrow!
Maryr, I had a look at the ramekins at Hospice. They really are consistently good quality. Saw a "Sugar" at Red Cross. Good shape. Unlike the mugs, this appeared to have striated or banded body beneath the glaze, and was a little bit irregular to shadow. First negative for these. Apart from that exception, still very good quality control. All good flat bottoms.
I'd like to think they are made in NZ, but the colouring on this set, more so than the other random mugs is very "Australia". Then again the colour-banding is reminiscent of some Japanese pottery. And then yet again, the first example you give in the random topic is very splattery and I can't see anyone importing THAT!
Keep on trucking.

Jeremy Ashford




Number of posts

: 3150


Location

: Whangarei, New Zealand


Registration date :

2010-09-11



Re your two vases I am pretty certain the one on the right is Putaruru.  Re this brown stuff and its similarity to the random mugs, yes you are right. They do appear to be from the same stable. Some of mine has a flat bottom, others eg the mugs and the milo jar have a footring. I feel that this is probably not orzel. It's too consistent in quality. But who knows.
Last edited by Maryr on Fri 20 Dec - 17:30; edited 1 time in total (Reason for editing : Clarify)

Maryr




Number of posts

: 1857


Location

: Whangarei


Registration date :

2011-11-17



The ones below are an unknown quantity too, Maryr.
http://www.trademe.co.nz/Browse/Listing.aspx?id=674900752
I see them everywhere as well, usually without the lids.
Not as well modelled as your brown stuff. The lids are certainly not as nice.
The impressed lettering is similar ... but different.

Jeremy Ashford




Number of posts

: 3150


Location

: Whangarei, New Zealand


Registration date :

2010-09-11




Jeremy Ashford




Number of posts

: 3150


Location

: Whangarei, New Zealand


Registration date :

2010-09-11



Maryr,
Just wondering if you have had any more thoughts about a maker for this stuff.

I was in Putaruru over the break and had a chat with the lady at the last surviving second hand shop there (op-shop not withstanding). I guess you know her.
She had a few Putaruru pieces including one of the vases/pots above which she was pretty sure was Hand/Putaruru. I have seen one elsewhere with an obvious (although totally unreadable) Hand Ceramics impression too.
I also saw one of these pieces (can't remember which) with a different glaze at Arkwrights as well: a first for me.

Do you think they could they be Putaruru?

Jeremy Ashford




Number of posts

: 3150


Location

: Whangarei, New Zealand


Registration date :

2010-09-11



Sorry Jeremy, no new thoughts re any of this. We will see what 2014 brings! Prob more questions.

Maryr




Number of posts

: 1857


Location

: Whangarei


Registration date :

2011-11-17



---
Permissions in this forum:
You
cannot
reply to topics in this forum