Thank you so much for sharing with us fi as you have so many interesting pieces!
Fi says that this platter measures exactly 12 inches -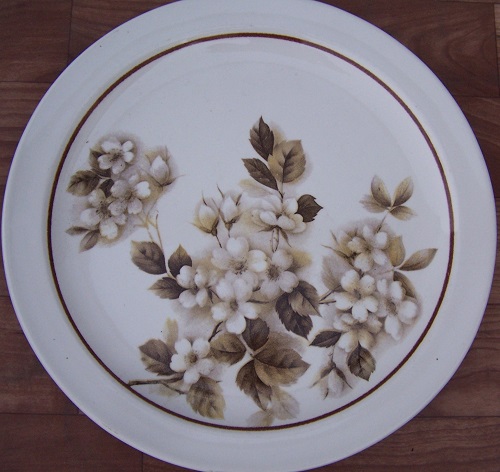 This photo shows it alongside the other sizes - 12", 10", 9", 8" and the 6".
I haven't been able to find this shape in the Crown Lynn records yet, but I haven't had much time to look.
I have found a possible shape number in the records -
8035 Rimmed Chop Plate first made in 1977 on the Ram Press.
I did a search on Google for chop plate+Crown Lynn and the results were the 12 inch
platters in various patterns. I'm wondering if a chop plate is an American term as I came across it once before on advertising material for Earthstone and I deduced that it was the 12 inch platter.
There is at least one other reference to 'Chop Plate' that I can see -
8049 Chop Plate was "4039" and the 4039 was the 12 1/2" (12 3/8") Forma Round Plate.

Any thoughts? Anyone disagree?
Ev..I think that the chop plate = large platter as I saw the shape number of your forma platter on the description for another "chop plate, shape" - (If that makes sense) ... It could be under classic chop plate?? - I will re-look at that soon..

JanPots




Number of posts

: 2004


Registration date :

2012-05-10



Yes Janice, that is the 8800 - "Classic" Chop Plate 12" first made 1980
I'm not sure what shape this refers to but there is also a Classique chop plate 8045 first made in 1982.
The 8035 says Rimmed as do all of the other sizes in the rimmed plate numbers.

Ummm.. I need to look at that.. I am on a "cup " adventure ATM LOL

JanPots




Number of posts

: 2004


Registration date :

2012-05-10



Fi mentioned that she saw one of these large platters in the Sundowner pattern recently and I just found Sundowner shapes in my notes from 1981 price lists
8035 - Serving Platter
I'm happy now and can get on with my other life
---
Permissions in this forum:
You
cannot
reply to topics in this forum