Ev,
I've been looking at mumof1's 5620 in the 1645 spot in the gallery for so long I assumed it had 1645 on its base but it has 5620! See: http://newzealandpottery.forumotion.net/t1880-small-pot-with-lid-5620#8724
I'm guessing it was put in as a place-holder, assuming that they were the same shape; the same photo illustrates the 5620.
You can use my 1645, which will sit nicely beside the 1647 in the same glaze, but you're spoiled for choice because the are also jonno's and your own as well at http://newzealandpottery.forumotion.net/t2491-1645-possible-titian-trial-pot and budgie's at http://newzealandpottery.forumotion.net/t1811-need-help-with-identification-715-1645-1656#5225
This business had me really confused because it seemed like there was a double changeover of number and shape. The story now is that the first 5620s looked like the 1645s but had the 5620 number. The 5620 posted by Rufus http://newzealandpottery.forumotion.net/t1603-crown-lynn-shapes-discussion#4556 who I understand worked at Crown Lynn, may have been a discarded prototype or maybe they just changed the number before the shape.
If you look at this picture comparing jonno's 1645 and Rufus' 5620 you can see there is something a bit different about the knob on Rufus' pot. Then again maybe Rufus' one snapped off some time and got glued back on.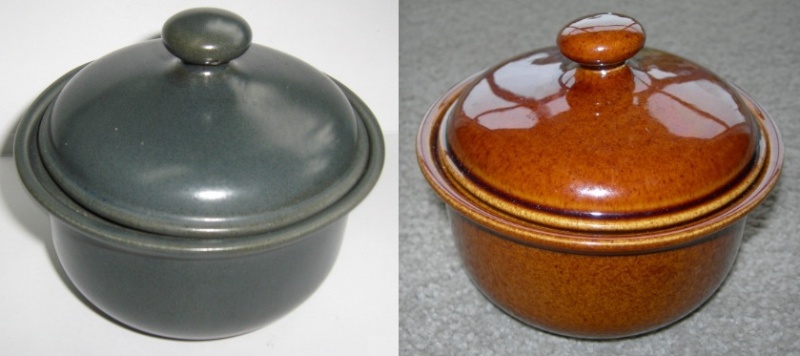 Whatever the history of that pot, it looks like a stick-on to me. If you look at your own 1645, Ev, you will notice a little vent hole on the underside of the knob, much I assume as they did with the Dorothy Thorpe ball handle, to stop kiln explosions.
As you have told me elsewhere Rufus is no longer with us so we cannot measure his pot to see whether the size matches the 1645s or 5620s. Apart from the wobbly know it looks just like a 1645 to me.
I'm now starting to wonder about the photo for the 1648 too as, from the look of it, it appears to be a 5621 (or 5622).
From seeing the 1645 and 1647 we now know that the casseroles of the Chateau Range were different in both shape and size from the casseroles of the 5000 series.
Last edited by Jeremy Ashford on Fri 7 Feb - 22:38; edited 1 time in total

Jeremy Ashford




Number of posts

: 3183


Location

: Whangarei, New Zealand


Registration date :

2010-09-11



Fixed the 1645.
The 1648 morphed into the 5620 so that pic is an interim one
Let me know if there are any others that need updating as I often use a surrogate shape as a fill in. For example the 1677 salt is really a pepper.
Ta Ev,
I like that sweep of Aquamarine going through the vitrified gallery now!
Let's see if we can get a bit more in there. There must be some in your town, as between Kat and I we've found three in little ole Whangarei in the last couple of months.

If you see, or anyone for that matter sees, any of this Aquamarine/Lucow vitrified around and don't want it for yourselves I'm up for it. There are three casserole sizes and a ramekin unaccounted for yet.

Ev, I have one more item to go in the vitrified gallery yet, at least I presume it's vitrified, but that's tomorrow.

I'm off to measure saucers.

Jeremy Ashford




Number of posts

: 3183


Location

: Whangarei, New Zealand


Registration date :

2010-09-11



Ev, 
I was just looking for reference to the "shape 25" cup and while I was cruising the galleries I spotted the 863, "vitrified 781", with a picture of a Reflections tulip, like those Adriana posted in the "Vision" topic. I had not suspected that they would be vitrified, but then there is nothing on the Cook & Serve can stamps to indicate that they are vitrified either. I am curious to know what patterns were made in the 863 vitrified tulip shape. I guess patterns that appeared on other vitrified wares, bakeware etc.
I'm still working through this, with the vitrified links but we're heading out for a walk so I need to stop.
One last thought.
The reflections on Teal in the following link, where we first got to see it, has crazing on the saucer therefore the saucer is not vitrified.
http://www.missbehavin.com.au/p/33/crown-lynn-reflections-cup-and-saucer

Jeremy Ashford




Number of posts

: 3183


Location

: Whangarei, New Zealand


Registration date :

2010-09-11



Another surrogate photo Jeremy as we don't have a Reflections on Mushroom tulip to put there atm. I have seen them on ebay and added a link somewhere, but no amount of googling will bring that listing back to life. So far that's the only pattern that I can come up with that would have a vitrified tulip ..... TEAL used the Reflections tableware, so I thought .... hmmm maybe they used these teal tulips
WRT Reflections on Teal, according to various references this was CHOSEN BY Teal, but I'm wondering if it was DESIGNED FOR Teal ca1964, which could explain the different expression of the pattern and the new pattern number.

Could a Reflections on mushroom tulip perhaps be a plain mushroom-coloured tulip?
This is how Reflections appears on my vitrified not-quite Cook & Serve can.

Jeremy Ashford




Number of posts

: 3183


Location

: Whangarei, New Zealand


Registration date :

2010-09-11



The tulips on ebay had the fern pattern on them.
I can't see tulips sitting well on an aircraft tray really, truly and you have blown my cover, so now I'm going to have to remove it and wait for the real deal.
My mum worked in the cafeteria at Auckland airport when it was at Whenuapai.
Maybe they were used there. I think it was only TEAL there at the time.
But point taken on Reflections on Mushroom tulips.

I just noticed something else. You have the South Pacific cup (no number) at the end of the 3000 series: shouldn't it be in the 700 series? Do those fatbums have either an impressed or raised New Zealand/Made in New Zealand mark? My single cup MAY have an impressed mark but certainly not a raised one.
Last edited by Jeremy Ashford on Sun 9 Feb - 11:54; edited 3 times in total (Reason for editing : move para here from cup and saucer topic)

Jeremy Ashford




Number of posts

: 3183


Location

: Whangarei, New Zealand


Registration date :

2010-09-11



---
Permissions in this forum:
You
cannot
reply to topics in this forum