First made 10.12.74.
We have to confirm this shape is what we commonly call the stacking mug, because it has the 3036 handle -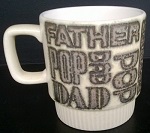 3036 showing the same handle -
The only thing that has stopped us is the shape 3040 Fluted Base Coffee Mug and I just looked at the handle record for this and it says 3036 too!
So now I'm stumped again . . ... .... .......... and I thought I had it hahaaaa
thats what stumped me too  -- and why not refer to it as 'stacking" when clearly it is,
3034 and 3040 have the same description fluted base mug with 3036 handle and fluted base coffee mug-- so if 3036 is a mug (not coffee mug) we could go with
3036 and 3034 being the same ie the the photo attached? like we firslty thought months ago!!
I just noticed they were
both
made at the same time 10.12.74- is that helpful?
I wonder.... is the 3040 one of those 2 tone cups, that get mistaken for "made in china" -- I am sure they have a fluted base but whats the handle like? umm - I will check the site to see if I can find one
I am meant to be working but this is a pleasant interlude   
Edits... Duh these are those "made in china look a likes " LOL

JanPots




Number of posts

: 1899


Registration date :

2012-05-10



Janice, just for the record: those fluted-base mugs do mostly get posted with patterns on because that is what interests people but I did post one with three colours of glazing (in "show us your mugs"), and have another in plain (but not colour glaze) brown.

Similar fluted shapes not just made in China, but also Japan, AND England.

Jeremy Ashford




Number of posts

: 3150


Location

: Whangarei, New Zealand


Registration date :

2010-09-11



I did look at those, but which is the one made in New Zealand

JanPots




Number of posts

: 1899


Registration date :

2012-05-10



Janice, to the best of my recollection, there is NO "made in NZ" amongst my display of Chinese mugs!

The one referred to above, with three colours of glaze in in "show us your mugs". I have taken a curious interest in standard 3000s mug shapes with earthy glazes rather than patterns transfers etc because they display better with the castware. 

I also have a pair of those fluted-all-the-way-down mugs (often seen with a "Mother" transfer) from the rattling topic,  with browny glazes more like what you would expect with the castware mugs than the 3000s.

Jeremy Ashford




Number of posts

: 3150


Location

: Whangarei, New Zealand


Registration date :

2010-09-11



---
Permissions in this forum:
You
cannot
reply to topics in this forum