This is the only one that I have with the extra bit on the handle like the photo in the Gallery, all of the rest have just a rounded handle.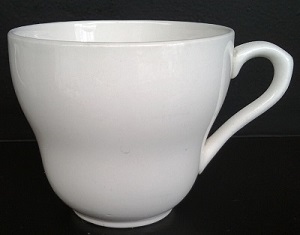 It looks very like the 754 Avon cup to me Ev. Both have blips.

From the museum pic it looks as though the 752 has a narrower top.

Jeremy Ashford




Number of posts

: 3150


Location

: Whangarei, New Zealand


Registration date :

2010-09-11



Correct Jeremy ...... wishful thinking on my part.
Ev,
do the museum pics give an idea of scale as well as proportion wrt 752 and 754?
Does the 752 appear to be the same height as the 754?

Jeremy Ashford




Number of posts

: 3150


Location

: Whangarei, New Zealand


Registration date :

2010-09-11



We just have this pic Jeremy ...
the 832 is the fat bottom south pacific isn't it?
Janice has a 750 and an 802 ..... well they are the same shape but one is larger and we must look into that.
It sure is tough working off this picture.
I think the 754 Avon cup was in the gallery before I started taking an interest in cups so I'm assuming someone knew what they were doing, but when you compare those pics side by side it sure is hard to tell one from the other.

I've been playing with pics of Ambrico Paris cups (so many different shapes), and the 753, and the South Pacific cup, thinking there is something consistent running through that lot, but I hadn't considered the 832 in that mix. My idea is that the SP cup is the longest running cup shape if it is derived from the Paris, the 752-754 style is later, and the one we NOW call the tulip is an even later addition to the stable. It all needs more thought.

The issue with the 753 becoming the SP cup is the handle, but I have catalogued 4 or 5 different handles on Paris. There was a change to handles on both SP and tulip about 1960. I'll keep working on that too.

Time and perseverance will turn up an answer.

Also,
I have what I believe is a 750, but not the 802.
The term "breakfast cup" may or may not refer to shape but I do think it always refers to a slightly larger cup (802, 832), which supports my thought that the SP cup was the 753 with an altered handle, rather than the 832 which has a similar handle to the SP.

And quite important I guess: is this pictured dated?

Jeremy Ashford




Number of posts

: 3150


Location

: Whangarei, New Zealand


Registration date :

2010-09-11



I don't have a date for the photo above, but I will keep looking.
Here is the South Pacific and the 753 side by side to get some perspective ...
and they don't appear to be the same height.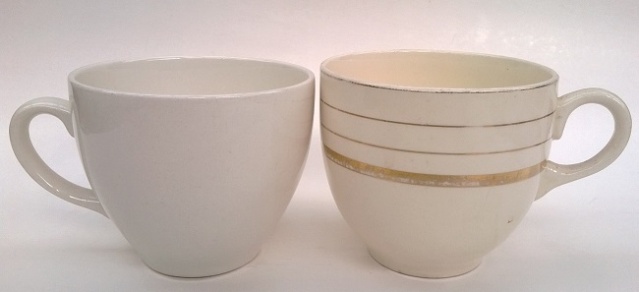 Great photo, Ev, it's good to see them side by side like that.

My idea that the SP cup developed from the 753 would have to rely on there being no overlap in production.

I would hazard a guess that the body of the 753 is thinner than that of the SP cup.
This would be consistent with my observations of the 781 tulip shape as observed from my various Fleurette duos, ie that the earlier cups were wider, thinner in body, and had a slightly different handle, and the matched saucers too were wider and thinner in body.

Although, as I understand it, Fleurette came into being from 1959, I would characterise the two distinct 781/805 duos as a "1950s type" and a "1960s type". And by extrapolation a similar scenario would apply to the 753-SP-cup.

If a 753-SP of the "1950s type were to be accurately dated after, say, 1962 then I suppose I must be wrong.

As you have told me there are modellers notes referring to various changes within shape numbers: there may be some, somewhere referring to these two major cup types of the 1960s.

I'm still inclined to think that the 700 and 800 numbers were retrospectively applied to existing shapes. If this is indeed the case then, as the 753 cup in the old shape is pictured with this number in the museum photo, a date for the photo, could be very useful.

In the cause of destroying my hypothesis, could you please refer me to the dated picture/film showing the 736 and/or 738 shapes.

Fleurette 781/805 duos:
http://newzealandpottery.forumotion.net/t3067p15-which-cups-go-with-what-saucers#16741
Last edited by Jeremy Ashford on Sun 29 Jun - 15:31; edited 1 time in total

Jeremy Ashford




Number of posts

: 3150


Location

: Whangarei, New Zealand


Registration date :

2010-09-11



Here is the link to the 1949 Crown Lynn film.
The 738 is in the opening shots panning across finished pieces.

http://newzealandpottery.forumotion.net/t129-crown-lynn-on-film-1949
Thanks Ev, I saw the 738 at the start. There were some 736s on the trolley in the casting room too, I think.

Didn't see a number for either though! It could have been added at any time over a production period that may have spanned a decade or more. Their inclusion in the 700s would mark them as tableware items rather than float bowls or some such too wouldn't it.

Also, I saw 752 or 754 cups. I was surprised to see that, but it was 1949, so I guess Paris was not their only model by that time.

The cup assembly scene looked like 753s although I must point out that there were smooth-sided Paris cups in that shape too, with that same handle! I've just bought more Paris, smooth ones, but do not have that handle myself. When they arrive I will compare with an SP cup, as you have with 753 and SP.

Also seen on the table at the start were 733 E/Ws.

I will have to watch that film many many more times.

Jeremy Ashford




Number of posts

: 3150


Location

: Whangarei, New Zealand


Registration date :

2010-09-11



---
Permissions in this forum:
You
cannot
reply to topics in this forum