I am now in a position to compare the 1010 and 1054 beer mugs.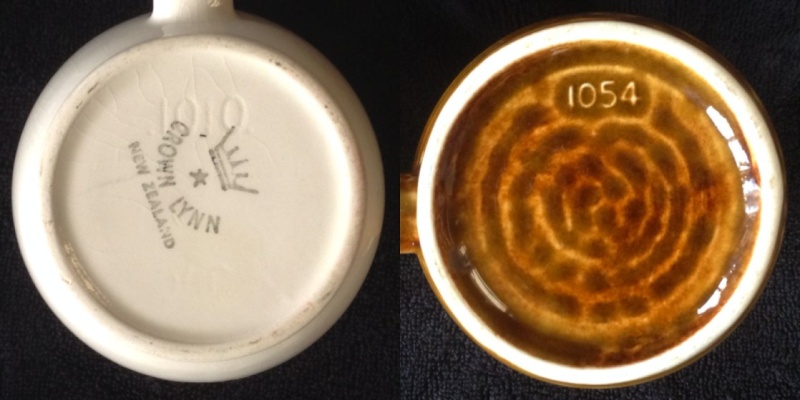 1010 was made in the Titian factory.
I believe 1054 was INITIALLY produced at Luke Adams.
"1054 - Beer Mug (Like 1010 Titian) Basalt - 1969"
https://www.newzealandpottery.net/t1355-crown-lynn-shapes-made-at-luke-adams-in-christchurch#3561
As this example has honey glaze it was probably made at Titian.
For examples of 1054 made at Luke Adams see:
https://www.newzealandpottery.net/t5320-tankards-in-two-sizes-courtesy-of-fi-in-lucow-basalt-and-possibly-homestead-decor-123#19977
Well at least we know the left one is Adams because of the Lucow glaze;
the jury is still out on the green-looking one.
Basically the 1010 and 1054 are the same shape and size ... but:
1054 is heavier.
1054 is made taller by the addition of a more solid foot.
1054 has banding marks.
There are very minor differences in the handles.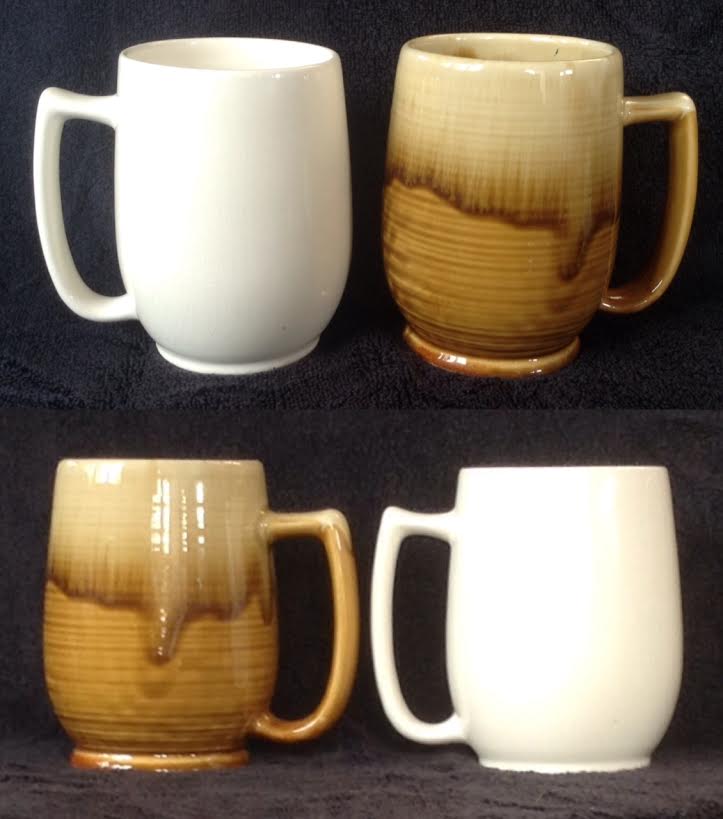 Jeremy Ashford




Number of posts

: 3183


Location

: Whangarei, New Zealand


Registration date :

2010-09-11



I've changed the top (topic) title to reflect this post.
I now have four castware mugs of the same shape but different sizes and, of course, different numbers: 1000, 1010, 1044, 1054.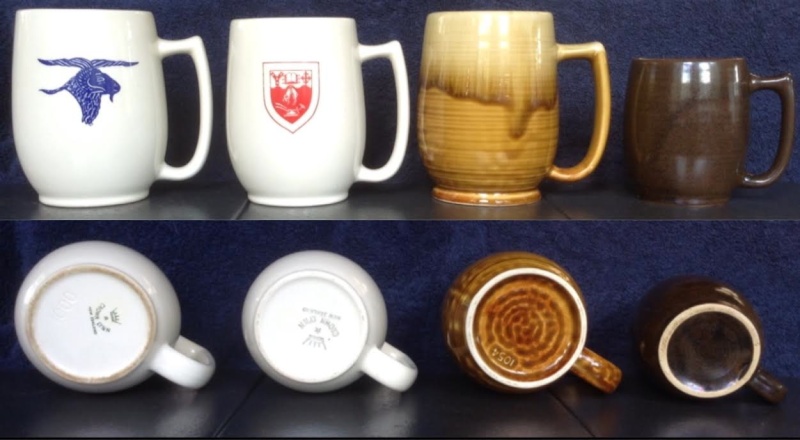 1000, 1010, 1054, 1044
I believe all but far right (1044) were made at the Titian factory, although the 1054 (second from right) was originally also made at Luke Adams.
As can be seen from the photo the two left differ slightly in size. The 1054 is a close match but has the bands or rings typical of the mugs made at Luke Adams and a beefed up footring, perhaps a slightly different handle. The 1044 is similar to the 1054 but much smaller.
---------
14/4/15
I picked up a couple of 1054s in Lucow today at John St Traders.
A quick comparison of the Luke Adams (Lucow) and Titian (honey glaze) mugs shows that the are the same height but the Titian mould makers have beefed up the footring with the result that it has a wider diameter. Measurements and comparative photos later. Will review 1000, 1010, and the two 1054s.
Love the Lucow!

Jeremy Ashford




Number of posts

: 3183


Location

: Whangarei, New Zealand


Registration date :

2010-09-11



---
Permissions in this forum:
You
cannot
reply to topics in this forum