This is Jim's crimped cup, and a b&b in the same pattern (not crimped).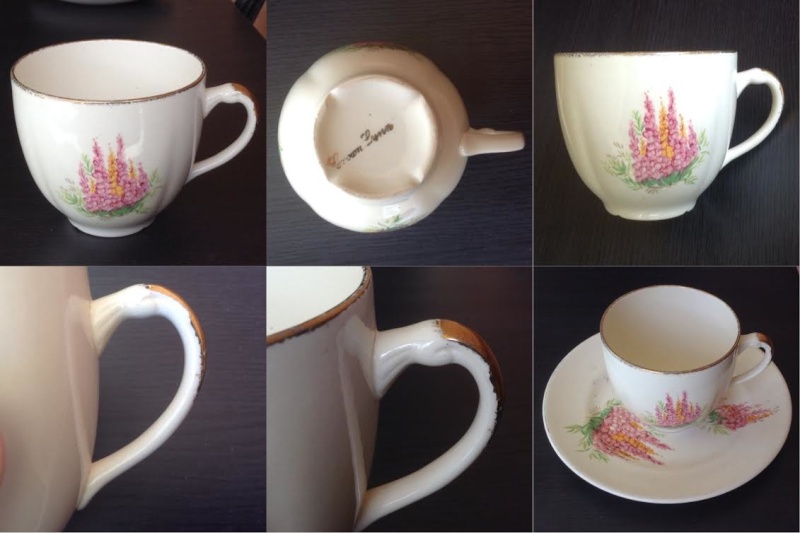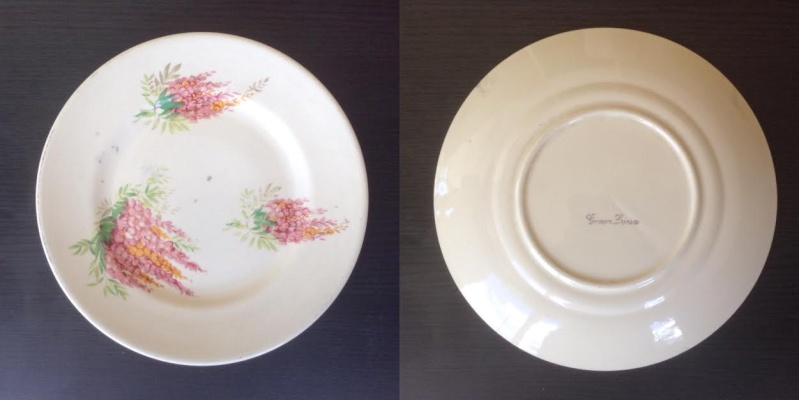 Here's my crimped saucer again. Previously posted here:
https://www.newzealandpottery.net/t6186-pink-753-with-crimp-edge-saucer-photos-added#24228

Jim's cup and plate have 48-55 stamps and my saucer 55+.
---------
16/8/15
I was tempted to think that Jim's crimped cup might be an 818 because it bears some resemblance to the "Fancy teapot ... (Rose Dawn)" at 820, which also looks "crimped". But the handles are quite different, and Jim's cup has a 48-55 stamp.
(And clearly the pattern is not roses!)
I believe the 800 numbers commenced in about 1959.
So I'm still inclined to think the crimped cup belongs with the major early cup group 750-755, possibly 748 or 749, for which we have no entries in the gallery, or 751 but my current thinking is that the last of those belongs to my Rotorua cup, which I can't find anywhere on the forum atm.
Last edited by Jeremy Ashford on Thu 15 Oct - 15:41; edited 1 time in total

Jeremy Ashford




Number of posts

: 3183


Location

: Whangarei, New Zealand


Registration date :

2010-09-11



More CL crimped shapes, SPOON
These were given to Jim by one of his family members.
I can't remember who he said it was.
This crimped sugar bowl matches Jim's cup and plate. 48-55 stamp.
Four transfers, alternating big and small.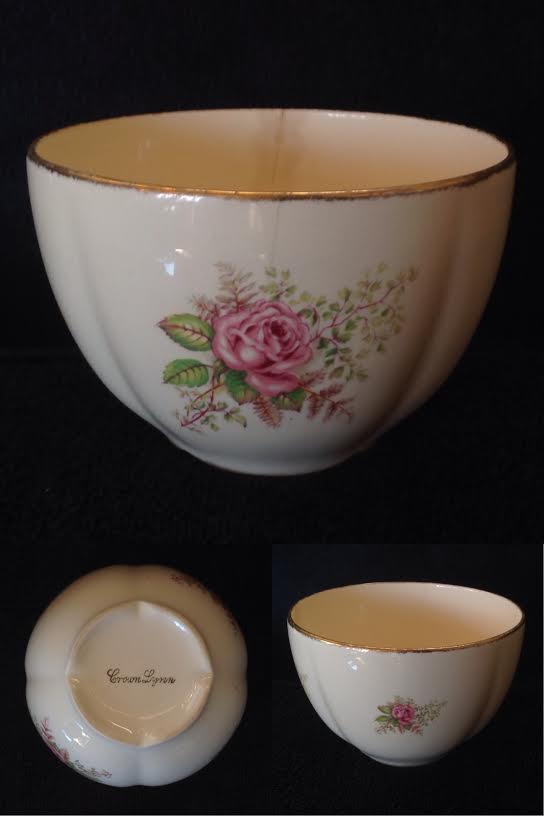 It's rare to see any CL spoons but this one is so old. It is not marked but the pattern matches the crimped wares so it seems to belong with them. Assume then 48-55.

Jeremy Ashford




Number of posts

: 3183


Location

: Whangarei, New Zealand


Registration date :

2010-09-11



A listing on Trade Me for a Rose Dawn shape Sugar Bowl has brought this topic back to life.

https://www.trademe.co.nz/Browse/Listing.aspx?id=2779146316

The backstamps are both from the 1948 - 1955 time-frame, so I can't go along with Jeremy's thoughts.  My Rose Dawn cup and saucer has the 1955+ stamp on them.

There are at least three more numbers that will be Rose Dawn shapes in the 800's Gallery,
815, 817 and 819, but there is no written records for these shapes, which make it difficult.  Looking for numbers for the plates/side plate, small jug and sugar bowl at least.

I will check out the English version by Johnson Brothers that Crown Lynn would have copied in case I can find a lead on shape numbers.

Johnson Bros gave these shapes the name of Scalloped.
After wasting a few hours surfing the net, I've found that Johnson Bros made Rosedawn, Greendawn, Graydawn and Goldendawn in these shapes.
A photo of an advert on The Potteries.org in Pottery and Glass from March 1946 give it some time-frame.
Johnson Bros made every shape imaginable in these patterns.
No shape numbers turned up, so we are no better off
JanPots and Hannele like this post
Similar topics
---
Permissions in this forum:
You
cannot
reply to topics in this forum