Mystery ramekin: Crown Lynn 1665 ramekin 6.4.70 ???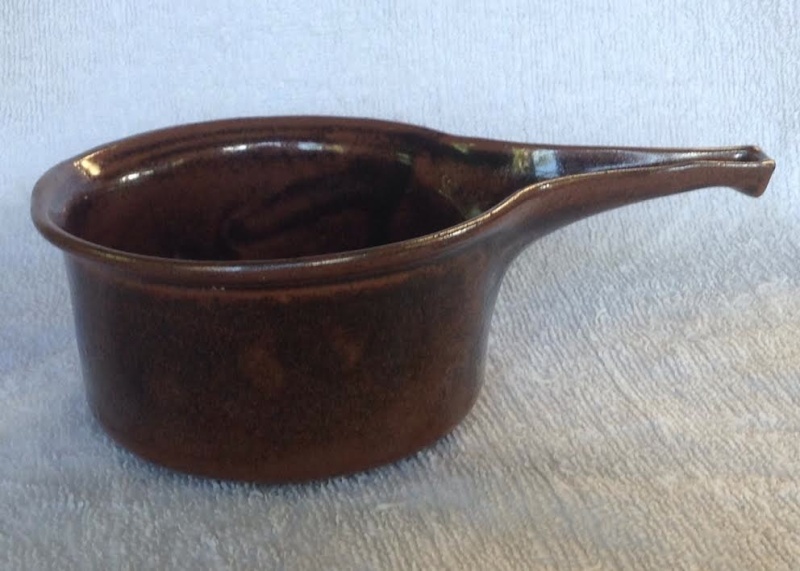 6cm H x 11.5 OD top
The photos above were previously posted here:
https://www.newzealandpottery.net/t4725-basalt-ramekin-luke-adams#17003
It has never occurred to me that this ramekin is other than Crown Lynn. I've had it sitting on the shelf with my Luke Adams Basalt without giving it much thought until last night, when I looked through the e/w castware to see what number it was. Surprised not to find it, I did note two available descriptions that remain unillustrated:
1161 solid handle plain soup bowl 16.7.73
1193 Dutch casserole n/d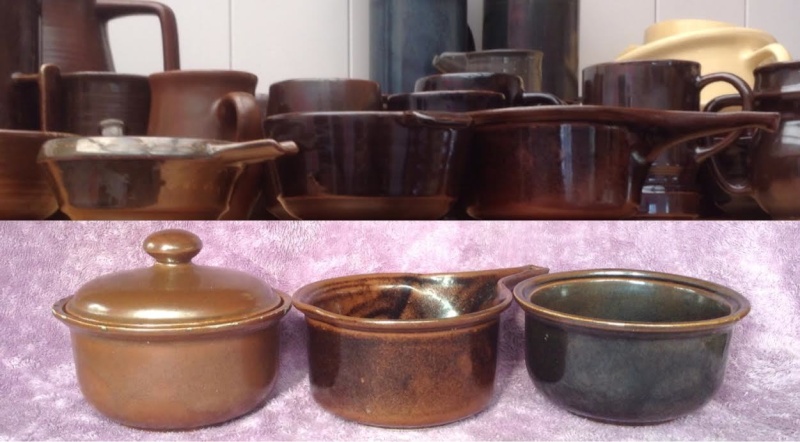 I had also had it sitting briefly with my Chateau Range as its bowl is so similar to one of my "Basalt"-glazed 1645s (left, above), smallest of the three different 1645s I have. It has the same outside diameter and a similar rim, although there is no lip to support a lid. The discovery that the Titian factory reproduced two of the three signature Adams glazes (147 Lucow as 172 Aquamarine, and 124 Basalt as ??? "Basalt") for the Chateau ware has opened my eyes to a new range of possibilities.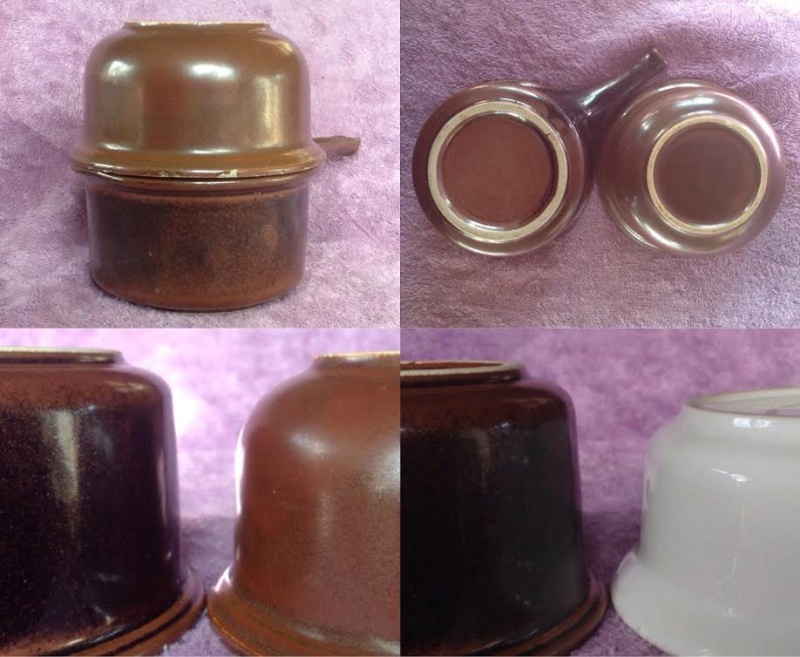 ramekin compared with 1645 (top row and bottom left) and 5631
As I photographed it last night, looking for a number on the base, I compared it to both the 1000s and the 1600s at which time it occurred to me that it is a vitrified piece. The unglazed body of the footring has the same sparkle as my other vitrified pieces, and a buckle in the rim is consistent with my other "overcooked" Chateau wares.
The straight-sided profile is more in keeping with the 1979 ovenware range (5631-36), but the rim is closer to the 1645.
So, I'm thinking 1665 ramekin 6.4.70. "Basalt" glaze. Titian factory.
The ramekin may give some insight into the shape of the mini-range of ovenware shapes 1659-1664 as numerically it follows that set and it also has the same date.
I am also considering the possibility that as the Chateau Range was developed to become the 1976 Cook & Serve range (5620 etc), the 1659-1664 range, of which no pieces have yet been identified, may have become the more straight sided 1979 5631-36 cookware range. Just pondering still. I do note that the rim of my "1665" is more in keeping with the Chateau ware than the 1979 cookware.
Also do note that the Chateau Range has lids but there are no numbers for lids for the later 1600s group. They would have had lids: maybe they shared.
Correction. I see lid numbers now.
Afterthought.
I have often picked up casseroles that look like 5620, 5621, or 5622 but put them down again when I saw the shape was wrong: for all I know I may have been handling pieces from 1659 to 1664!
Last edited by Jeremy Ashford on Thu 23 Apr - 16:24; edited 4 times in total

Jeremy Ashford




Number of posts

: 3183


Location

: Whangarei, New Zealand


Registration date :

2010-09-11



Thanks Ev, I thought it looked familiar. I'd forgotten that topic.

As you have one could you give your opinion as to earthenware or vitrified.
Last edited by Jeremy Ashford on Thu 23 Apr - 13:49; edited 1 time in total (Reason for editing : Corrected mistake from castware to earthenware)

Jeremy Ashford




Number of posts

: 3183


Location

: Whangarei, New Zealand


Registration date :

2010-09-11



I'm going to agree that it is vitrified like those dishes in the aquamarine. I will add it to the gallery when I get home. Thanks for your determination Jeremy.
May look like I tried but it was an accident really. It just fell into place once I knew Titian used "Basalt" on vitrified and suddenly, out of the blue, this looked vitrified. With your agreement now that it is, there is only one shape it can be.

For no particular reason other than that I like it I have gathered a few Basalt items that aren't mugs and I was just curious to get the numbers together.

I'm looking forward to seeing the "other" 1600s vitrified cookware range now that I have a clue what they look like.

Step by step ...

Later ...
I see Portage has a 1661 and it doesn't look like this.

http://www.nzmuseums.co.nz/account/3384/object/491223/Stewpot_and_lid#prettyPhoto.

Never mind. The "Ionic" series all have the same date too, and the other ramekin, 1675, has a lid whereas this does not have the lip to support one, so all is still good.

Jeremy Ashford




Number of posts

: 3183


Location

: Whangarei, New Zealand


Registration date :

2010-09-11



---
Permissions in this forum:
You
cannot
reply to topics in this forum