After four opshops all I found was a 3019 cup with a No Name pattern in a retro orange flower that we already have, but I couldn't resist it even though it was $5 !!!!
Then I had to pass one more Sallies shop that never has anything for me these days and I thought oh well as I'm going that way I would pop in ....
OMG there was a lidded jar with slip decoration that has lines cut through the slip  waiting for me for ........ $3  these moments are so few and far between, so I took my time and ran my finger around the rim .... sweet as .... no marks .... excellent.  The knob is hollow which was a surprise, but that is ok as far as I'm concerned.  
It's too dark now to take photos, so I will do asap and share my wonderful find
Three cheers for Ev
Eeeekkkkk it's the same shape as this listing that I was watching and it has a hollow knob too ...... http://www.trademe.co.nz/Browse/Listing.aspx?id=893774804
I want to record that Daniel Steenstra passed away 7th September 2000.
He married Wendy in 1954.  Dom born 1955, Sarah 1957 and Irena 1967
Also the towns that he lived in were Henderson, Colgate Christchurch, Mt Albert, Kerkeri, Mangonui 1995
Last edited by Ev on Sun 23 Aug - 10:03; edited 5 times in total
Awesum! we were looking at that auction today too!

Kat & Co.




Number of posts

: 2297


Location

: Whangarei


Registration date :

2012-12-03



Here you go ...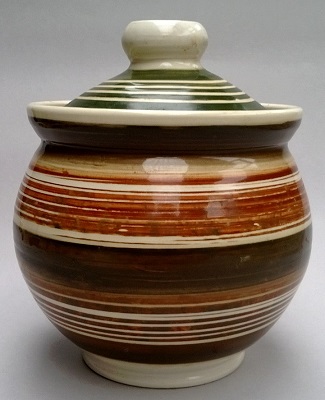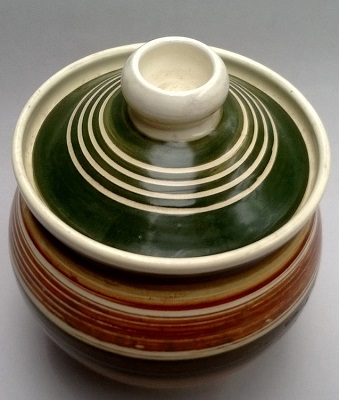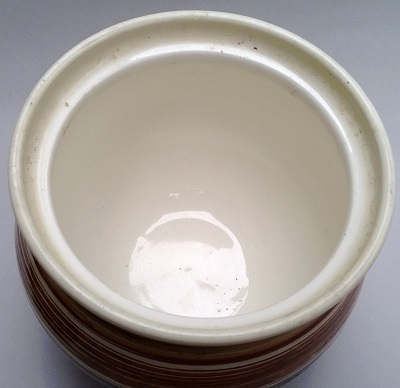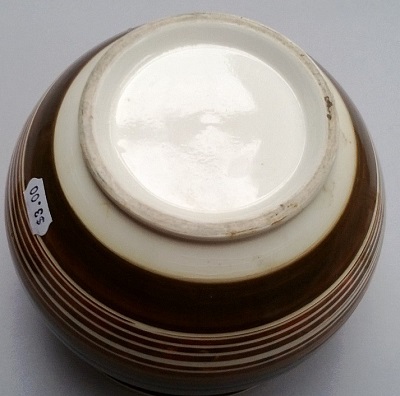 A link to a couple of these jars from haselnuss ....
https://www.newzealandpottery.net/t5951-two-hand-potted-steenstra-pots-one-with-lid
I really like your multi-coloured one Ev.

Kat & Co.




Number of posts

: 2297


Location

: Whangarei


Registration date :

2012-12-03



What a beautiful piece. You truly were the right person to spot it Ev.
Love the $3.00 label still on in the photo. Wow!!!!!!

Jonno




Number of posts

: 662


Location

: Milford,Auckland


Registration date :

2011-05-13



PERFECT Ev well done. What does the inside of the lid look like? (Hoping for that koru swirl).

Maryr




Number of posts

: 1926


Location

: Whangarei


Registration date :

2011-11-17



I hadn't even looked at the inside of the lid ......
Here is a photo and there is no koru -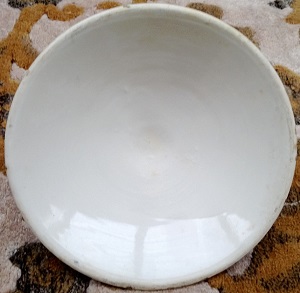 I compared this lid to a few others that I have that do have the koru under the knob and this knob is so different I now wonder if it was made by a totally different potter.
The size of the knob is much larger on this one and it has been hollowed out in the shape of a tiny bowl. This has to be a trademark of the potter and is something that I haven't come across before.
So now I ask myself if this was made by Steenstra or not and all I can hear is that question echoing around in my brain with no answer forthcoming!
Thoughts welcomed please ......
Ev I am still burning with envy over this find - and Mike's lovely blue vase. I obviously need to spend more time cruising those op shops.  
ANYWAY. Short of finding someone who is still with us who can help with the mysteries surrounding Steenstra we can't have a definitive answer, but I am pretty sure your lidded jar is his. Remember the clipping below which is held by the Auckland Museum. Top right, there is a planter pot which is in the same style as your jar. The text of the advertisement says Daniel Steenstra can make you a vase in the style of those illustrated. The decorating process for these pots was described to me by a man who use to work closely with Daniel at CL.  So all this ties together to strongly suggest Steenstra.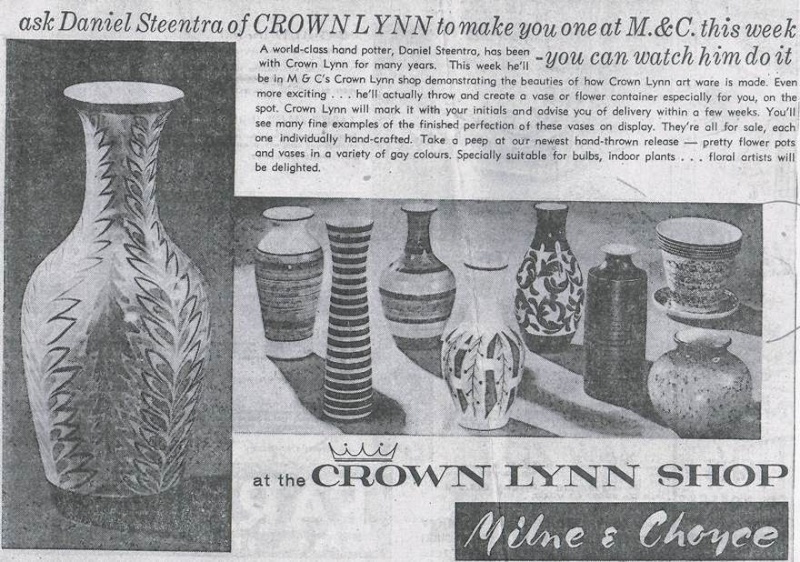 For more, see my blog post about Steenstra.
http://valputaruru.blogspot.co.nz/2014/04/daniel-steenstra-hand-potter.html
Re the hollowed out knob, and the lack of the distinctive koru swirl.  I have items made at Beach Artware and later at Kiln Craft/Clay Craft which have a hollowed knob.
Here is my salt pig which I believe to have been made by Steenstra or one of the other hand throwers at Beach.  
There is also a hollowed out knob on the "Traditional" and 'Kiln Craft" marked jars - this style of thing.  To my knowledge they are all slipcast though.  This one is marked Traditional.
To complicate matters, when you look down on the hollowed out knob of the salt pig, you see a distinctive swirl, which I have seen on several other salt pigs from that same stable.
Steve Fulmer, who worked at Beach Artware around 1973-74, talked to me about Daniel Steenstra, who was at Beach at the same time. Steve specifically mentioned the little koru swirl on the underside of the lid - under the knob. I have posted pics elsewhere in the Beach section.  
Your pot doesn't have that swirl.  There could be a number of reasons
- Steenstra developed the swirl after he left Crown Lynn (or maybe for quality control reasons CL didn't let him use that technique).
- Unlikely in my view, but perhaps your pot was done by someone else.  I know that other potters used that swirl - Steve Fullmer learned it from Steenstra and it looks as though Peter Lowry (of whom more another time) also used it.
So. Lots of questions, not a lot of answers. But that's what makes life interesting isn't it?

Maryr




Number of posts

: 1926


Location

: Whangarei


Registration date :

2011-11-17




haselnuss




Number of posts

: 970


Registration date :

2012-09-12



Thanks for reassuring me that I am correct in my identification Val and haselnuss. It's the knob that caused me grief.
The lid on this one matches the green under the rim and lower down on the belly, so I'm sure it goes with the pot.
I will now put him where he belongs which is in my china cabinet with the real treasures!
---
Permissions in this forum:
You
cannot
reply to topics in this forum