A lovely surprise for me at gloworm's place yesterday morning was seeing this brown coffee can and saucer. Fortunately she had a spare duo for me.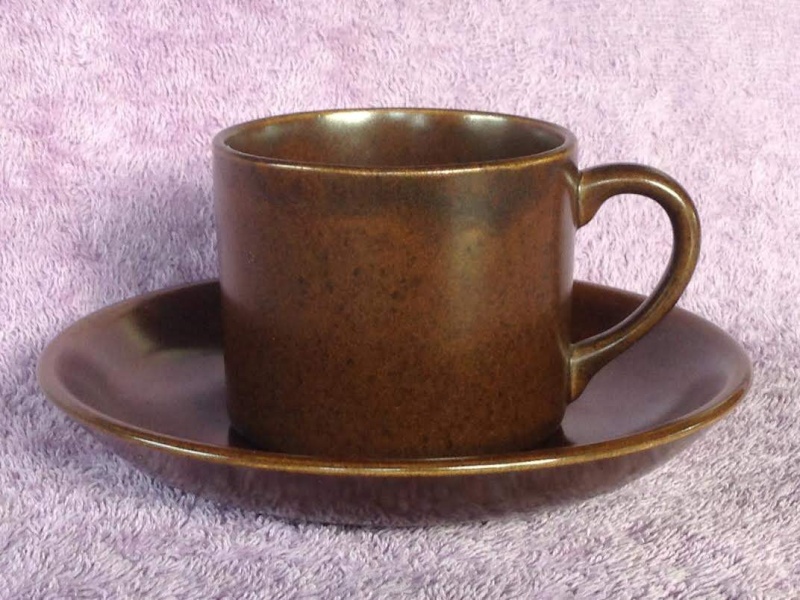 The shape numbers are 3023 and 4017 ("jumbo saucer"). The surprise was because I have probably seen these before on trademe but confused them with the round-handled version of the 3038 can.
The only other 3023 cans I have recognised before are in the three (so far) colour variations of Candy Stripe (d528), and the "Happenings" patterns (Purple Myrtle d530, Arthur and Martha d531, and Captain Sharples d532).
This duo is glazed allover in Forma brown. I don't know the pattern name or number but I agree with gloworm that it is a match for brown Forma wares. These are the only jumbo saucers (gloworm has at least one other duo) I have seen with a coloured glaze on the underside. The saucer is definitely a 4017 but beefier than any others I have, perhaps because it was made a bit later. Surprisingly the cup body is very slightly lighter than the Captain Sharples.
Because the Sharples etc appear to have only been made for a short time I'd be interested to know if someone can date the glaze from its use on Forma shapes.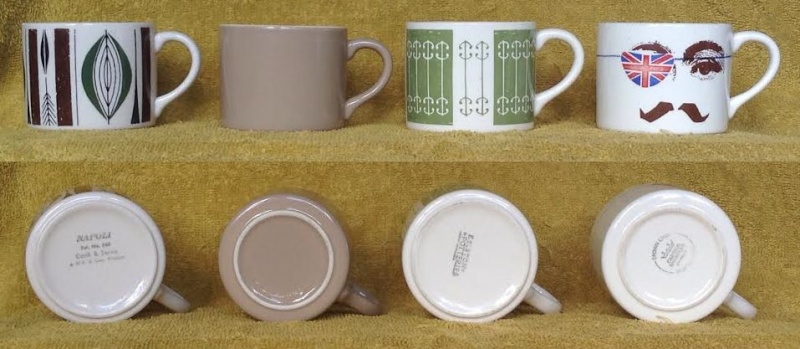 The 3038 can shape is derived from the cans that commenced with the 782 vitrified Cook & Serve cans (3618 vit, 3022 and 3023 e/w, as seen above), specifically the 3022 and 3023, those being earthenware, the difference being simply the addition of the coved foot and consequent lowering of the handle to the same final height in relation to the base.
The 3038 can (12.9.75) was introduced with its own "two angle wide well saucer" (25.6.75), to my mind a poor substitute for the earlier coupe saucers and one of Crown Lynn's ugliest, but was later sold with the more shapely 4042 "rim saucer" (15.11.76).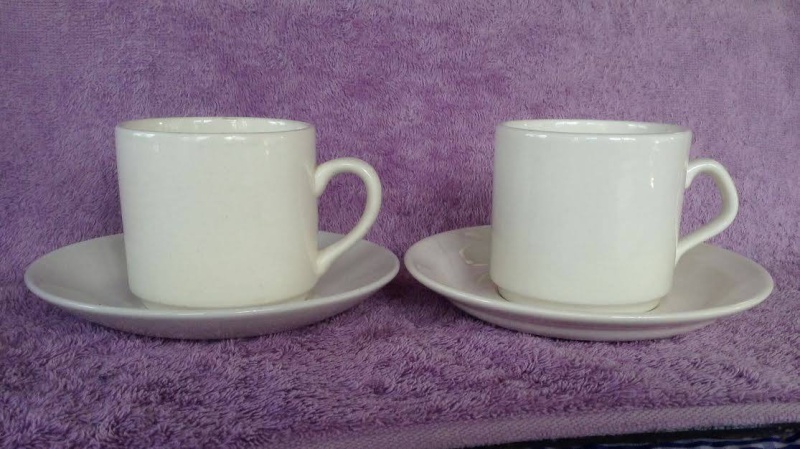 -------------------------------------------------------------------------------------
I have added this note about the picture above, lest it create a false impression:
3038 cans with both handle shapes were produced on both saucer shapes.
-------------------------------------------------------------------------------------
The Forma range dates from 1971, so I'm guessing that 3023/4017 duos in the Forma glaze (and similar allover glazes?) would have fulfilled the role of mass-market earthenware coffee can following the transfer and/or screenprint patterned cans from the release of the 3022 and 3023 can shapes in 1968, which i think would have dated quickly.
Last edited by Jeremy Ashford on Mon 3 Aug - 11:27; edited 1 time in total (Reason for editing : Clarification)

Jeremy Ashford




Number of posts

: 3183


Location

: Whangarei, New Zealand


Registration date :

2010-09-11



---
Permissions in this forum:
You
cannot
reply to topics in this forum