I had be meaning to visit gloworm for a long time as I have long coveted four Ambrico cups she posted on the forum with an example of what could have been Ambrico's earliest backstamp:
https://www.newzealandpottery.net/t3458-made-in-nz-backstamp
On Saturday I finally made that visit when Miriam invited me for morning tea to view her collection and to pickup four Crown Lynn (48-55 stamp) 55mm saucers I had bought from her on trademe.
These are the cups and saucers I covet.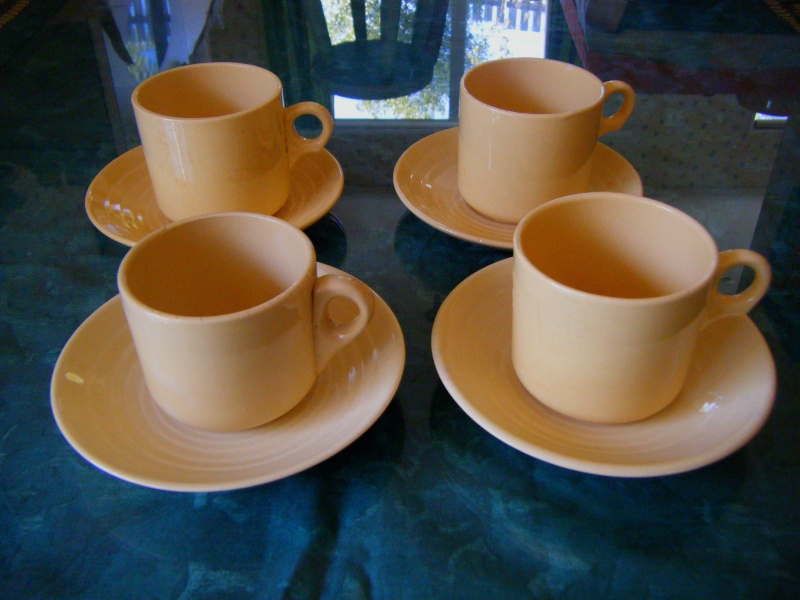 photo by gloworm
I had got the impression from the photo that these cups were much smaller so I was surprised when I saw them.
There are not one but two different cup shapes. What we took to be the earlier shape has a block handle like some of the Paris-type cups and also similar to the later vitrified 3610 cups. Miriam has one example of this shape. [5/12/15 so do I now, from Val's garage sale, not perfect but I have one! And in better condition than the one at Auckland Museum.]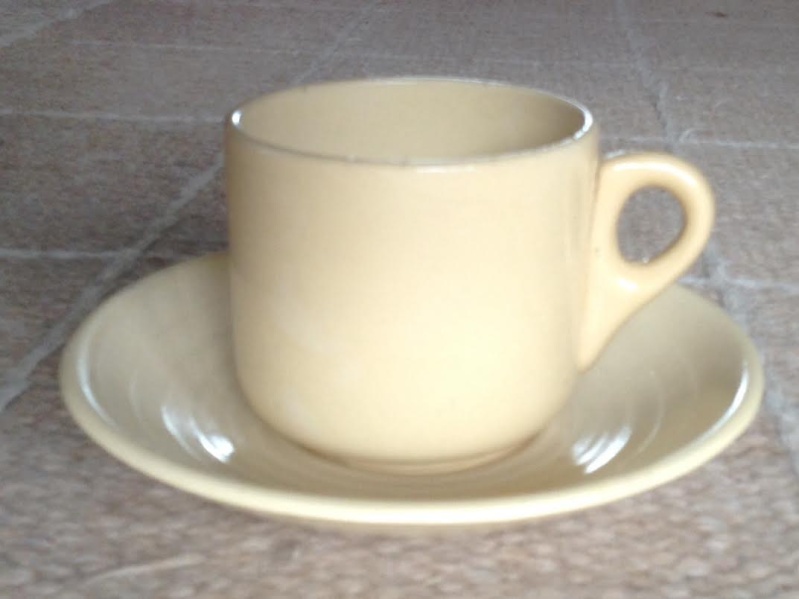 72mm H X 81 OD top x 52 footring
-------------------
10/8/15
Eds to add links here.
See Auckland Museum K6293. I think they are the same cup:
http://www.aucklandmuseum.com/collections-research/collections/record/am_humanhistory-object-7866?k=K6293&ordinal=0
Also, I think Jim's small Railway cup, despite its different handle, may have the same body (same jig) albeit vitrified:
https://www.newzealandpottery.net/t4828-vitrified-carlton-700-3638-and-insulator-cups#17676

second from left.
--------------------
The other three matching cups are slightly bigger and have the handle shape that was later used on the (smaller) "Carlton" cup, shape number 755.
78 x 82 x 52
Elsewhere I have posted vitrified cups monogrammed as "Erg" and "Solarc":
https://www.newzealandpottery.net/t5632-cl-solarc-and-erg-cups-what-shape-number-are-we#21427
I believe these vitrified Crown Lynn cups are a shape match for the Ambrico cups with the similar handle.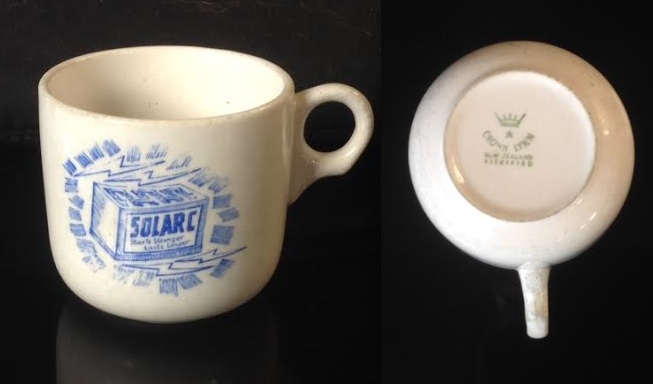 73 x 79
There is a slight difference in size that is typical of earthenware and vitrified shapes from the same mould or jig. I think there should be a number for these somewhere in the 700s. A number for the vitrified cups would likely have previously been the designation for the earthenware ones. And, as the sizes are so close I'd hazard a guess that the block-handle cup was an even earlier version bearing the same number.
Miriam has four cups and four ridged saucers of similar but not identical size which she bought together. Three saucers are unmarked and just one has the brown Made in NZ stamp. We were both happy to think that the single saucer belongs with the single cup, and that it is likely the earliest, notwithstanding that no one has yet offered any idea how the unmarked saucers fit into the scheme of things.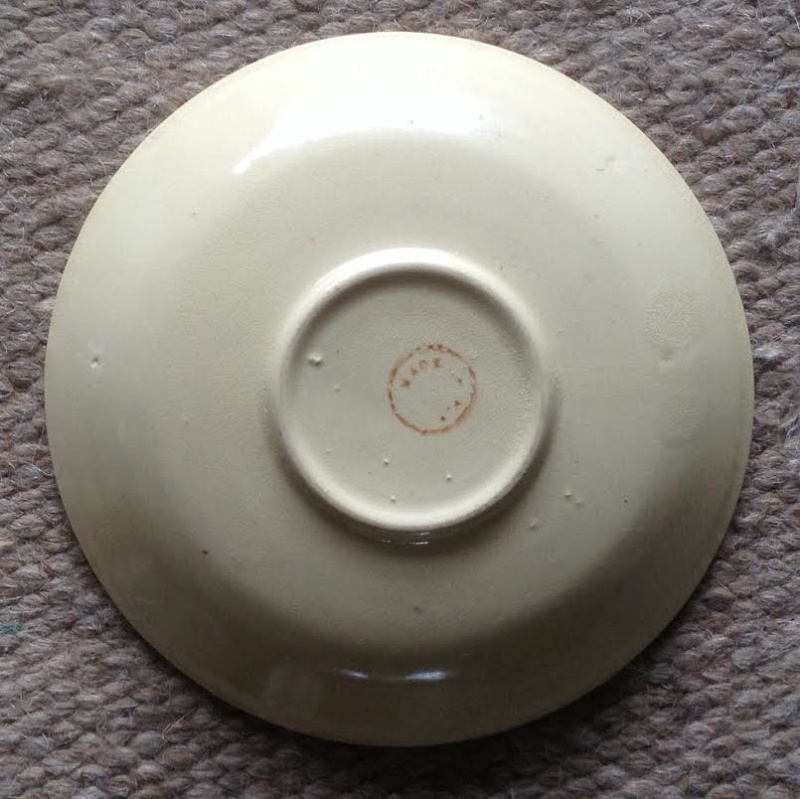 One further mystery was solved for me (if I am correct here) while looking at these cups. The Ambrico "Paris" cups are generally a sloppy fit on their ridged saucers, and this sloppy fit is pretty consistent. Miriam's small-Railway-cups are a perfect fit for the saucers they sit on and the saucers are a match for Paris saucers. One size fitted all perhaps in those early days.
---------
11/1/16
I now have an example of the unique cup from gloworm's four, bought from Val's garage sale last year. Yet to photo.
---------
5/3/16
A trip to gloworm's for a pickup gave me an opportunity to compare e/w and vit cupss: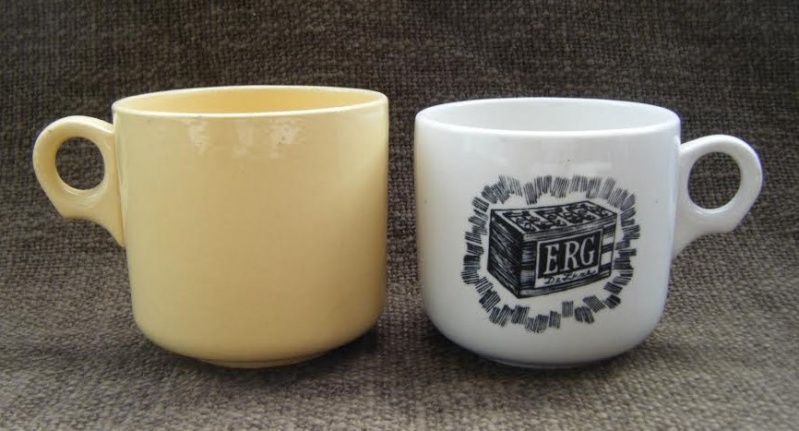 photo by gloworm
The smaller size of the vitrified cup, right, relative to the earthenware one is consistent with shapes made with the same mould or jigger, but it appears to me that the vit one is slightly more rounded at the base. In studying these early shapes I often see this duality of a straight-sided bowl versus one with a more rounded shape. Another such example is the American Armed Services handleless mugs.
The shape of the vit cup is more consistent with gloworm's other cup shape, as seen above.
Here'e my own similar cup:
my photo
Oops, these are pretty much the same size!
---------
10/3/16
Kat gave me a "small" 48-55 "700" cup today (same as Jim's cups that I have referred to as "small 700s"):
It is smaller than the standard 700 railway cup shape of the 1950s (both cups above have 48-55 backstamps) ...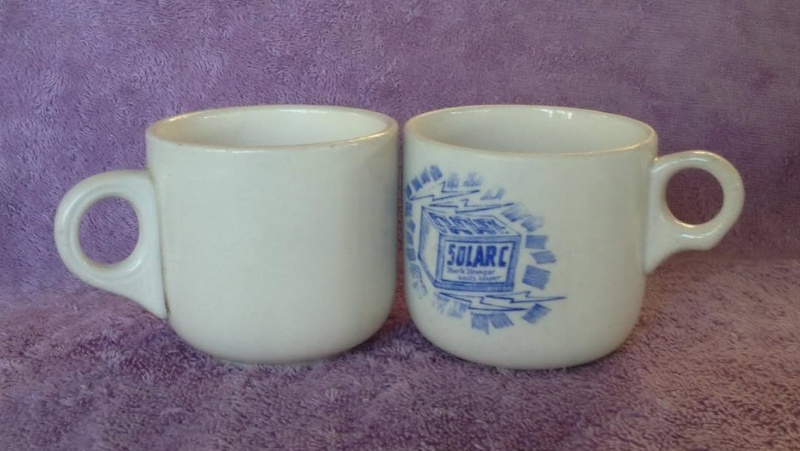 .. but it is the same size as the Erg and Solarc cups ...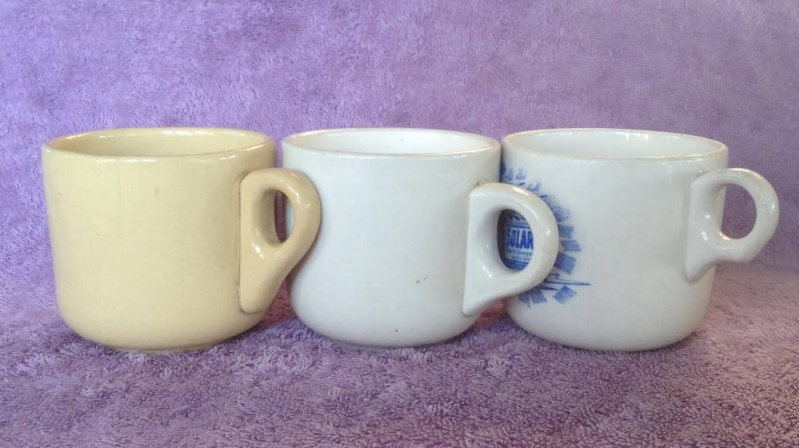 ... which means that it is also the same size as the Ambrico earthenware cup I got from Val.
It makes sense when things are the same size, although the Ambrico cup is e/w rather than vit which is a bit concerning. When I get an opportunity I must compare a 48-55 700 with Miriam's other Ambrico cups.
I think my Ambrico cup above is the same shape and size as Ambrico/CLs very first handleless NZR cups/mugs/beakers.
I have seen no date (or gave forgotten the date) for Ambrico's first railway cups but from what I've read about the difficulty Ambrico had getting handles to stick I'm thinking that they must actually have preceded the very large coved-footed cups with handles, which appear to be part of the range produced for the US Navy from (at the earliest 1941 but more likely) 1942 (or 1943), cereal bowls, handless mugs for crew, handled mugs for officers.
US Navy pottery:
https://www.newzealandpottery.net/t6574-is-this-an-nzr-type-beaker-no-it-s-an-ambrico-us-navy-mug
Straw-coloured NZR Ambrico beaker at Paekakariki Railway Museum
http://stationmuseum.co.nz/Interest_1.htm
White NZR Ambrico beaker at Auckland Museum
http://www.aucklandmuseum.com/collections-research/collections/search?k=K3905

Jeremy Ashford




Number of posts

: 3183


Location

: Whangarei, New Zealand


Registration date :

2010-09-11



I bought these together...4 cups and 8 saucers. Most of the saucers are the ridged Paris type and 2 are plain. Which would be the correct saucer or could both be?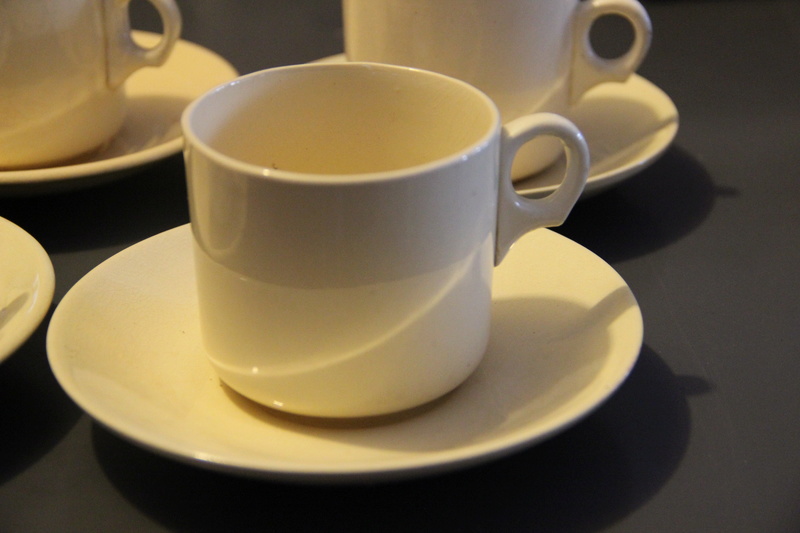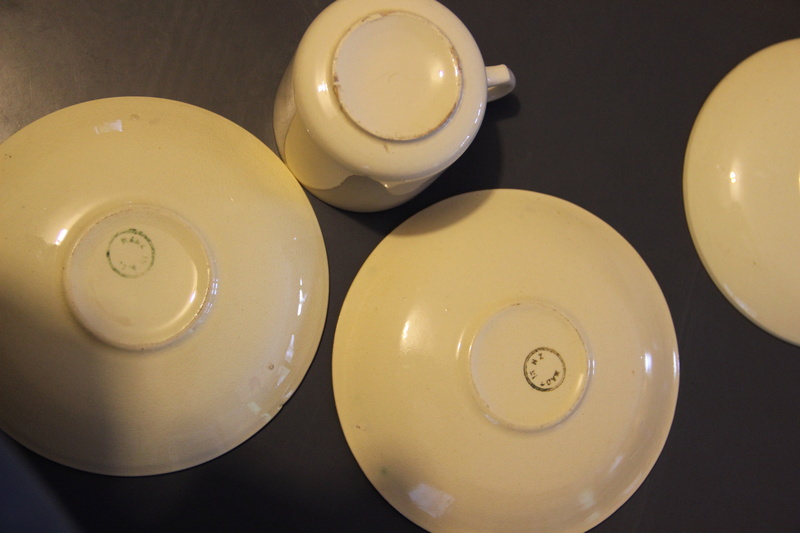 Much more straw colured than in the images. I was surprised how thin these were!

mike67




Number of posts

: 391


Location

: Wanganui


Registration date :

2014-02-22



Oh, lucky lucky you Mike!

I'm afraid I have no definitive answer for you.

I have lots of ridged saucers and have determined that while they all have the same diameter, near enough, some are a much heavier body.

From that I happily concluded that the heavier would be appropriate for these commercial-type cups.

Miriam's (gloworm) ones, with the two different handle types, all have ridged saucers but I cannot speak to their provenance other than to say she bought them all together. I got one cup like yours from Miriam and with the other handle from Val: I do not remember whether I got a saucer from Miriam but definitely not from Val.

I have the odd early plain saucer but they are of a weight appropriate to domestic cups rather than this commercial type.

Mike, are you plain saucers appropriately heavy for these cups?

And could you please confirm body colour as straw or white.

We need some more WWII era photos don't we.

Jeremy Ashford




Number of posts

: 3183


Location

: Whangarei, New Zealand


Registration date :

2010-09-11



Yes I was very pleased to get these. Most definitely straw coloured (a light yellow clay) and both sets of saucers are an appropriate weight for the cups which are surprisingly thin at the top. The saucers have quite a variation in diameter. I think I got 8 saucers, mostly ridged and some of each type are 2mm or so smaller.

mike67




Number of posts

: 391


Location

: Wanganui


Registration date :

2014-02-22



---
Permissions in this forum:
You
cannot
reply to topics in this forum