I have noticed quite a but of size variation in cups with the same shape number.
One factor could be the age of the cups.
I measured these variations in size of 754 shape cups at Jim's place yesterday.
I rushed into shooting the first three then realised there were more. (Three side by side is all I could fit on the "photo seat" and any more would have made it confusing.) so the other two follow. Four distinct sizes.
First three cups. All 754. In order of height not age.
1. 73mm H x  83 OD. Fine body. Kelston Ware British
2. 75 x 85. Typical 1960s weight. Kelston Potteries
3. 77 x 88. Fine body. Caribbean Ware
I didn't shoot the stamps on the other two but I noted them down.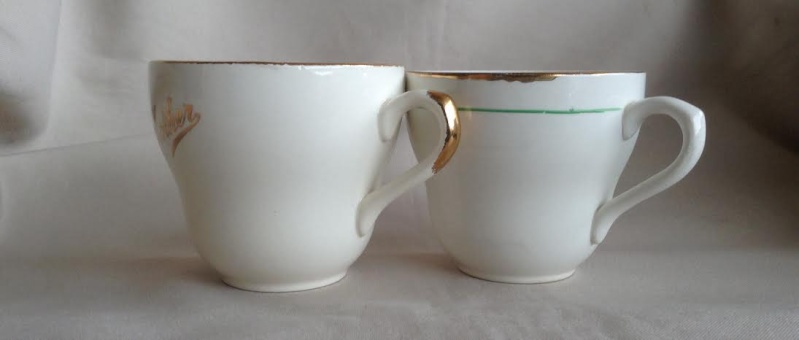 4. size: between 2 and 3 in first pic, ie smaller than the other KWB. Kelston Ware British. "Mother", not Father.
5. 75 x 85. Typical 1960s weight. Kelston Potteries
Cups other than the 1960s Kelston Potteries ones are lightweight china.
I know the Kelston Potteries cups are newer than the others but do not know what the age relationship is between Caribbean Ware and Kelston Ware British. Experience tells me the deeper footring on the Kelston Ware British should make it older than the Caribbean Ware.
Thus I'd guess that the order of age (older to newer) is 1, 4, 3, 5/2.
I don't think Jim has any earlier 754s. I haven't measured my own cups.
Generally, from the 1960s cups with the same shape number became heavier in body. This can be seen with the 781 tulips: the impressed "New Zealand" mark came before the raised "Made in New Zealand" mark and the latter are heavier.
I have noted that elsewhere:
https://www.newzealandpottery.net/t3067p15-which-cups-go-with-what-saucers#16741
I do not know how that info relates to 754 cups.
Later ...
Looking at Ev's recent posting of unidentified cup shapes I see two that look like 754s.
So, 752s aside (as that distinction is pretty clear now), maybe not all cups that look like 754s are 754s.
Unidentified cup shapes photo:
https://www.newzealandpottery.net/t6675-cup-shapes-from-jim-s-collection#26434
752 vs 754:
https://www.newzealandpottery.net/t6068-is-this-cup-from-mrnarna-the-752-for-the-gallery-no-it-s-a-754-but-haselnuss-has-posted-a-752#26443

Jeremy Ashford




Number of posts

: 3183


Location

: Whangarei, New Zealand


Registration date :

2010-09-11



---
Permissions in this forum:
You
cannot
reply to topics in this forum