[originally posted here
https://www.newzealandpottery.net/t4295p15-pic-s-of-jim-s-collection#26422]
[Ev asked about the centre cup (as a possibility for shape 832) and one to its left.]
Ev, you may wish to move this post to a separate topic.
I just put it here for continuity.
As you know I agree with Portage on the 832 shape:
https://www.newzealandpottery.net/t6530-for-gallery-832-breakfast-cup-correct-744-large-saucer-different-fiesta-gaye-backstamp-4610-vit-jumbo-saucer
The left and right cups below are in the same relative positions as they are in the shelf display above. I see this cup (right, below) as a variant on the 753/780 bowl shape. The left-hand one is essentially the same shape but narrower and much like a Paris/Ambrico cup in profile.
The smaller cup on left has the 48-55 backstamp and from my examination of it I think the larger dates from the same period.
I think the 832, by its numbering would be mid-fifties at earliest and more likely late-fifties.
left cup 74mm H x 79 OD
right cup: 75 x 85
The right cup is bigger than the left but not so big that I would describe it as a breakfast cup: the left is quite small.
There is quite a variation in size for some of these early cup shapes that I have yet to come to terms with: I also took photos of four (maybe five) 754 cups of different sizes. I am not familiar with the 752 but am confident that they are all indeed 754s. I've posted them here:
https://www.newzealandpottery.net/t6674-cl-cup-size-variations-with-a-single-shape-number-754#26427

Jeremy Ashford




Number of posts

: 3183


Location

: Whangarei, New Zealand


Registration date :

2010-09-11



I still struggle with the old cup shapes constantly and wonder if many had reused numbers.
I see this larger shape as an 832 in this old poster and the Fiesta cup that the Portage say is and 832 as and 802 ....  please ......bear with ......me as the 728 and the 802 have other shapes that are recorded 
Sure.
There are so many variations on cup shapes that would appear to be the same number.
We have the option of modellers changes to the same shape or different numbers.
Unfortunately the reuse of old numbers obscures the existence of what could have gone before. The good thing about reuse of numbers though is that as you find and add dates we get a clearer picture of which numbers may have been reused.
The dates that you have in the gallery for the 800 items lead me to think that it only existed from 1959 or so, if that is correct reuse of those numbers will indicate items made for a very short time. (802)
The big sticking point for me is that the earliest date we have for a South Pacific cup is about 1960 yet so many shapes from very early, like the two above, look so like it. And with Jan and yourself I still wonder about the similarity of 753 and 780.
Hopefully Friday I will have YET ANOTHER early earthenware cup shape to add to the confusion. (That is when I am expecting it to arrive.)
Later ...
Ev, I see the earthenware 755 in the CL photo. I knew I'd seen it somewhere. Mine is here:
https://www.newzealandpottery.net/t5584-earthenware-carlton-cup-marked-kelston-ware-number?highlight=Carlton
As we are now having duplicates in the gallery (for 728 and others) perhaps it could be added as 755 earthenware. You have clear documentation in that photo.
Likewise, as we have only one number for the early demitasses perhaps both e/w and vit could go in at 773.
Last edited by Jeremy Ashford on Wed 19 Aug - 19:08; edited 1 time in total

Jeremy Ashford




Number of posts

: 3183


Location

: Whangarei, New Zealand


Registration date :

2010-09-11



I have no doubts about the 753 and 780 Jeremy as the 780 is the small south pacific and the 753 is much bigger and the handle is different.
A shame that these cups don't have numbers, but they are old shapes and I would like to identify them from 1 to 10 going across each row.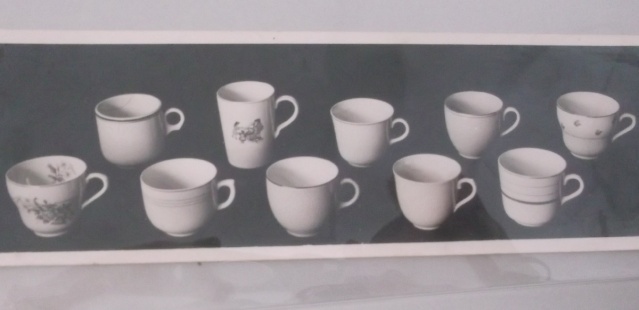 WOW!!!
What a collection!
It appears that you have a hat with many rabbits Ev.

Is there any caption or date for this photo?

I was preparing a lengthy dissertation on my own cup shapes but I will delay that.

In relation to your earlier comments, I have addressed the matter of cup sizes to some extent in my recent posting of Jim's 754s. Also I have cups with 753 handles in different sizes. I believe one is smaller than an early 781.

So ...
Contrary to the impression I may have given I do not see the 753 and 780 being the same cup, BUT (1) I do see them as having a common precedent in the Ambrico (or very early CL) shapes, AND (2) I see the 780 as a replacement shape (not shape number obviously) for the 753 as it looks as though one went out of production at the same time as the other was introduced. Likewise I see the 781 as a replacement shape for the 752 as "tulip" cup.

I have just received my first 752 this morning and am preparing to post it along with some shape comparisons. Just about ready, but a parcel has arrived at my door.

Later ...
Okay, in retrospect, considering not the photo immediately above but the black and white montage a bit higher up, I take back my acceptance of Portage's postings for 802 and 832.

From that picture I would say that my breakfast cup is the 802 and the one with the flattop handle is not an 802, or, alternatively it is a shape revision to replace my shape. I would need to review the descriptions at Portage to comment further.

That leaves 832 up for grabs and I do not recognise the shape in the picture numbered 832.


As for the new selection of shapes above, if they were all production shapes rather than prototypes, I'd say they were all very early and I'd be surprised if any of them had an 800 number. Number three looks like my Rotorua cup but I think the handle may be different. Nine is similar too.

If Val and Jim and I were to put all our early shape cups (including the Ambrico ones) together, side by side, I'm sure it would help place some of the ones that look like 753s and 780s, that is numbers 4 and 8 on this latest photo. (By 753s and 780s I mean cups that have a profile like a parabolic curve.)

Jeremy Ashford




Number of posts

: 3183


Location

: Whangarei, New Zealand


Registration date :

2010-09-11



So what shape number is the ''blue circled one'' of Jim's?
I think I have one of those... its very heavy and much larger than a "normal" cup

JanPots




Number of posts

: 1984


Registration date :

2012-05-10



I haven't checked lately but I understand this is the one described as something like Ambrico's first non-industrial shape by Gail Henry.
Val has one too. I suppose they are the same.
It is the font of all CL's 700 and other Railway cup type shapes.
I added measurements as an edit to the 700s topic, or checked at least after going to Jim's. Here it is again:
large earthenware cup or mug huge!
(19/8/15: 85mm H x 95 OD top x 57 foot ring at its widest)
As far as a number goes, surely it must pre-date all that.
And lucky you if you have one. I wish I did!

Jeremy Ashford




Number of posts

: 3183


Location

: Whangarei, New Zealand


Registration date :

2010-09-11



Similar topics
---
Permissions in this forum:
You
cannot
reply to topics in this forum