Fleurette Brereton Ware, so it must be early 1960's.  
This has the oddest skinny handle that I've ever seen ..... ?
What shape am I please?
It's a 750 Ev.
I have just got one myself, complete with saucer that I am supposing to be original to it. I date it early 1960s. Size is about the same as the 48-55 (it's a bit higher) but body is heavier. Later ones were slightly smaller.
I'm not sure whether I posted it yet or just wrote it up to post.
I haven't got around to the cup and saucer pic yet.
Here's my notes. Didn't get around to editing:
Re-modelling the 750 cup
The arrival of a 750 cup in Fleurette pattern has given me cause to ponder.
Below I make a comparison of three 750s from different periods of Crown Lynn history. (Elsewhere I will be looking at cup shapes in Fleurette. Ev has already started a topic and I will add to that.)
I have recently made similar comparisons with two 753 cups. I have made comparisons of 781 cups too.
Just two weeks ago I bought a lovely 750 duo from Manos decorated with a nursery rhyme pattern. The one below, with a different rhyme is an exact shape match. I will revert to the duo for discussion on saucers. Also here is an unmarked 750 which I take to be from somewhere in the mid-1960s or -70s. These clear-glazed cups are very common and I'm guessing they, along with white 781s and 754s were widely used in institutions, local churches, halls and so on.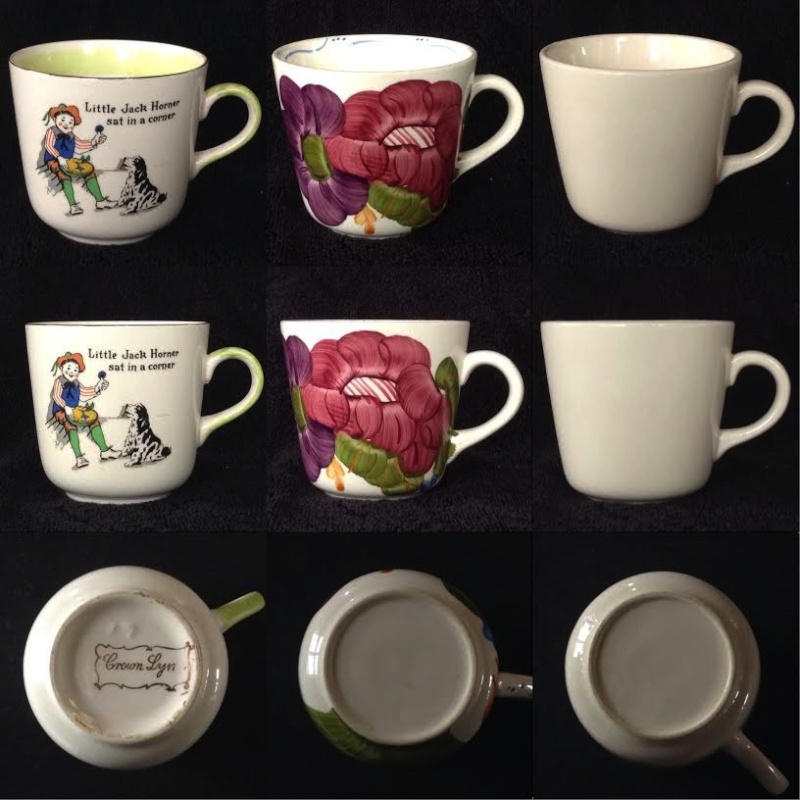 Although I have taken separate photos for each cup (to avoid edge of picture shape distortion) the camera position relative to each cup is the same.
The first cup has a 48-55 backstamp and is fine in body, decorated with a transfer and had-finished with gold. This is likely the first 750 shape and I expect it would have been in the Crown Lynn lineup from its early days.
The second cup has handpainted Fleurette pattern and a Fleurette Breretonware backstamp. This shape would have been used in the early 1960s, perhaps late-50s too. Fleurette came into use in the first years of the 1960s and was produced over three decades. Although there is no impressed or raised New Zealand mark there is an impressed number "2". It is tempting to think that may represent the year of manufacture (but a "5" on my Earliest Fleurette 781 makes me doubt that).
Cup two is close to the same height as (but slightly higher than) cup one and has the same size of footring. The clay body is slightly heavier (thicker). The shape change is more dramatic than I had expected before comparing them. The top is significantly wider and the bottom narrower resulting in a greater slope on the sides. The narrowing at the bottom has reduced the amount of curve-in to the foot ring. The handle is similar enough in shape to look like the earlier one, but a complete remodelling. It is longer and has a faint grooved line along its length.
The cup three is very similar in shape to cup two but noticeably smaller both in height and diameter: the handle looks the same but is measurably smaller. The body is thicker again than cup two. The 781 tulip cups are a good indication of how Crown Lynn progressively increased the thickness of tableware bodies: it is primarily for this reason that I am confident in considering it the latest of the three, despite its lack of base marks which are the usual indicator of age.
The variations I see in this cup shape are consistent with what I have found in others: increase in body thickness, an increase in size around 1960 followed by a reduction in size over later years.
I have noticed discussion between Ev and Janice about differently sized 750s and was expecting the size difference to be greater. There may yet be a super-big 750 that I have not encountered as all these have the same footring size.
The footring size of a cup has a bearing on what saucer shape (size, number) is used. As all these 750s have the same sized base they could fit the same saucer but documents show different numbers were used at different times, 805 and 744. A lack of availability of documentation for early shapes other than photographs is a problem. Also, we may have lost saucer numbers to shape number reuse. As if that does not make things hard enough, there is also remodelling to take into account so saucers that were given the same shape number may vary in size, including cup well size. Finally (and this is a position I have not yet heard anyone else share) despite the regular use of coupe-shaped saucers from early days, I do not think the ubiquitous 805 coupe even saucer existed (with that number at least) until about 1959. Which leaves the 744. Documented pairings of cup and saucer shapes can only be relied upon for crockery from the time of the document.
The early saucer is pattern matched to the cup and clearly original.
The Fleurette saucer came with the cup but I have no conclusive evidence that they have always formed a duo together. It is larger than two different saucer types accompanying my Fleurette 781 cups, but smaller than that of my earliest Fleurette saucer which forms a duo with a larger 781 cup. Unlike the saucer for the 781 which has the smaller size of foot ring the saucer for the 750 has the larger type, which with 805s I had taken to be later than the smaller ones (using the "thicker body" test). Although the diameter is within 2mm of all the Fleurette 805s and it has the same sized cup well its larger size does not let it stack neatly with them.
For this topic I have paired the unmarked, clear-glazed 750 with a similarly unmarked clear glaze 805 which I expect to be correct.
I welcome the addition of further 750 cups to this topic and hope to see further differences in shape, size, and detail.

Jeremy Ashford




Number of posts

: 3183


Location

: Whangarei, New Zealand


Registration date :

2010-09-11



You are so right Jeremy!
The skimpy handle put me right off track.
1961 records say that the 744 saucer goes with the 750 cup
Photos that shows some differences ..
The 2 on the right have the skimpy handle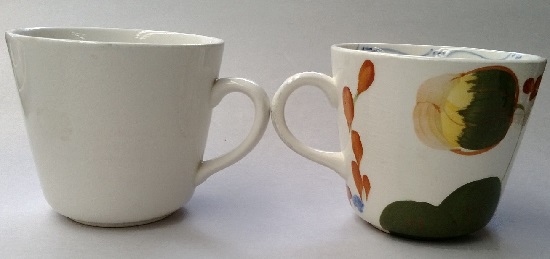 The cup on the right has a footring far less pronounced than the left one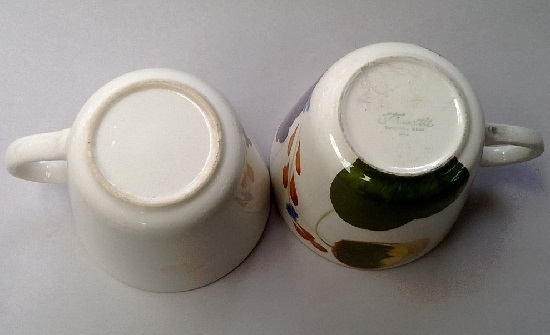 The handle rib like the 728 beaker has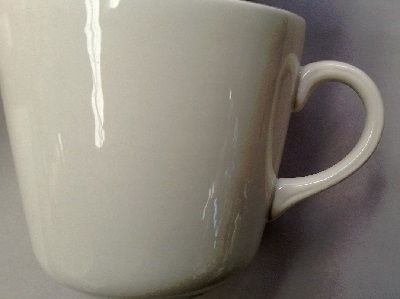 ---
Permissions in this forum:
You
cannot
reply to topics in this forum