I made my first visit to Deborah at Little Treasures this morning in her new location in John Street (Whangarei). There was nothing new for me on her shelves, although seeing the Shorter vase that members have been finding so amusing offered a little distraction.
Deborah then showed me a few other items including the 2017 vase that I mentioned in the appropriate topic and a small Hanmer bowl. "Pity it's not a mug" I said, to which she replied "Like this?" and produced the mug from a cupboard.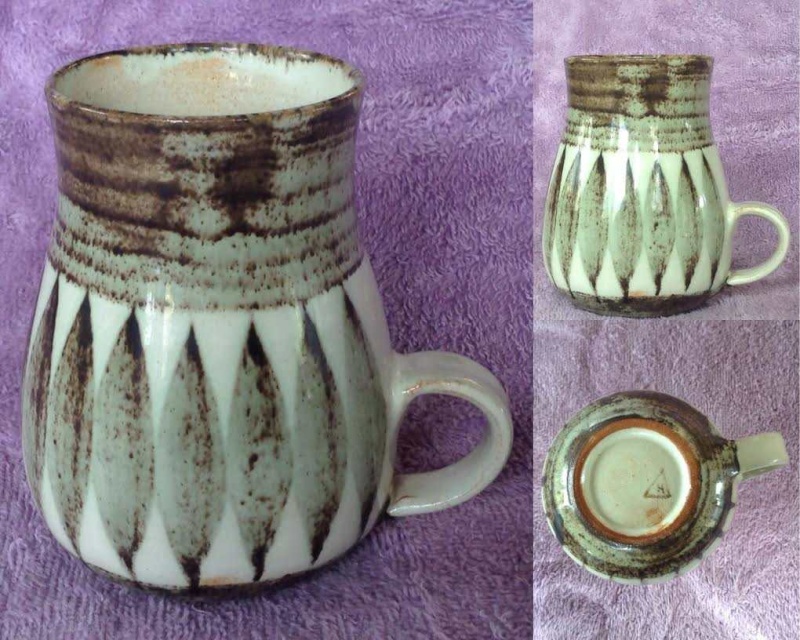 97mm H x 56 OD at lip x 65-70 OD at belly, usual mark
I have admired admired Hanmer Pottery since I first saw it and have passed on opportunities to buy their mugs on trademe and at fairs because they always seemed to be for sale in pairs which made for a more expensive purchase than I was wanting to make.
This little mug is by far the nicest I have seen.
Also the cheapest, so a big thank you to Deborah.
It is very fine pottery and in pristine condition. The handle is a bit small for man hands but when I clasp the mug in my fist my little finger slips through it easily.
Very nice to hold. i'll try it out for my evening coffee.
.Here's the bowl.
about 75 x 75
Last edited by Jeremy Ashford on Mon 4 Jul - 13:14; edited 4 times in total

Jeremy Ashford




Number of posts

: 3183


Location

: Whangarei, New Zealand


Registration date :

2010-09-11



My respect for Hanmer Pottery keeps on growing. This pottery is SO fine.
I was fortunate to be in the SPCA shop this morning as the lady was stocking the mugs shelf.
This cost just 50c but I gave $2.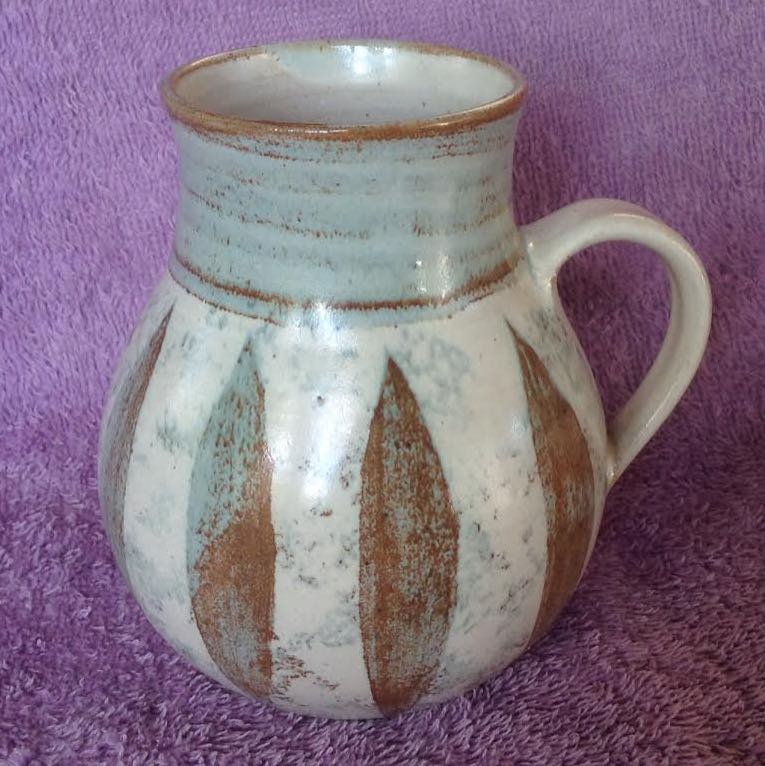 10.5cm H
This mug appears to be the same shape as one recently passed in on tm:
https://www.trademe.co.nz/Browse/Listing.aspx?id=1022593257
I was tempted but hoping for it to be re-listed a bit cheaper. No worries now.
one centimetre taller than my first Hanmer mug but much more voluminous
The smaller mug holds six fluid ounces (177ml) to the base of the neck/upstand and the larger one holds nine ounces (266ml), an additional 50%.
---------
22/3/16
I have a third mug now. Bigger, heavier, coarser, but still quite fine.
Damaged but displays nicely.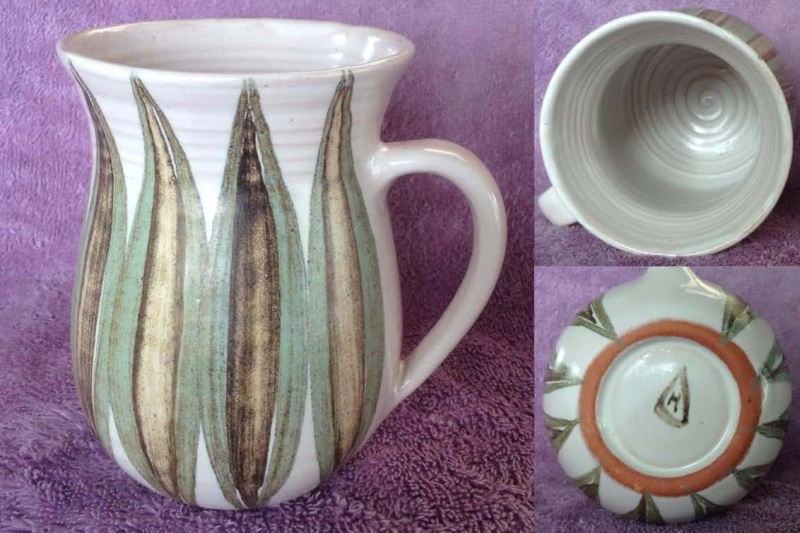 11cm H, some interesting finger marks inside
my Hanmer family
.
Last edited by Jeremy Ashford on Tue 22 Mar - 17:19; edited 3 times in total

Jeremy Ashford




Number of posts

: 3183


Location

: Whangarei, New Zealand


Registration date :

2010-09-11



I think Hanmer is some of the most stylish, under-known pottery in the country. For unfathomable reasons every book on New Zealand ceramics has ignored it, even though it is well made, the decoration well conceived and very early, having started in the 1950s I believe. Jim Nelson was the man behind it and he did studio pieces marked with an N in triangle rather than an H.

Hanmer's pottery genealogy goes to the more "modernist" oriented English studio potteries of the 1940s and 50s like Rye, rather than the Anglo-Oriental St Ives or Winchcombe. This may have something to do with its terrible neglect in our literature.

Lamp bases from Hanmer oddly seem to be the most desirable on Trademe, perhaps because of their large scale. They sell for hundreds. There was also a teapot that went for about $400 several years ago - not many were made it seems.

teaandcoffee




Number of posts

: 331


Registration date :

2012-04-22



I have wondered whether Emilie Bleuth would have encountered Jim Nelson's work before she designed Blue Tango for the 1961 Crown Lynn Design competition.
This Hanmer piece that I snatched from a photo on a Postanote listing is so like the CL Tango pattern!
That small mug is one I would like.
R/H photo credit: Jacqui Hudson
The right hand photo is a blowup from a small photo showing a large collection of Hanmer pottery for sale.
Jacqui Hudson's listing on Postanote.co.nz:
https://postanote.co.nz/everything-else/hanmer-pottery_i18160#.VucMAycaySM
.

Jeremy Ashford




Number of posts

: 3183


Location

: Whangarei, New Zealand


Registration date :

2010-09-11



Very possible Jeremy. Hanmer is nearly as ubiquitous in certain parts of the country as Crown Lynn is elsewhere.

teaandcoffee




Number of posts

: 331


Registration date :

2012-04-22



My belief for the reason why Hanmer pottery is less discussed than other pottery of in my opinion lesser quality or beauty is that Jim and Naomi were not part of either a studio pottery or commercial pottery "scene". I think this was a conscious decision on their part and recent discussion with Naomi confirms that she would still prefer the emphasis to be on the historical rather than the personal. I have seen a copy of Bernard Leach's A Potters Portfolio that Jim owned and gave to one of the many potters who work or studied under him. I think he was connected with the St Ives scene but chose not to discuss this. I think he avoided the publicity other studio or production potters courted. Leo van Ede who worked with Jim and Naomi has Jim's glaze recipes which were formulated from rocks Jim collected himself.

TonyK




Number of posts

: 652


Location

: Sydney Australia


Registration date :

2008-08-28



Here is a lovely sugar that came my way the other day.  17 cm

Maryr




Number of posts

: 1911


Location

: Whangarei


Registration date :

2011-11-17



My new Hanmer mug just arrived. It is the simplest shape and simplest deco so far.
Bit grotty but should clean up with peroxide.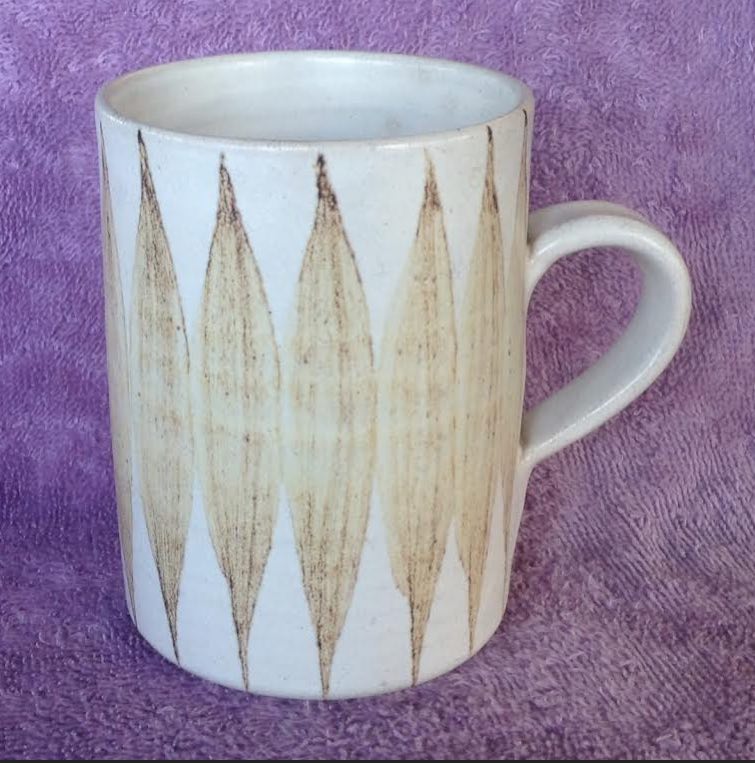 about 10cm H (I will measure this when one of my tapes turns up)
That makes four distinctly different mug shapes, which I've managed to assemble for a total outlay of just $21.50 (incl. post). Hopefully I will be able to improve this Hanmer collection at my leisure.
four Hanmer mugs, shortest (front, and left) to tallest
This is all the body shapes I have seen so far but from reference pics I have detected variations in size and differences in handle shape within each mug "type".
.

Jeremy Ashford




Number of posts

: 3183


Location

: Whangarei, New Zealand


Registration date :

2010-09-11



I will have to add a Hanmer Gallery when I get a moment, as they were very productive and most worthy.  Studio potters, but making great amounts that are popular to this day.
Since Whangarei's large auction house, Thomson Bagley, closed others have sprung up to fill the gap. I have not been to any of the auctions but Saturday, in passing, I saw the one that Ian and Sandy from Rainbows Relics are partners in, Benny's Auctions Ltd in Finlayson St. I left a $10 on a bric-a-brac box and Ian called later in the day to say I had won. My booty: a ton of junk and two Hanmer mugs in a new pattern.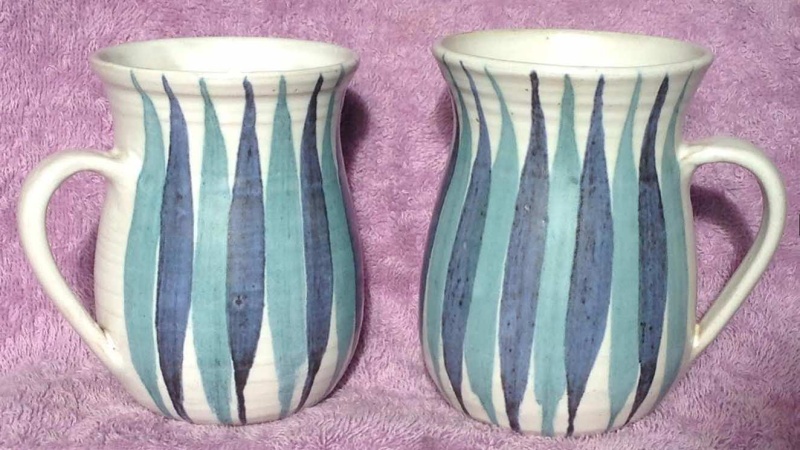 my two new Hanmer mugs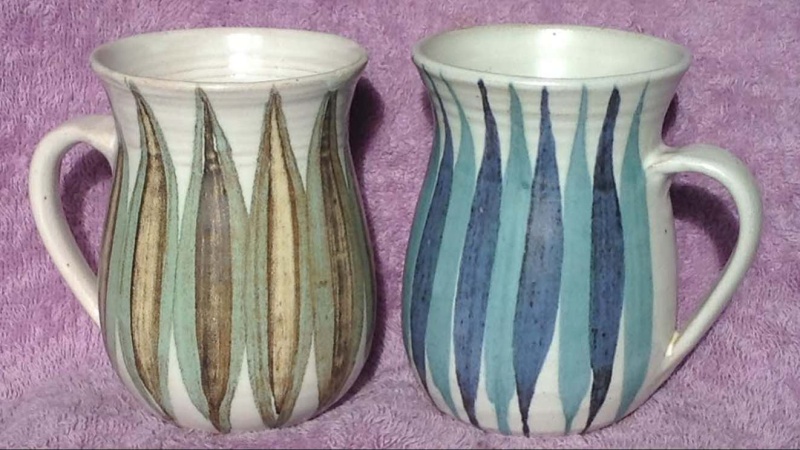 comparing patterns on the same shape
I love the two-tone blue: it really adds something to the display.

my Hanmer family on the shelf
postscript
I popped into Decor Revived this morning for a chat with Jill. I thought maybe she had bid against me in my absence. She hadn't but knew the box. I took it into the shop to have a look at what else was there. (I'd left it in the car cos the house is full!) When I pulled out one of the enamel kettles it was heavy so I looked inside and found some honey glaze mugs and an Orzel frangipani mug in my favourite Aquila glaze. Long story short, Jill gave me five bucks for what I didn't want, which means that, not even factoring in the other stuff I kept, my six Hanmer mugs have still cost me less than $30! ($28.20)
Meanwhile on trademe, a nice set of mugs:
http://www.trademe.co.nz/Browse/Listing.aspx?id=1117358418
Wow, you were quick getting that in the gallery Ev!
.

Jeremy Ashford




Number of posts

: 3183


Location

: Whangarei, New Zealand


Registration date :

2010-09-11



---
Permissions in this forum:
You
cannot
reply to topics in this forum