When I spotted a no-slip mug at my friend Geoff's place on Waiheke a few years ago the glaze led me to believe that it may be a Crown Lynn design.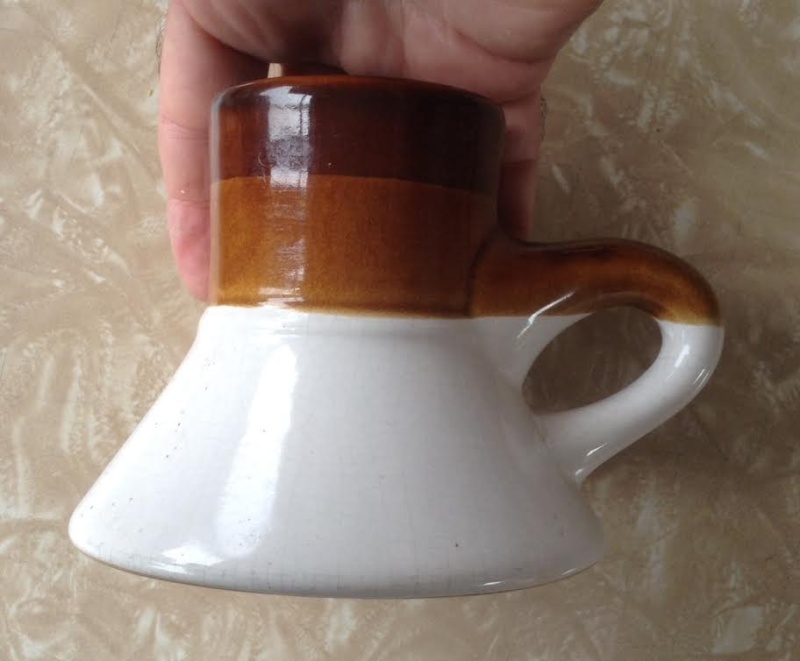 Geoff's mug
Since then two events and a bit of my own research have finally led me to its origin.
When Portage Ceramic Trust made their collection available on-line that included a plaster model, a bisque and an example of a similar mug, numbered 1448, made by Crown Lynn.
Portage 1448 link: http://www.nzmuseums.co.nz/esearch/object?a=3384&q=1448
Ev's posting of CL modeller's drawings of mugs for identification added to the story with a design for a similar yet distinctly different mug for which no actual examples have surfaced.*
*except one at Portage: http://www.nzmuseums.co.nz/account/3384/object/489376
from
https://www.newzealandpottery.net/t5667p15-modellers-drawings-of-mugs-to-be-identified
That posting was followed by mumof1's posting of the first 1448 on this site.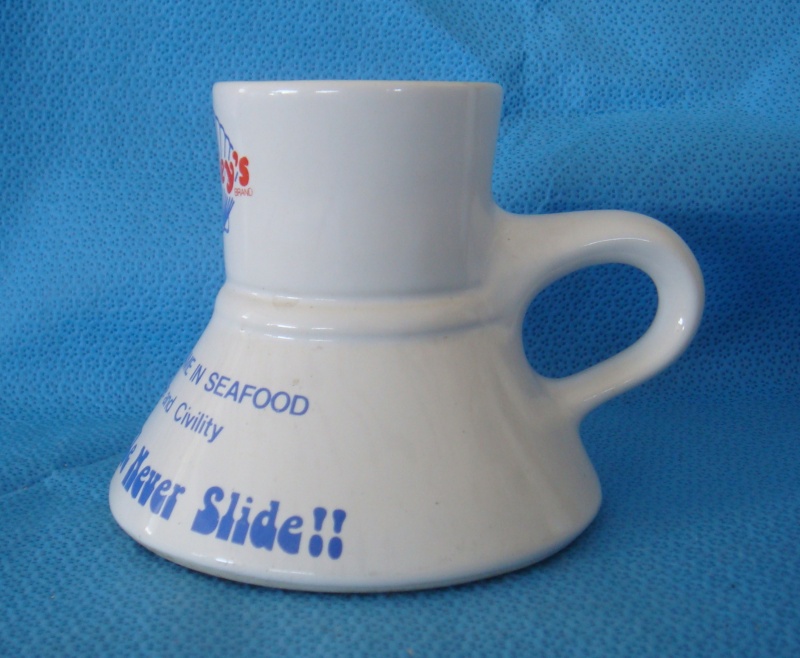 Anne's 1448 mug
The combination of the 1448 shape from Portage and local decals makes it pretty clear that this is a Crown Lynn piece. I have a similar mug (but a different shape) which also has New Zealand decals (Burnsco): I do not know if its maker is a New Zealand or foreign company.
Burnsco mug, maker unknown
My recent purchase of a 1448 mug, identical to the one Richard Quinn found to match the artefacts from Crown Lynn, the totality of which form the bulk of the Portage collection prompted me to a bit more research.

my 1448 mug
I have seen many examples in opshops and on trademe of similar mugs (identical shape and decals) which unlike mine bear the maker's brand "Bearly Surviving" California 1979. That was the start of a search that took surprisingly little time.
Starting with an internet search for Bearly Surviving led me to images on ebay of mugs marked as such and similar marked Feltman Langer. Before long I had sent a letter to Tres Feltman at Hands Gallery in San Luis Obispo, California.
Below, between the quote marks, is Tres Feltman's reply.
""""""""""""""""""""""""""""""""""""""""""""""""""""""""""""""""""""""""""""""""""""""""
Yes, that "1448" mug is a direct copy of the mug my partner, Dirk Langer, and I  brought to market first in 1979. We were unaware that anyone in NZ was making our mug. We did begin to see inferior knock offs coming in from China in the late 80's. Your photo of the mug with the brown glazed top and white bottom looks exactly like the first knock offs from china. The copies by CLP are really quite good.
Dirk and I met while attending graduate school at UCLA. While pursuing our graduate degrees in Design we  began experimenting with different mug shapes to bring to market. Dirk actually created the first No Spill No Slide mug on the potters wheel. The original mold was made off the mug he threw on the wheel. We put decal graphics of surfers and surfing on the mugs and sold them to surf shops up and down the California coast. We originally sold the mugs under the name "Bearly Surviving" and later we incorporated under the name Feltman Langer, Inc.
We soon realized that the Surf Industry, at that time, was very small and most surfers didn't have the disposable income they have now. I was crewing on a sailboat at the time and realized sailers had more money than surfers and the boating industry was immensely bigger than the surf industry. That's when we began putting nautical graphics on our mugs and our little company really took off.
""""""""""""""""""""""""""""""""""""""""""""""""""""""""""""""""""""""""""""""""""""""""
Tres has forwarded my email to Dirk so there may yet be more to this story.
Thanks Tres.
I do not have my own example of Tres and Dirk's mug but many examples can be seen on ebay with the following searches. I will buy a Bearly Surviving mug when one turns up next at the local opshops.
Bearly Surviving California 1979
http://www.ebay.com/sch/i.html?_from=R40&_trksid=p2047675.m570.l1313.TR0.TRC0.H0.X%22Bearly+surviving%22.TRS0&_nkw=%22Bearly+surviving%22&_sacat=0
Feltman Langer 1979
http://www.ebay.com/sch/i.html?_from=R40&_trksid=p2054436.m570.l1313.TR0.TRC0.H0.Xfeltman+langer.TRS0&_nkw=feltman+langer&_sacat=0
Here's one I've been watching for the last 6 months or more which may be either CL or Bearly Surviving (I have never bothered to ask):
http://www.trademe.co.nz/home-living/kitchen/cups-glasses/mugs/auction-1037038166.htm
Tres Feltman can be found at handsgallery.com
------
Later
More from Tres
""""""""""""""""""""""""""""""""""""""""""""""""""""""""""""""""""""""""""""""""""""""""
We only put Bearly Surviving or Feltman Langer marks on our mugs if they had decoration with a ceramic decal. We produced tens of thousands of mugs that were sold with a a variety of glaze colorations that had not marks. In hindsight we should have stamped all our mugs as they came out of the mold with our mark. We were young and inexperienced and thought the shape of the mug identified it's maker. If I could see a mug in person I would be able to tell if we made it or not. Were the Crown Lynn mugs made out of earthenware, stoneware or porcelain? Ours were made of a porcelain/white stoneware clay body and fired to cone 10.
""""""""""""""""""""""""""""""""""""""""""""""""""""""""""""""""""""""""""""""""""""""""
I have replied to Tres' questions to the best of my ability.
-------------
Later again
There is a Bearly Surviving No-Spill No-Slide mug for sale currently on tm if anyone wants to look:
http://www.trademe.co.nz/antiques-collectables/art-deco-retro/kitchenware/auction-1037251988.htm
--------
1/3/16
Feltman Langer on Star Trek, whichever generation
http://www.trekprops.de/raktajino-mug-replimat
---------
30/4/16
No slip cont.
As the F-L mug was used on the Star Trek TV shows I have also taken an interest in other mugs used by that show, presumably for their Trekkie techie look.
One other such no-spill type mug is the "Hotjo": I picked this one up at New Lynn Hospice shop last weekend.
You can see these on the trek props site too but I have difficulty navigating that and find a better way is a google image search for "trekprops.de mug".
Three no slip mugs, unmarked for maker. Still not sure of makers: unmarked Feltman Langer, CL, or an entirely different maker?

yachts, fish, golf
Update on the golf mug: this is also based on an original Feltman Langer mug.
So too the fish, but the fish on mine are smaller! The sticker on the golf mug is an exact match for stickers seen on F-L mugs. So, three F-L decal sets without the branding decal: this is frustrating.
And digressing again ...
Crown Lynn of course was not the only pottery in the world to blatantly copy the work of others. We have already seen as much in this topic: the no spill mug was copied by CL, and Chinese potteries, and variations on the basic design were made elsewhere, including Taiwan, and the CL design from the modeller's book.
Moving totally sideways here, as I have yet to obtain an example of the 1448 shape that I can firmly attribute to Feltman and Langer (aka Bearly Surviving), and thus compare with the assumed CLs, I jumped at this other Feltman Langer shape that appeared in the Sallies shop yesterday. Then while googling I found a similar shape with a Japan sticker, but identified shape differences, particularly the lower handle attachment. Temporarily disheartened I kept looking until I found an example that I am pretty sure is F-L: not only is it the same glaze colours, albeit reversed, but it advertises "South Carlsbad State Beach Carlsbad California", California and its beaches being the starting out point for F and L in 1979, in addition to which, Tres Feltman wrote to me that the original "No slip ..." mug was based on one of his partner Dirk Langer's handpotted mugs, which my example gives the appearance of being. I have not run this by Tres Feltman yet.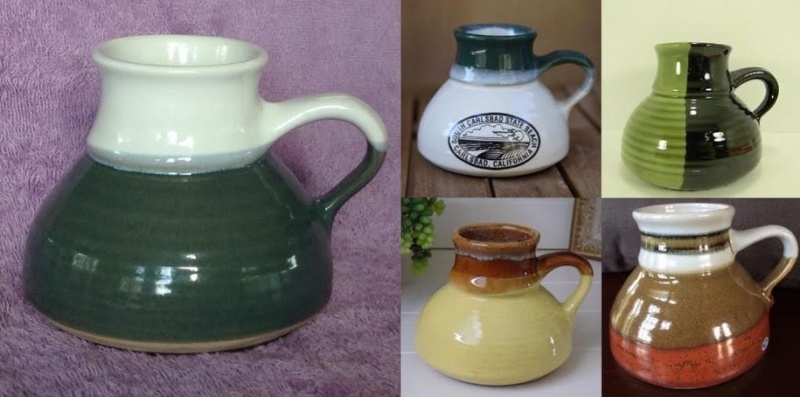 mine, presumed F-L (ctr-top), Japan mug (rt-btm), and two others I am not sure of
---------
22/6/16
Here's my latest no spill mug, another one from Habitat:
[photo to come later]
This mug is heavier than the standard Feltman Langer no spill mug and it has a rope twist design at waist and base. I have seen these advertised as Bearly Surviving but I see no indication of maker on the mug. The yachts on this one are not yacht types as on the classic Beraly Surviving mug but individual named yachts, winners of the Americas Cup.
AND NOTE: the FL mugs were sold with plastic lids as seen here:
http://www.ebay.com/itm/1979-Feltman-Langer-No-Tip-Spill-Mug-Nautical-Sailing-Ship-Vessels-Mug-Mate-Cap-/131709303517
Gotta wonder whether CL sold with lids too ???
---------
12/7/16
I collected my two Bearly Surviving mugs from a trademe win today.
Without the others to compare I can at least say that the body is much finer than them, which is perhaps what makes the opening look wider.
Compared to others I have seen, including the single mug I saw at SPCA so long ago and other tm examples, they are both in perfect condition, very shiny, and no trace of crazing. The ring is not as sweet as I would expect for stoneware but that is what Tres described, and it certainly is different from earthenware of equivalent thickness like Japanese slip wear. I'm looking forward to making a proper comparison.
Until I get home and post some photos the trademe listing will have to suffice:
https://www.trademe.co.nz/Browse/Listing.aspx?id=1114696325
.

Jeremy Ashford




Number of posts

: 3183


Location

: Whangarei, New Zealand


Registration date :

2010-09-11



---
Permissions in this forum:
You
cannot
reply to topics in this forum