I was meant to have this.
It is 7 inches high.
It has 3 small chips on the rim which expose the pale clay below.  
There is rubbing around the rim too.
It actually feels a bit heavy for it's size, but not too bad.
The outside has been covered with an iron oxide wash to about half way down and the inside is glazed as well as the lower half of the outside.
The lip edge is very sharp which accounts for the fritting as the slightest knock or tap would cause this to happen.
There are two lines about a third of the way down.
Oddly there are thin concentric throwing lines from about half way down on the outside and these can be felt as well as seen.  I have seen this same practice on old Crown Lynn Handpotted pieces at the Portage Museum as well as on pieces on this site.
There is some residue of white clay on the iron oxide slip just above half way which is puzzling as this seems to be in a line ....?
At the end I have added a photo of a known Dan Steenstra footring that Val posted today to compare with this base.  Thank you Val.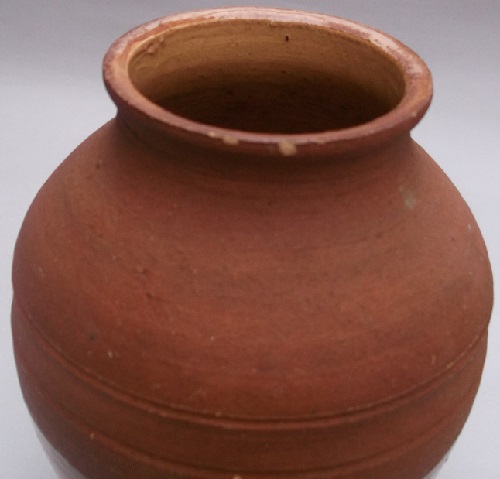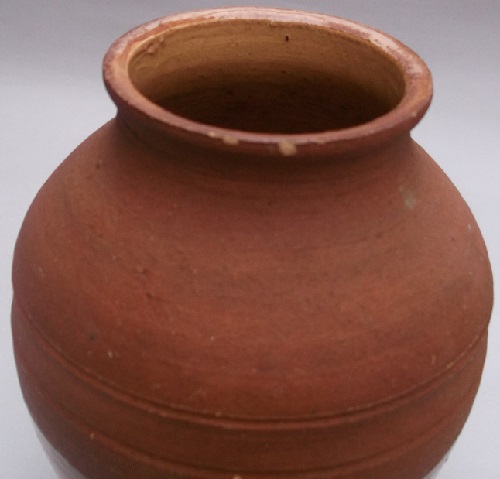 Last edited by Ev on 9/8/2020, 10:23 am; edited 2 times in total
Do you think Dan Steenstra made this 'Rhodes' vase Ev?

Kat & Co.




Number of posts

: 2297


Location

: Whangarei


Registration date :

2012-12-03



I do wonder about that Kat.  His son Dom said that his father first started potting in New Zealand at Crum Potteries and then moved onto Crown Lynn.  This was in the early 1950's and I gather that Crum were part of Ambrico then and were beside Crown Lynn.  
According to Ernie Cooper Dan preferred to use the brick and pipe clay for public demonstrations and I wonder what he made with that clay in order for him to say that.......?
There is a finger mark on both of the bases of Ernie's and this pot that match quite spookily.  Shapes and that notched cotton reel texture also make me wonder.
This list just keeps growing.
Last edited by Ev on 6/7/2020, 5:11 pm; edited 1 time in total
Well done on your first one Ev, I love it, I love it, especially that band at the top. The similarities you mention have me wondering too, this is getting very exciting.

mumof1

Admin




Number of posts

: 2310


Location

: Mapua, Nelson


Registration date :

2011-03-21



Then we look at the other "Rhodes" vases that have that very Steenstra like texturing on the outside.
And when I was at the CL museum with Ernie Cooper we compared the three pots Ernie donated with the museum's Rhodes ashtray. Ernie noted very similar streaks in the clay in both the "Rhodes" ashtray and his pots which he watched Steenstra make.
There was a suggestion that the clays could be the same but the darker ones have gone thru a hotter kiln... What do you potters think of that theory?

This is still all speculation and it's driving me nuts! I have never seen any promotional material for these"Rhodes" vases. Nor has Ev or any other researcher seen anything in the records.
It is all rather weird.

Maryr




Number of posts

: 1926


Location

: Whangarei


Registration date :

2011-11-17



The hotter kiln theory works for me Val as that would certainly give darker results. In saying that, every kiln has hot spots and cooler spots, so it could be a common occurrence.
---
Permissions in this forum:
You
cannot
reply to topics in this forum