I found this mug today. Hand painted by Mike Richardson NZ. Has anyone heard of him. I did a Google search and found an English painter who did paintings for various countries including NZ..... but I doubt it's the same person.
This does not mean that he also handpotted the mug.... or does it?
Any thoughts anyone..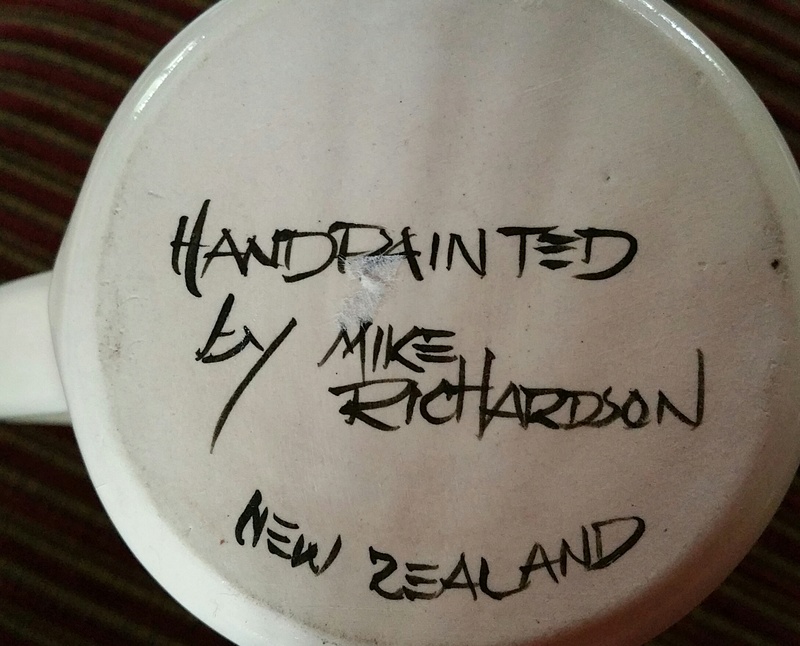 JanPots




Number of posts

: 1932


Registration date :

2012-05-10



That reminds me of the cartoons we used to get in the evening paper many moons ago, well, in Wellington anyway.
Last edited by mumof1 on Fri 11 Nov - 8:03; edited 1 time in total

mumof1

Admin




Number of posts

: 2266


Location

: Mapua, Nelson


Registration date :

2011-03-21



Unsure about the newspaper cartoons. But I did another Google search. "Cartoonist mike Richardson" and that brought up a guy in Napier who specialises in drawing Rugby and Golf characters. I am going to email him and ask if he painted the cup.
Cheers janice

JanPots




Number of posts

: 1932


Registration date :

2012-05-10



After a lot of umming and ahhing I finally bought a handpainted Penny Madden mug on trademe which should be arriving today or early next week. The mug has a Penny Madden pottery sticker on the base and for all the times that I looked at it I never noticed until now that the writing the sticker is obscuring appears to say "Mike Richardson". I had thought that because we already have some Penny Madden artwork here that it was her own. Until I take my own pics you can see it on the listing here:
http://www.trademe.co.nz/Browse/Listing.aspx?id=1193089887
So, until I know better I'll assume that this Mike Richardson mug is also from Penny Madden Pottery. Janice, can you show us the whole mug please.
The cartoon drawing on both is very good. It reminds me of Murray Ball's Footrot Flats, and I see that there is an association between Ball and Richardson that I have yet to work through. I also have a Footrot Flats mug so I will compare the two when my new one arrives. I see now there is an American publisher of comics named Mike Richardson so the connection may be something Mr Google concocted just for me. More work required. Back to the real story ...
Penny Madden is also "Pen" on another of my mugs which appears to be a Studio Ceramics shape.
https://www.newzealandpottery.net/t7260-art-deco-napier-handpainted-by-pen-studio-ceramics-shape-is-penny-madden
https://www.newzealandpottery.net/t5892-penny-madden
Penny Madden's website:
http://www.missionvista.co.nz/ceramics
I see on Penny's Website that the contact is Penny and MIKE.
That may be one and the same.
Or not. Although both Penny Madden and Mike Richardson are both in Napier their addresses and phone numbers do not match. Penny is in Church Road Taradale and Mike is in Taradale Road Onekawa. We shall see.
Mike Richardson art:
http://nationalartexhibition.co.nz/portfolio/mike-richardson/
Mike is or was cartoonist for the Napier Mail:
http://www.pressreader.com/new-zealand/the-napier-mail/20110216/281509337669190
My pics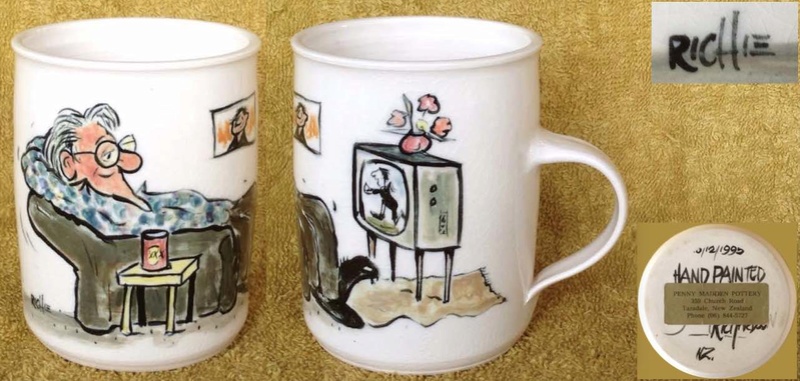 I didn't get too fussed about getting Penny's sticker legible as we have one already.
.
Last edited by Jeremy Ashford on Mon 14 Nov - 19:04; edited 1 time in total

Jeremy Ashford




Number of posts

: 3183


Location

: Whangarei, New Zealand


Registration date :

2010-09-11



Very interesting. ... it does sound like there could be a connection.
Here is a photo of the cup shape.
Janice

JanPots




Number of posts

: 1932


Registration date :

2012-05-10



---
Permissions in this forum:
You
cannot
reply to topics in this forum