6 market mugs, including face mugs, and 2 other recent acquisitions
Here are this morning's finds from Tikipunga Market.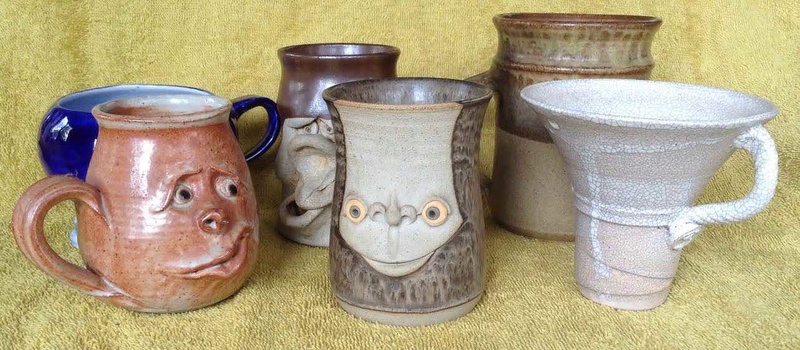 I usually leave the market empty-handed but this stall-holder just kept unwrapping and I kept handing over dollar coins until I ran out of fingers.
The three face mugs have no potters' marks and may not necessarily be NZ work as one I didn't buy had an English mark. The shino looks familiar.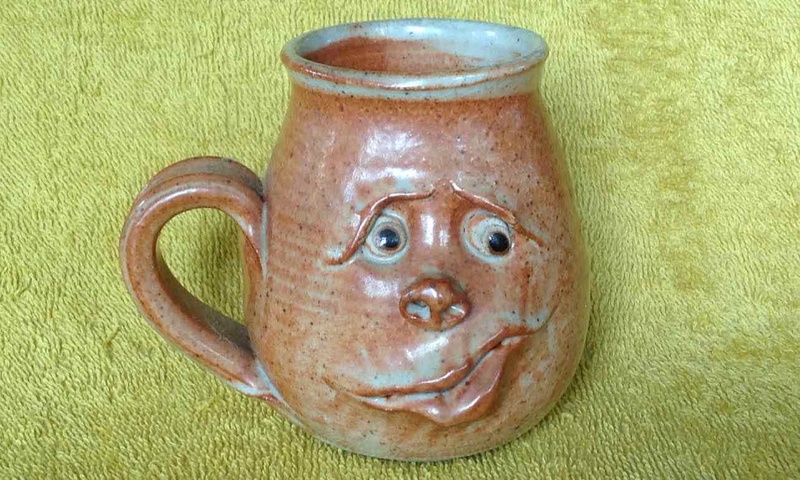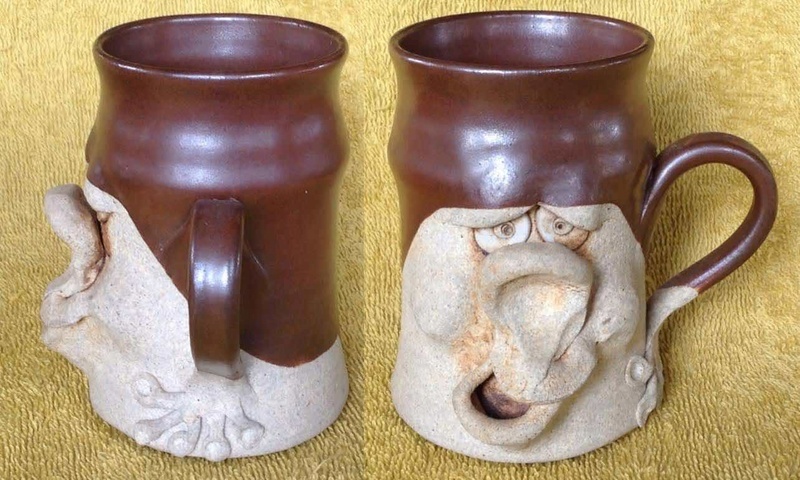 [1/12/16 edit starts]
The second face mug face looks like those on "Pretty Ugly Pottery" mugs from Wales but the shape and glazing pattern does not match examples of their work that I have seen. Unlike that work this is not marked.
The third one appears to be "Muggins England" but like some similar samples currently on tm this one is is not marked. See
https://www.trademe.co.nz/Browse/Listing.aspx?id=1213445766
[1/12/16 edit finishes]
The three other mugs are marked and two I recognise.
This large mug has the "double-bird mark" already in the mystery marks gallery but I have photographed it up the other way, calling the side closest the mug edge top.
https://www.newzealandpottery.net/t2502-double-bird-mark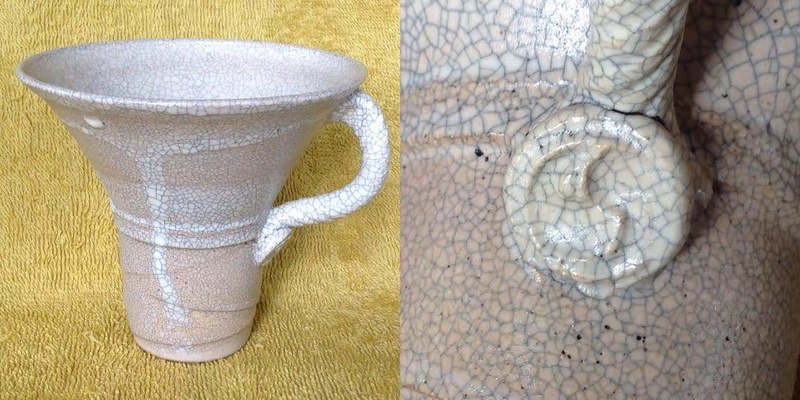 This crazed cup is one of two at the stall. I think it is a very pale shino. I recognise the yin-yang/S mark from a very colourful duo Kat posted but can't see it in the galleries. Found it:
https://www.newzealandpottery.net/t7572-yin-yang-like-mark#30235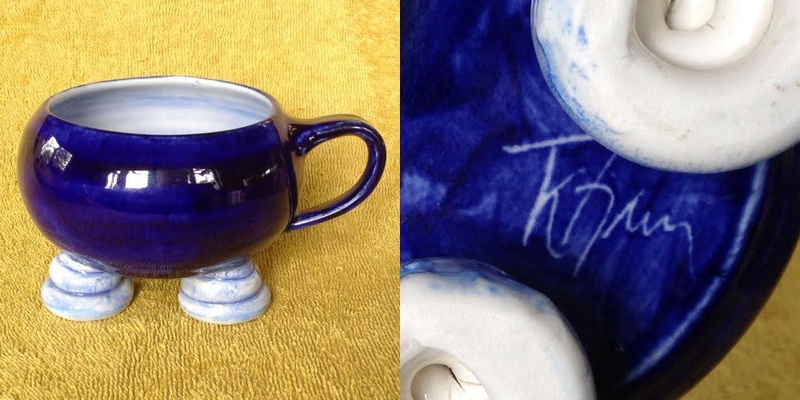 I wouldn't know where to start looking for the mark on the tripod mug. Hopefully someone knows it
Also acquired recently are a Dargaville mug from Jim:
And a trick face mug (or maybe not a mug at all) from Val, which looks foreign to me. Try filling this and it the liquid will pour out the nostrils. Castware.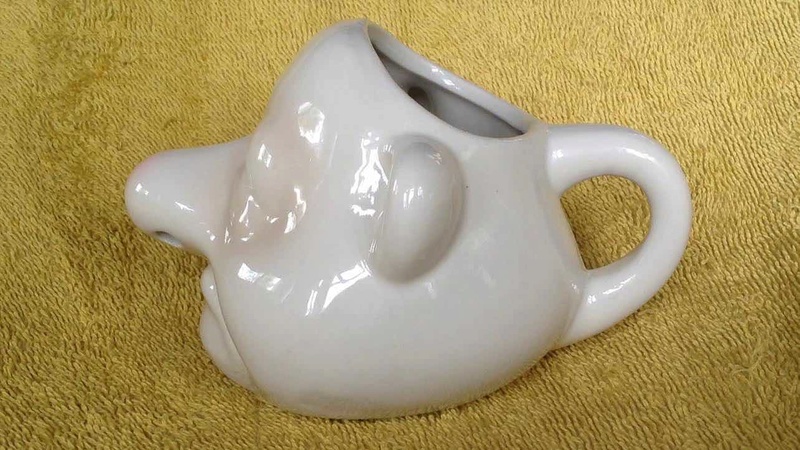 -----------
14/11/16
New mug from Kerikeri Hospice shop
A very nicely produced mug with quality deco, possibly signed Li, or Fi.
---------
2/12/16
Four new mugs from Pamela, who has become one of my favourite tm sellers.
105 mm high, top diameter 80 mm approx
The glaze on this one looks like work by Patrick Greene but I can't get his name out of the mark. 1983 seems very early to me for this shape of mug, with the big spiral twist.v See Patrick Greene here:
https://www.newzealandpottery.net/t7684-patrick-greene#30673
100 mm high approx, top diameter 67 mm
Patricia Taylor (above).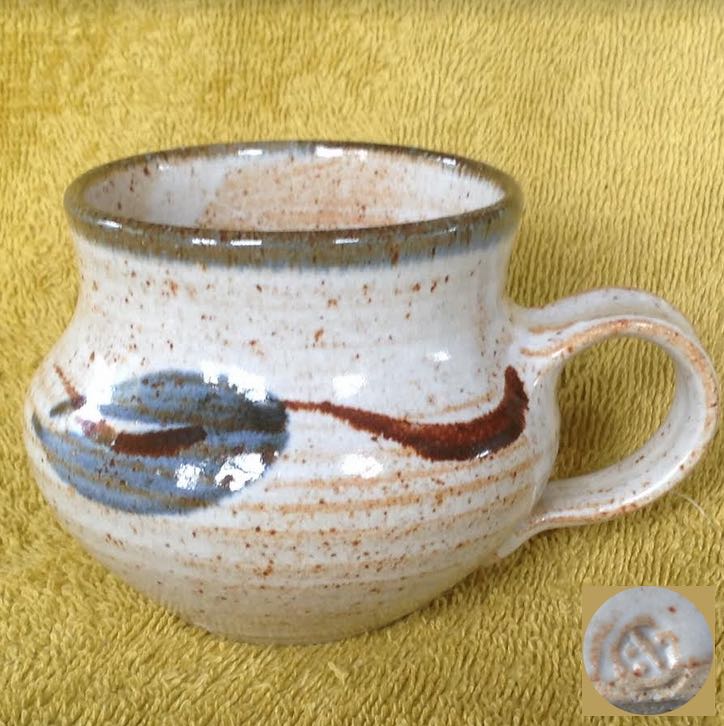 75 mm high approx, top diameter 75 mm approx
60 mm high approx, top diameter 80 mm approx
.

Jeremy Ashford




Number of posts

: 3183


Location

: Whangarei, New Zealand


Registration date :

2010-09-11



---
Permissions in this forum:
You
cannot
reply to topics in this forum