Below is some info from Michael Smythe's invaluable book New Zealand by Design - if you can still find a copy of this book, DO buy it. It has all our NZ design history, carefully researched and illustrated.
ANYWAY, here is what I have gleaned from Michael's information about Waimea/Richmond/Mapua.
1964- Waimea Pottery established
Jack and Peggy Laird came to NZ from England in 1959, and for a few years Jack taught at Victoria University. In 1964 they set up Waimea Pottery in Richmond, Nelson. It became a medium-volume manufacturer of hand-thrown tableware which was sold in NZ and Australia.
Early 1970s - Richmond Pottery and Ceramics established
Starting in the late 1960s or early 1970s Jack Laird did some design work for Temuka, including the Riverstone stoneware range.  On one of his visits to Temuka, Jack Laird noticed some unused jiggering and jollying equipment, which Temuka let him have. Laird used this machinery to set up Richmond Pottery and Ceramics alongside Waimea Pottery. Laird used the equipment to make stoneware pottery of his design.  The pottery prospered and at its peak had about 19 employees.
Circa 1970s - Mapua Ware made by Richmond Pottery and Ceramics
In the post linked below,  Ev notes that Maupa Ware was a mechanically made range from Waimea Potteries, so it is also associated with Jack and Peggy Laird. The backstamps confirm this.  I imagine that Mapua Ware was made at around the same time as Richmond Pottery and Ceramics was operating, as it is definitely castware, not hand thrown, and Michael Smythe tells us that the Lairds began using machinery in the early 1970s.
https://www.newzealandpottery.net/t1393-mapua-ware
Early 1980s, Richmond Pottery sold to Teal, and later closes
in 1980, the Lairds sold their interest in Richmond Pottery to other shareholders. After a time it was bought by Teal Ceramics of Balclutha. Teal applied decorative transfers to previously plain or banded ware. A year after the purchase by Teal, Richmond Pottery closed.
I think we still need to find out more about exactly where Mapua Ware fits into this story, but thanks again to Michael Smythe for giving us the information above.
Here are my Richmond Pottery vases, and associated backstamps.
Here are the individual items with backstamps
Fat vase 13 cm high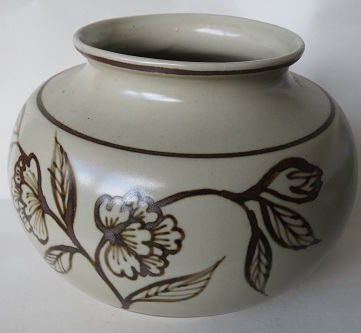 Tall vase 20 cm
Two smaller vases 9.5 cm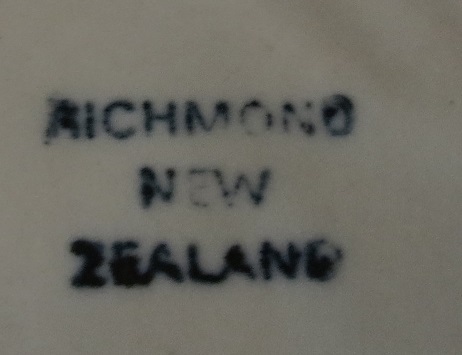 Lastly, a spice jar with a transfer, presumably made after Teal bought the business. 9 cm.

Maryr




Number of posts

: 1878


Location

: Whangarei


Registration date :

2011-11-17



It's a while since I've given any thought to this so off the top of my head: Keith Sandford managed Richmond for Teal, and I think some of the later Richmond shapes were Teal branded as Richmond.

And from nowhere, I think the Mapua ware must have preceded Teal management. It is so different.

Jeremy Ashford




Number of posts

: 3167


Location

: Whangarei, New Zealand


Registration date :

2010-09-11



Those pots with iron oxide decoration look brilliant grouped together. The rouleau vase is especially nice.

teaandcoffee




Number of posts

: 331


Registration date :

2012-04-22



I think it will be best to make a sub topic for each of these potteries initially, where you can go to see all of the posts in one place.
Richmond Potteries and Mapua Ware would be in the Commercial Pottery category and Waimea Pottery would be in the Studio Pottery Category.
I'm still pondering, but will work on it when I get a chance.

Hi .. Have you thought of contacting Jack & Peggy Laird's son, Paul, for in-depth information? Paul's resident in Nelson. Cheers

R L Pike




Number of posts

: 31


Location

: Stoke, Nelson


Registration date :

2014-11-27



I found that we already have all of these sorted into their own topics.
I have added Tasman Pottery and Mahana Pottery to the Richmond/Mapua topic.
I shall add a combined Gallery for Richmond, Mapua, Tasman and Mahana, but each photo added must start with the correct name of the maker.

We are now onto our 2nd page of Galleries, and those on the 2nd page are rarely looked at, so I will have to work out which Galleries go there.

The overlap of Richmond when owned by Teal is a problem, but for now they will all go into the same Gallery.
Ev and admin crew I do so appreciate the work you put into setting up new galleries and keeping everything in order. Consistently, even when you would no doubt prefer to put your feet up and have a wine!

Maryr




Number of posts

: 1878


Location

: Whangarei


Registration date :

2011-11-17



---
Permissions in this forum:
You
cannot
reply to topics in this forum