I wonder if United Stores were McKenzies or Woolworths?
and the blurry backstamp!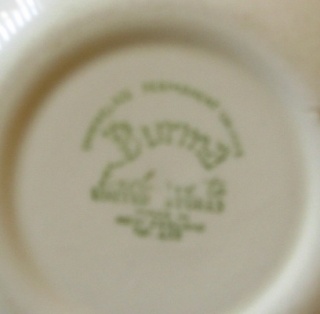 Let me decipher the backstamp:
Underglaze Permanent Colours
BURMA
Exclusive to
United Stores
made in
New Zealand
Pat. 432
Hi Ev,
This popped up when I was searching for Courteney's exclusive catering, will put a photo on the gallery tomorrow.

But to answer your question no United Stores were not Mckenzies and Woolworths, as I recall they were a buying group made up of the last of the independant department stores and included H&J Smith, Invercargill, Arthur Barnett Dunedin, James Smiths Welliington and Milne& Choyce , Auckland . there may have been one or two others.
It was to be able to place bulk orders to try to be competitive in an increasingly tough market around the late '60's early 70's as I recall.


Jonno




Number of posts

: 662


Location

: Milford,Auckland


Registration date :

2011-05-13



Thanks Jonno, that is the last remaining piece of my Mother's Burma dinnerset that she would have got in the late 60's early 70's ..... I wonder where she got it?
Too late to ask her now.......
Thats great Ev just another example of the joys that this site can create.



Jonno




Number of posts

: 662


Location

: Milford,Auckland


Registration date :

2011-05-13



I've decided that she would have purchased this set from the Crown Lynn Seconds shop at Southdown, Penrose, between 1966 -69. We went there many times with MIL and would have lunch at the snazzy coffee lounge in the complex.
One of the bowls had an irritating small lump in it, so it must have been a second.... fond memories of days long gone.
Jonno thanks so much for clearing up the United Stores mystery. I had asked Mr Google with no success.. .just goes to show the human brain does have its uses! Anyway here is Gina for United Stores. Hand painted, this is one of those wide porridge plates.
Cool backstamp, and they helpfully put a pattern number on it:

Maryr




Number of posts

: 1886


Location

: Whangarei


Registration date :

2011-11-17



---
Permissions in this forum:
You
cannot
reply to topics in this forum