Yesterday at the Otorahanga street markets, I met a woman who is making and selling slipcast ware. She has a small workshop in her garage in Hamilton. Her slip comes from a Waikato supplier (Waikato Ceramics?). She buys moulds from all sorts of places including off TradeMe and from the U.S.
She is self-taught, and her work reflects that, but it is much heavier and better finished than hobby ceramics.  She sells at street markets and calls herself Nan's Workshop Ceramics.
I was impressed with her ability to teach herself a tricky and demanding craft.  
One issue - she does not mark her work. I asked her to do so- for the sake of us collectors.  I found the whole thing interesting because she is making ware that you pick up and wonder who on earth made this - the weight shows it's not hobby, but then who is it?  And because her moulds come from all over the place, she will be producing copies of some well-known NZ shapes.  Which is why I bought this little green planter. It looks SO familiar, and yet it is made by someone who is not yet on our records. So here is Nan, with her stall at the Otorahanga street market, and here is my new planter.
I have left the pic of Nan quite large so you can click on it and get a good look at what she is making.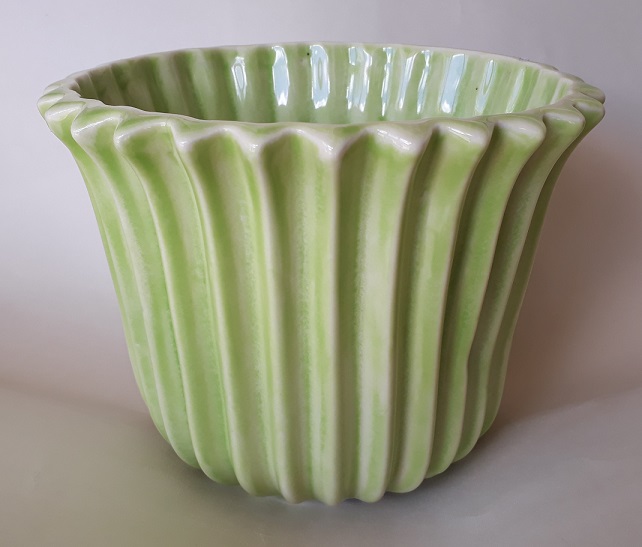 Maryr




Number of posts

: 1911


Location

: Whangarei


Registration date :

2011-11-17



Nan will represent 100's of little one man band slip cast potters around the country.
Your planter looks like Putaruru Hand Ceramics
https://www.newzealandpottery.net/gallery/Putaruru-Hand-Ceramics/Putaruru-ceramics-planter-17cm-tall-pic_7978.htm
Thanks Ev for the Putauru link. I was puzzling over that shape!
Interesting that you say there are still so many small-scale slipcasters about. I thought that would be a dying art.



Maryr




Number of posts

: 1911


Location

: Whangarei


Registration date :

2011-11-17



The slip cast suppliers would know who they are Val.
I see them at markets and the like, though they are not as prolific as they were at one time.
The greenware suppliers are still going too, but not as full on as they once were.
Even people like Peter Lange use slip cast clay to make things.
He is soooo creative with slip casting!!
I asked one of the big pottery suppliers if casting slip was still in demand and this was their reply:
"No problem. we have not ever had a decline in demand for casting slip. There are a fair few people around producing that have nothing to do with the "Club pottery hobby people"

Interesting and I hope we come across more of them.
That is very interesting Ev. I hope they MARK their work. Otherwise I might have a nervous breakdown in my later years!

Maryr




Number of posts

: 1911


Location

: Whangarei


Registration date :

2011-11-17



---
Permissions in this forum:
You
cannot
reply to topics in this forum