I have been quietly working my way through my rather large stack of information about Salisbury/Royal Oak.  Which led me to ponder the decoration techniques. And this post has helped me get clearer about the Salisbury/Royal Oak story. Please feel free to add corrections and comments my post has become rather long and despite my best efforts it may not be totally correct.
I hope that
Oakpot
sees this and gives us the benefit of his knowledge.
Salisbury Ware with blanks from Jovan Rancich
I believe that these three pots below are very early Salisbury.  The blanks were made by Jovan Rancich, which dates them between 1940 (when Owen Salisbury and Arthur Martin opened their factory in Khyber Pass Road, Auckland) and 1942 when Jovan Rancich died. I have not seen anything to suggest that Owen Salisbury bought from Wally Silva, who continued producing after Ranchich died.
Note to self - we need to investigate further whether the Salisbury family bought from Glen Afton at any stage. I also need to Do some more work re Owen Salisbury's relationship with Cameron and Dorothy Brown of Sherwood (later Titian).
Of the hand-thrown pots below, one is spray painted, and the second is spray painted with a decorative transfer/sticker added.  (I have another early pot with a sticker, it seems to have been a technique used by Salisbury rather than a later add-on.) The third is painted with a sort of crackle effect - not glaze, this is paint. The bowl vase contains a 'frog' with several holes to insert flower stalks.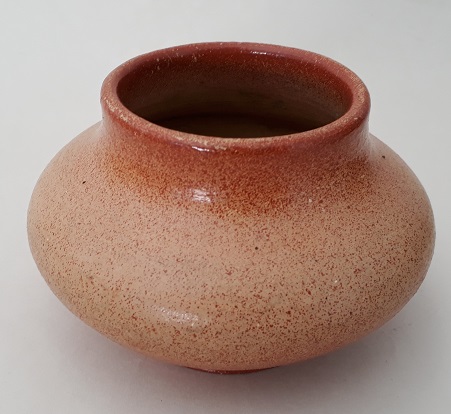 Salisbury Ware with blanks by Ambrico (later Crown Lynn)
Below is the Salisbury Ware style which is most familiar to me.  Hand-brushed images over a spray-painted background. These are Crown Lynn shapes. I believe that these were decorated between 1944 (when Owen Salisbury began buying blanks from Ambrico), and 1946 when the Khyber pass factory closed and Owen Salisbury stopped using the Salisbury Ware brand. These three pots below look as they were each done by different artists.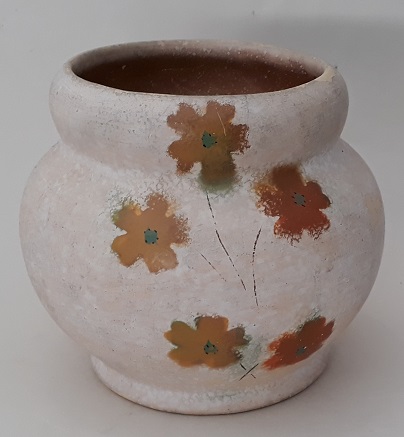 This pot below is a bit of an odd one out. It looks as though it has been decorated by spray-painting through a stencil. Gail Henry records that in the late 1950s, Salisbury used this technique. However that was long after the Khyber Pass Road factory had closed.  This vase carries the "Mattone" sticker, and it is a Crown Lynn shape, which I believe dates it between 1944 and 1946.  The  three stickers - Salisbury Ware, Mattone and Sunset Ware, all look very similar and were probably all used in the same period - pre 1946.  Below I have put pics of the three stickers side-by-side for comparison.
EDITS: I have since done more research and it appears that some vases were decorated using stencils in the early days at the Khyber Pass factory.  I was told this by Oakpot and shown examples.
The three stickers are pictured below - apologies for quality of pix, my phone doesn't do close-up so well. Here is a link to more discussion about  the stickers.
https://www.newzealandpottery.net/t8551-more-salisbury-for-gallery-and-bond-s-ceramic-art-sticker?highlight=bond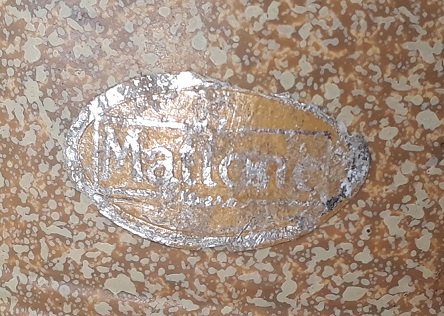 And below are the vases which carry the Sunset Ware (top, in shiny brown and green) and Salisbury stickers.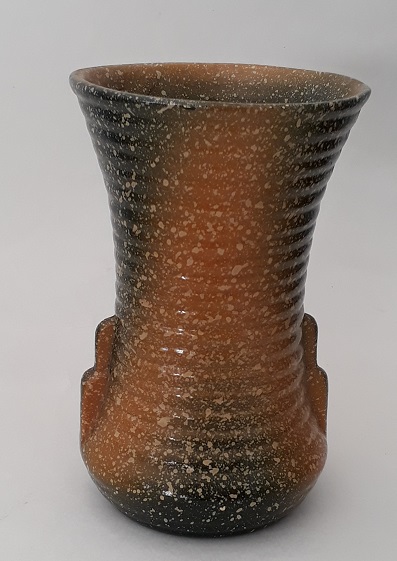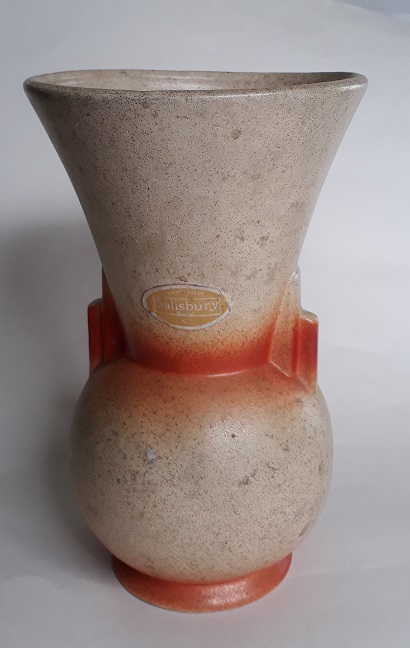 Owen Salisbury served in the Pacific between 1942 and 1944. The Khyber Pass Road factory continued operating while he was away.  When the war ended in 1945, English ware was again imported to NZ, and the Salisbury Ware factory was no longer profitable.  It closed in 1946 Owen no longer used the Salisbury Ware brand, so
anything branded Salisbury Ware is pre-1946.  
Incidentally, Owen Salisbury's wife was Cecily. She was a home-maker and never worked in the pottery.
Royal Oak Pottery
Undaunted, Owen Salisbury established
Royal Oak Pottery
close to his home in Mount Albert. At first he decorated blanks by Spartan, and added some Spartan figurines to his little wall decorations. However Spartan in its turn soon closed. He then got blanks from Norm Stevens (ex Spartan) and Sherwood Pottery (Cameron and Dorothy Brown.) He appears to have started buying from the Browns in about 1948.  Then, from about 1948, Owen Salisbury again began buying blanks from Ambrico (now Crown Lynn). The pot below shows another decorating technique, a sort of stippled effect.  This planter is a Crown Lynn shape.  I believe it is from  the period when Owen Salisbury, trading as Royal Oak Pottery, was buying blanks from Crown Lynn in the 1950s and into the mid-1960s. Many of these were sold with decorative wireware frames to support them.  Which I will get onto another time!  And, of course, from the early to mid 1960s, Owen Salisbury and his family began making and firing their own Royal Oak pottery, and decorating it with glazes and those distinctive flowers in brown, blue or pink.  That story too will have to wait for another time.  I need a wine after all this!
Last edited by Maryr on Wed 25 Mar - 16:26; edited 12 times in total

Maryr




Number of posts

: 1928


Location

: Whangarei


Registration date :

2011-11-17



Great info thanks Ev. I feel as though I am at last getting a bit of clarity about this story.

Maryr




Number of posts

: 1928


Location

: Whangarei


Registration date :

2011-11-17




Maryr




Number of posts

: 1928


Location

: Whangarei


Registration date :

2011-11-17



Hi Maryr
Soon after 1942 Owen began dealing with Ambrico pottery buying blanks for decorating.
By July 1943 he was overseas in the Pacific, therefore i don't believe he had any dealings with Wally Silva or Glen Afton pottery. Maybe the elderly staff he left behind arranged the source of blanks for decorating.
The splatter and crackle spray finish was in vogue in the 1940s and 1950s.
Extract from Owens notes "We used a crackle finish with cellulose lacquers"

After leaving the Khyber Pass factory in Newmarket in 1946 we decorated pottery in a garage behind Owens home at Mount Albert Road ROYAL OAK.
From this time we used the name Royal Oak Pottery.
Royal Oak Pottery was in production from 1946 to 2014 for me that involved 60 years of ceramics.



oakpot




Number of posts

: 108


Registration date :

2016-03-20



Thank you Oakpot. That clarifies things for us. Very much appreciated.


Maryr




Number of posts

: 1928


Location

: Whangarei


Registration date :

2011-11-17



---
Permissions in this forum:
You
cannot
reply to topics in this forum