These vases interest me mainly because none are stamped with the Crown Lynn stamp !!
Some of the vases have a three digit or four digit number on the base, others have nothing at all ...... ????
I need to find some answers to this puzzle.
So far I have found 11 different Crown Lynn shapes and noticed several Titian shapes using the same lustre decoration.
This lustre finish is not found on any other Crown Lynn ware.
It requires another firing to set the lustre onto the glaze.
I will note my findings here for future reference:
2042 (was 360) first made 10.10.69
2043 (was 370) first made 10.10.69
2044 (was 477) first made 10.10.69
2045 (was 364) first made 10.10.69
2049 (was 135) first made 10.10.69
2066 (was 170) first made 2.2.71
2067 (was 550) first made 30.3.71
2068 (was 613) first made 30.3.71
2069 (was 643) first made 30.3.71
2077 (was 666) first made 1.3.71
2078 (was Titian PB104) first made 3.8.71
2045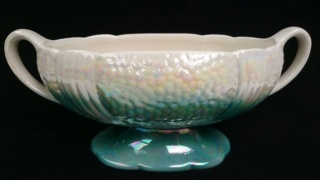 2067
If you have any other shapes to the ones listed above please post them in this topic.
Anne does your 2067 have a number on the base?
JanPots and Hannele like this post
Finally got the story about these lustred vases thanks to Cam Brown Jnr.

Between 1969 when Crown Lynn had 50% ownership of Titian Potteries and 1971 when they had full ownership, Crown Lynn would send a truck from New Lynn filled with vase moulds to the factory at Takanini to be made and the truck would return to New Lynn with vases that had been cast there and once fired with a clear glaze, then decorated with Mother of Pearl Lustre and Green Lustre, which had it's own special low temperature firing.  

These vases were sold at the Crown Lynn shops.
None of these vases are stamped, some have shape numbers on the base.
Cam can remember the large swans finished in this technique, as well as many vases.
This technique was done in the same style on Titian vases at a similar time.


The lustred finish is such a typical Titian finish and not something that Crown Lynn would normally do and is from a time when one era was finishing and another beginning.
Last edited by Ev on Sat 6 May - 10:25; edited 1 time in total
Ev, my nautilus has 550 on the base.

mumof1

Admin




Number of posts

: 2336


Location

: Mapua, Nelson


Registration date :

2011-03-21



That's fine Anne as some have 3 digit numbers and some have four digit numbers
---
Permissions in this forum:
You
cannot
reply to topics in this forum