Chasemecatvhme




Number of posts

: 18


Registration date :

2020-09-19



Hi there, no we don't know anything about this pottery yet, though a few pieces that they made have turned up on the site.
I went to the reference library last week to check out old Yellow Pages hoping to find this pottery, but haven't found anything so far.  I only got to 1997, so will check out more years another time.
There does appear to be some connection to Hemara Hemara who did modelling for over 100 NZ Potteries, but he is finding it hard to remember things now unfortunately.
What is the shape of the piece that you have  Chasemecatvhme?
There is a Heron with this sticker in this thread:
https://www.newzealandpottery.net/t2123-2147-gold-beaked-swan
Thanks for responding so quick.
I decided to purchase the swans, when I arrived at the secondhand store to my surprise they had reduced the price to $8 for the pair. They are both swans which are a similar glaze to the three you pointed out. They are a person glaze on top of the wings and a slight pearl glaze on the top of the head. On the wings the glaze repelled during the firing process and has just accumulated as a bubbles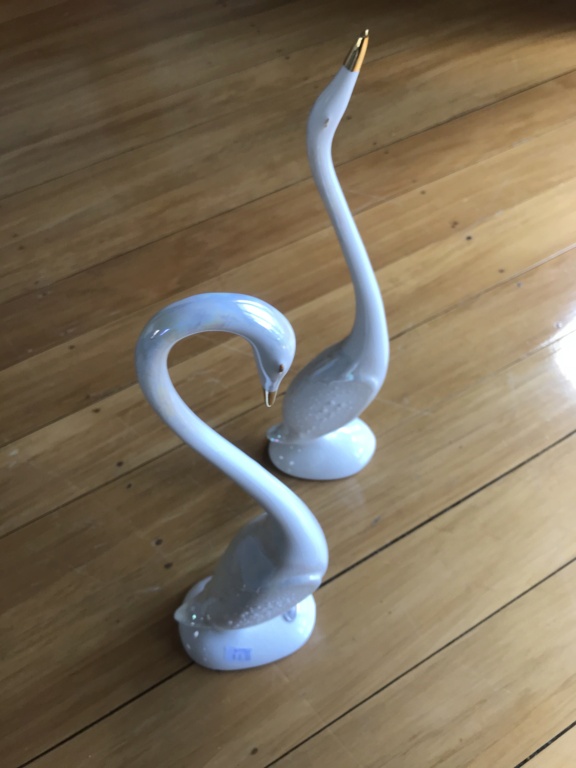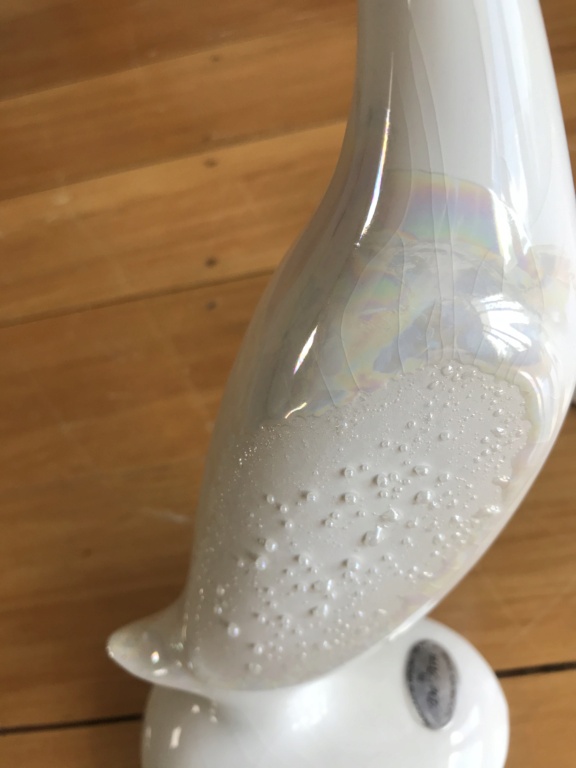 Chasemecatvhme




Number of posts

: 18


Registration date :

2020-09-19



They are fantastic !!
There is a Medium swan at the Crown Lynn Museum with that resist bubble glaze and it is so beautiful.
I'm glad that you got them and hope we find out more about this pottery for you
Is that gold on the beaks
Hi ya and thanks for the interest. I saw the pic of the swan in the crown lynn gallery the glaze looks very similar so much so as it may be by the same artist.
I am not familiar with what type of glaze they use to get the gold colour, but it is certainly very shiny. Would you have any idea of the market value for these are?
Thanks

Chasemecatvhme




Number of posts

: 18


Registration date :

2020-09-19



It's definitely gold lustre on the beak, which has real gold in it.
Yes I agree the one in the Gallery has been done by the same pottery.
I will remove it from the Crown Lynn Gallery, as I doubt that Crown Lynn had anything to do with it, other than make the swan that they copied.
Sorry I'm not a trader so can't help with value.
Awesome, thanks very much for that. Could you point me in the direction we're I could get these valued
Cheers

Chasemecatvhme




Number of posts

: 18


Registration date :

2020-09-19



Not really, other than a top quality auction house, but an Antique Dealer said that there are no valuers out there. I don't think these would be worth an awful lot, as they are not Hand Potted Crown Lynn, or hard to find Temuka Donald Duck.
I have my own De' Arn Dolphin now and it is exquisite.
The unusual bobbly glaze, the gold lustred beak and eyes and the pearl lustred upper body.
There is considerable crazing, but I'm not concerned about that as it is the glazing technique that interests me the most.
I went to the Research Library to check out more Yellow Pages looking for De' Arn, but didn't find anything up until 1995.  More to do though.
This appears to be the same shape as the Terra Ceramics dolphin and that would have been modelled by Hemara.
We still don't know anything about this pottery!!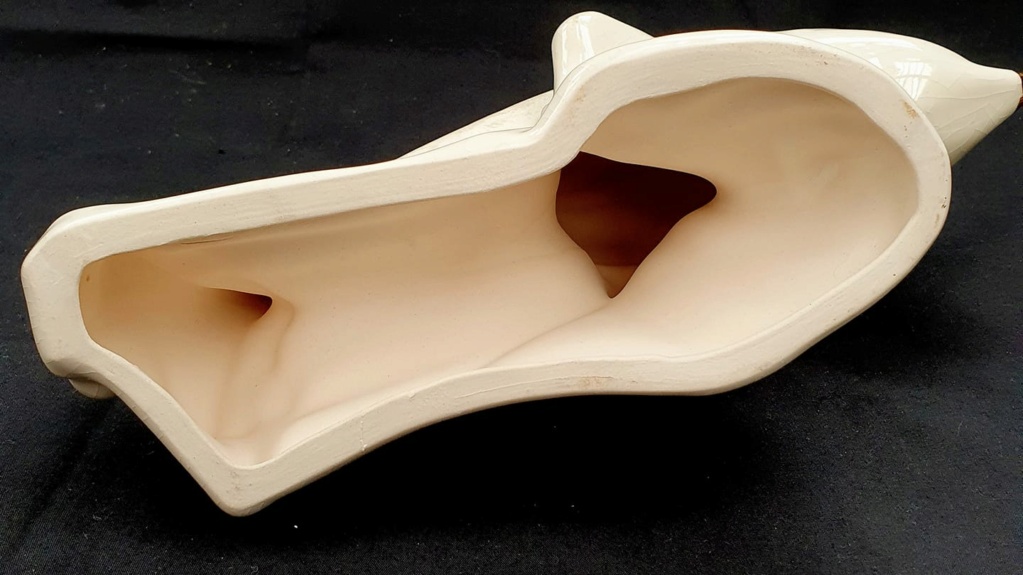 A comparison with the Terra Ceramics Dolphin base .. which is a match. Thanks to HeatherT for the Terra base photo.
mumof1 and JanPots like this post
---
Permissions in this forum:
You
cannot
reply to topics in this forum