While I was looking for the right pot plant saucer to go under a plant ..... this small pot jumped out at me!
I didn't even know I had it, but as soon as I saw it I knew that it was Made in the Philippines by Crown Lynn! I would have inheirited it from the last house as the owners were moving to Oz and left many plants in pots behind for me to take care of. Though as it's rather small a plant would soon outgrow the planter unless it was a cacti. I will take a pic when I get a chance as it's quite lovely and reminds me of a tin glaze with stains painted on top .... known as Majolica .... I don't think that's the case but anyway the stains have 'broken' beautifully in the same way. No it's definitely a clear glaze with stains handpainted on top I'm pretty sure ....? I will add the Backstamp to the Crown Lynn Backstamp Gallery too

According to Valerie Monk, Crown Lynn set up the Mayon Ceramics factory in the Philippines in 1972. This ran for 10 years closing in 1982. Hand-painted tableware and planters were made, these were designed by David Jenkins who also trained the hand decorators. These were sold to the States and Australia and some planters were sold in NZ and here is one of them

Height - 9cm
Width - 10cm
and the backstamp..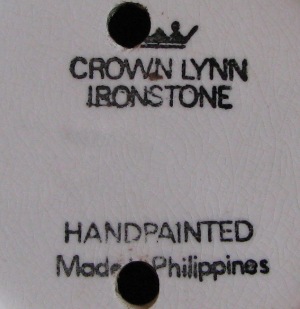 Oh boohoo

I had one very similar to this design that got broken during an aftershock. Well, it broke when a CL small watering can fell into it. I am going to keep my eyes peeled for another one. I stll have one with a different flower pattern on it. My ones do not have any holes in the botom, I wonder if they were drilled afterwards? Anyway, it is a good feeling when you have a find like that, even better that cheap opshop finds.

Thelma




Number of posts

: 484


Location

: Canterbury, NZ


Registration date :

2010-04-23



I hope you find another to replace your other plant pot too

You are correct in thinking that the holes have been drilled at a later date.
The base inside has lots of glaze chipped off around the holes which wouldn't have happened if the holes were there before it was glazed. I hadn't picked up on that until you pointed it out.
I did wonder why they would put the backstamp where the holes were though ..... so thanks Thelma

This also reminds me that there is a massive Crown Lynn mixing bowl with holes drilled in the bottom floating around somewhere .... that was left by the same house owners as the plant pot. Such a shame too !!
Hi, you have just reminded me that I have a large ornately patterned mixing bowl being used as a plant saucer outside, it was past being used as it was originally intended but I could not bring myself to throw it out.

It is full of crazing and large cracks. Never been able to work out where it was made, no marks on the bottom. Yellowish clay with white inside, I also have a small mixing bowl of a clear glaze that is yellowish, I think it might be early CL but not sure yet. It is in good nick but I am too scared to use it in case I break it!

Thelma




Number of posts

: 484


Location

: Canterbury, NZ


Registration date :

2010-04-23



This is georgeous just my colours

 & big size 18cmw x 15cmh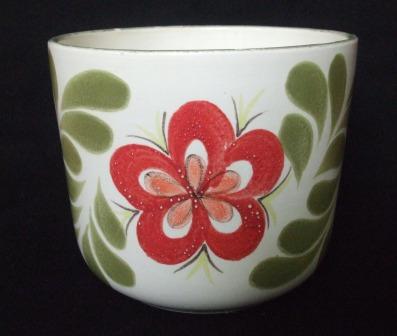 Kat & Co.




Number of posts

: 2265


Location

: Whangarei


Registration date :

2012-12-03



Another in green & yellow with a hint of Mauve  


Kat & Co.




Number of posts

: 2265


Location

: Whangarei


Registration date :

2012-12-03



I have a match for yours Kat, if they are the same size.
The mauve is a nice touch.

This one is 150mm OD top by 125 H.

From Nicole's mum.

Jeremy Ashford




Number of posts

: 3150


Location

: Whangarei, New Zealand


Registration date :

2010-09-11




JanPots




Number of posts

: 1802


Registration date :

2012-05-10




---
Permissions in this forum:
You
cannot
reply to topics in this forum