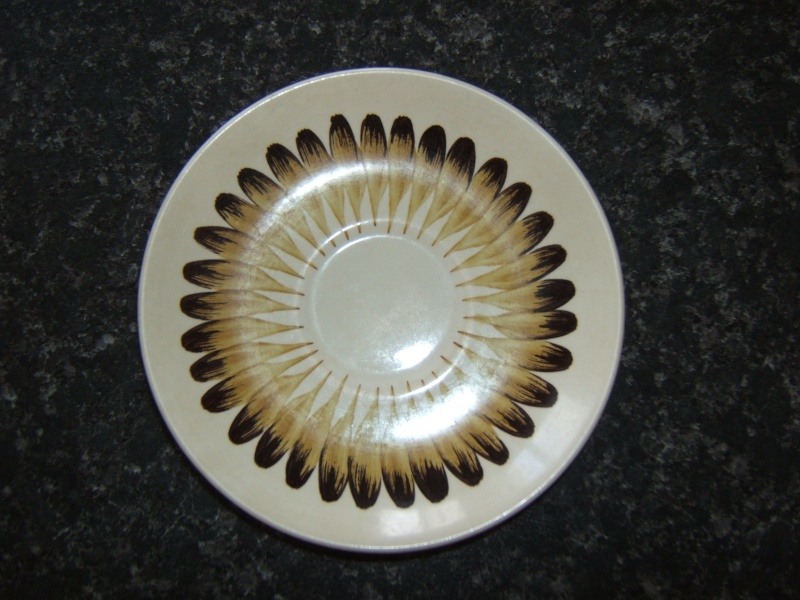 isn't this gorgeous, the detail in the feathers is amazing, cheers, marl

Marl474




Number of posts

: 674


Location

: Te Atatu Peninsula


Registration date :

2011-02-01



That is drop dead gorgeous!!
I think I saw it on TM recently

You probably did, I bought it!! marl

Marl474




Number of posts

: 674


Location

: Te Atatu Peninsula


Registration date :

2011-02-01



This is also Sunburst, exactly the same back stamp. Weird huh...
Aaahh, I have since seen the gallery. Very cool...

DaSiEm




Number of posts

: 196


Location

: Swanson, Waitakere


Registration date :

2011-05-21



Re your post and photo I have found a sample for my collection , a sweet bowl approx 171 mm Diameter, I guess your photo is of a saucer?
I am writing because it seems to me that the decoration appears to be hand painted and I am posting a close up of a section to show the detail also a closeup of a Rosebud design from a cup. Note the half-tone screen which does not show in the Sunburst decoration. Be clear, I doubt that these were hand-painted but the original was and they somehow found a way to print the design without showing any screen effect. Almost all of my 'feathers' differ one to the other.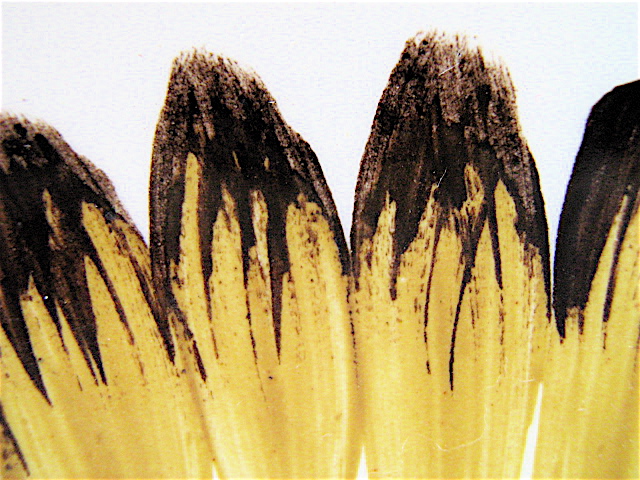 Last edited by Jonno on Fri 3 Feb - 19:53; edited 1 time in total (Reason for editing : Remove some photos to make space)

Jonno




Number of posts

: 662


Location

: Milford,Auckland


Registration date :

2011-05-13



Ev, thanks for putting a name to this pattern on my UGLY coffee jug.
You and Marl474 may think it's gorgeous, but Val and I thought otherwise, particularly wrt its placement on the pot.

As seen on Val's blog:
http://valputaruru.blogspot.co.nz/2013/09/coffee-cans-mid-century-at-its-best.html

It does indeed appear to be very irregular and hand-painted.
Where transfers replaced hand-painted designs on Cook & Serve cans the difference was obvious,
leaving no doubt. I would expect a Sunburst transfer to be regularised.

I'm intrigued.

The coffee jug is Cook & Serve.
I can see the saucer definitely isn't from the shape (size of cup ring, and crazing).
All I've see of Jonno's bowl is the detail.

Besides there being 2 different patterns with the same name (albeit different numbers),
the same pattern was used on different types of china.

Considering that we only have three examples to reference what can we assume?
Did it not prove popular? Was it too much work?
Does it date from the same time as the other hand-painted Cook & Serve? (ca1962)

Also of note:
I have five different patterns of Cook/Serve Coffee Pot, the basic black, yellow, and blue, and the blue with Blue Tango lid, all of which have the standard green Cook & Serve stamp, as does the Sunburst; only the Narvik Green has a green, numbered stamp, and the Narvik pattern appears to be screen-printed over the glaze. The Sunburst pattern, whether transfer or hand-painted, is under the shiny clear glaze.

You, Ev, are best placed to provide a date, based on the style of Marl's backstamp, I guess, and any paperwork that's available.
Maybe some other pieces will turn but it certainly seems pretty thin on the ground.

Jeremy Ashford




Number of posts

: 3144


Location

: Whangarei, New Zealand


Registration date :

2010-09-11



I'm intrigued also Jeremy and will check out what records I have for Sunburst after I've processed all of the Pattern Book photos from the Museum.
A bit of an aside - I see in Val's blog an "Arthur and Martha" cup (which I love by the way lol) I've never seem before and it doesn't seem to be in the galler either - any chance of asking for the photo for the gallery for it?

Cat-a-lat




Number of posts

: 1010


Location

: Palmerston North


Registration date :

2012-02-15



Ev, I have all the time in the world.
Ev, Cat, I've emailed in some pics of Arthur and Martha. As Val noted, they had gathered a bit of dust when she shot them, mine were taken a month earlier, before the dust had settled.

Jeremy Ashford




Number of posts

: 3144


Location

: Whangarei, New Zealand


Registration date :

2010-09-11



My curiosity got the better of me and I had a look for Sunburst in the records and found it in 1964/65 not far away from Danzig.

---
Permissions in this forum:
You
cannot
reply to topics in this forum