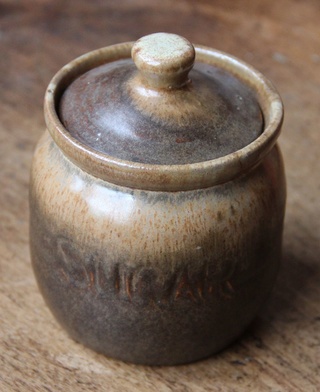 Similar shape to what is in the gallery but straight sides and "SUGAR" incised.
Was wondering what the status of these were at the moment? All are yellow clay flat bottomed except the traditional type first pot that has a rough foot ring but no mark. The second pot is 16 cm tall. The CC type frilly sugar is in a glaze I have not seen it in before. The jug is the same shape as what is in the Beach gallery but a little larger at 15 cm tall.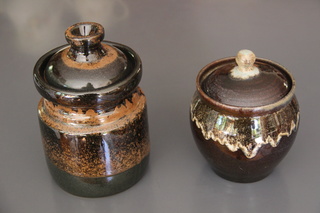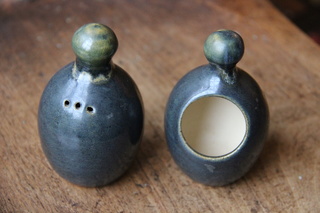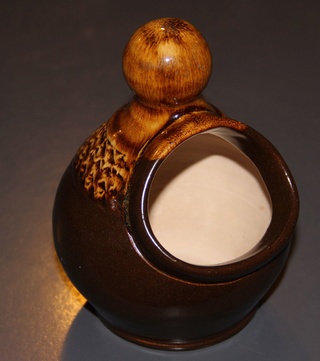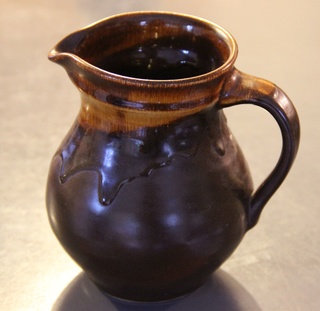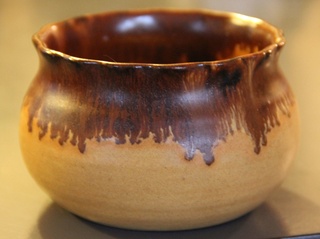 mike67




Number of posts

: 387


Location

: Wanganui


Registration date :

2014-02-22



We have established that they are all related Mike, but haven't been able to define who made what yet, because the clay and glazes and makers continued under new management.  Peter Lowrie who was Eva Beach's relative was also in business making pottery using the same glazes, clay and makers that he had learnt at Beach.
We are awaiting a breakthrough .....

Last edited by Ev on Sat 15 Jul - 15:00; edited 1 time in total
Great, thanks Ev. I was just checking that I hadn't missed something important about Beach et al.... as I was sorting some pieces I had lying around.

mike67




Number of posts

: 387


Location

: Wanganui


Registration date :

2014-02-22



Mike your collection of pots is most interesting. This really is an aaaagh!! situation with so many interrelated potteries and people:

In summary:
Beach Artware was first, established by Peter and Eva Beach in the early 1970s. All the orange ware appears to be Beach. Plus heaps of brown, green, blue and other shades we have not yet tracked down. The 'Traditional' mark and the "Beach Artware' mark are both Beach only. Most of the Beach ware is hand thrown and unmarked. Daniel Steenstra was the principal thrower at Beach, but there were up to five throwers working at one time and it is difficult to differentiate between their styles as they all tried to emulate Dan.

Peter Beach died in 1977 and Eva sold the business to Don McKenzie. McKenzie traded as Kiln Craft for a time then changed to Clay Craft. McKenzie retained some Beach staff, but others left. McKenzie purchased the entire Beach business so he owned the glazes and other recipes. Some Kiln Craft ware has very similar glazes to Beach Artware. Some - but not all - is marked Kiln Craft.

McKenzie did not have the technical skills to run the business so he got help from Ernie Cooper (ex Crown Lynn) who revamped the entire line. Ernie started there not long before the business was rebranded to Clay Craft. So far as I can see there is a quite clear differentiation between Clay Craft and Kiln Craft.

MEANWHILE Eva's stepbrother Peter Lowrie (who had been at Beach Artware) set up business, and Daniel Steenstra went to work for him. Hence, Lowrie's pots are very similar to some from Beach. Lowrie used the same sandy clay body which we see so often in Beach. His glazes are mainly that rich green and a deep brown. There is also a milky colour with brown highlights. The green and the milky colour are distinctive Lowrie, but at present I can't tell the difference between the Beach brown and the Lowrie brown. Since most of the pots at both Lowrie and Beach were made by Steenstra or one of his protegees, I don't know if we will ever get that one totally clear!

Meanwhile AGAIN - some Beach staff including Sharon Beach (who had been taught to throw by Dan Steenstra) moved to Parker Potteries, so we see Parker pots that are in shape and style very very similar to Beach Artware. Usually the distinctive Parker glaze makes it easy to tell the difference but once again there as some odd colours that could be either Beach or Parker.

AND - there are some pots that look like Dan Steenstra's which are higher fired than his work from Beach and Lowrie. His family have told me he worked in Christchurch briefly - I wonder if those high fired pots are from that period??

It is so interesting to see the powerful influence of Peter and Eva Beach in all these potteries. Wonderful people. Eva died a few months ago.

I don't have time to include pics at the moment but i will add to this when i can.





Maryr




Number of posts

: 1700


Location

: Whangarei


Registration date :

2011-11-17



Thanks Val. Some more of the brown and yellow stuff. Not sure if I have seen the chalice before...15 cm tall.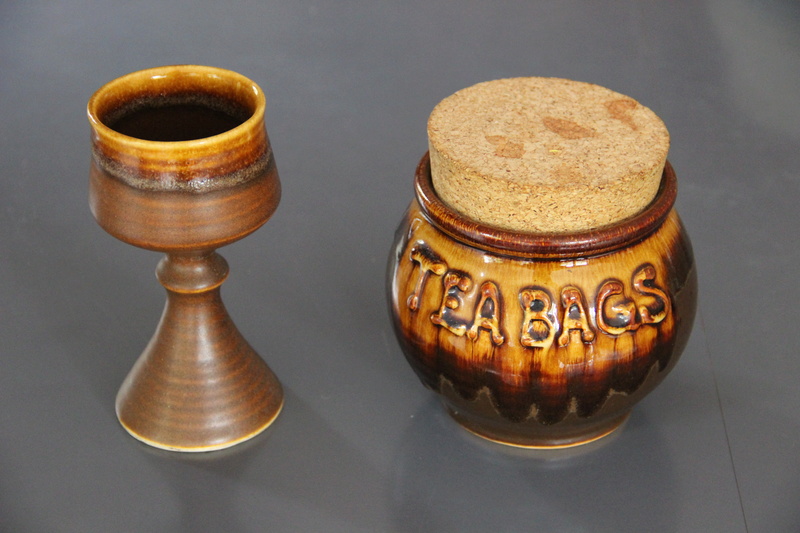 mike67




Number of posts

: 387


Location

: Wanganui


Registration date :

2014-02-22




Jeremy Ashford




Number of posts

: 3148


Location

: Whangarei, New Zealand


Registration date :

2010-09-11



Thanks Jeremy...bit slow today...I do have a bit of Stewart in that glaze...its's just so confusing...

mike67




Number of posts

: 387


Location

: Wanganui


Registration date :

2014-02-22




---
Permissions in this forum:
You
cannot
reply to topics in this forum