Mr Henderson Policeman dropped this Fake McAlpine jug when Heather, Manos and I went to identify the fake jugs and swans at the Henderson Police Station.
I have just finished using the Kintsugi method to put it back together, to show how to identify a fake.
Photo 1:
With the jug handle on the left the fake jug has the C in McAlpine with a line going behind it. I have highlighted this to show you. The Crown Lynn jugs don't have this line behind the C.
Photo 2:
The other way to tell if the jug is a fake is if there is no subtle rib down the outside of the handle. If it is is smooth and flat like this one that I have highlighted then it is a fake.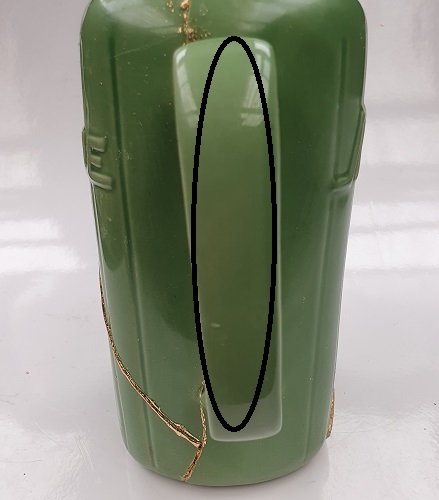 The colourglazes that were used are an amazing match, which I found quite scary.
These fake jugs were made in China and are still being sold around New Zealand as Crown Lynn. Caveat Emptor !!
Any questions please ask
---
Permissions in this forum:
You
cannot
reply to topics in this forum