Nova is very eyecatching!
and the backstamp..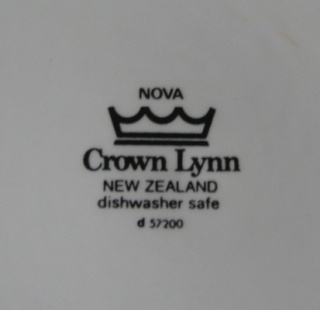 This pattern name was used for another pattern - Nova by Kelston Ceramics d645.
Crown Lynn used pattern names many times and at last we can show that on here... YAY!
Ev wrote:Nova is very eyecatching!

Sure is, another gem you found
Heh I even paid $1 for the big platter this time as there were no scratches on it ....
it really is such a dramatic cool design!
I'm trying to think of ways to display plates in my new house .....
It's a shame to have them in piles where you can only see the top pattern.
i scored a lot of plate hangers at a dunedin second hand store (10 for $10)

now my lounge is a plate museum. hanging is a great way to display plates, and cheaper than stands.


I was surprised to find that Nova has black saucers ...

http://www.trademe.co.nz/Browse/Listing.aspx?id=846337508

there are two Nova cups and black saucers on google, but I can't get the link
---
Permissions in this forum:
You
cannot
reply to topics in this forum