and their mark ..
See Edge City at their website. Well worth a look. They are ceramic artists but have been running this shop for a couple of decades ++.
It's just around the corner from our place in Auckland but I haven't been in for years.

http://www.edgecity.co.nz/

The link on the bottom right image gives a great history.

---------
3/12/16

I think the website has changed since I wrote the above, so my direction to the history doesn't appear to apply now. Click on "Bios" instead. Brief update soon.

Jeremy Ashford




Number of posts

: 3193


Location

: Whangarei, New Zealand


Registration date :

2010-09-11



As I was driving back to Grey Lynn Saturday afternoon I finally remembered to drop in to Edge City in Garnet Road. Although I have been into their store previously it was a long long time ago and I was not a collector of pottery back then.
What an amazing experience. Chuck and Louise were reaching the end of their day, which was also the last day of Louise's "It's Complicated" exhibition, but both took the time to chat about their work and pottery collecting, including our joint good fortune in obtaining New Zealand works by US master potter Byron Temple.
I must return again at my next opportunity because there is so much fun stuff to look at. Many examples of their work can be seen on their website. With time running out I photographed just one item, a pair of mugs, which I will just have to covet for a while, until I decide if I can afford them.
The pair tick so many boxes for me. Since I have been collecting mugs I have developed a particular fondness for tripod mugs, for face mugs, and for nudie mugs, a la 1940s Los Angeles potter Dorothy Kindell.
I do have a few multiple legged mugs including works by Brendan Adams and Aaron Scythe. Although I left it too late (by one day!) to buy an Ande Barrett Hegan painted-face mug I do have one by Flora Christeller, and hope one day to see similar from John Crawford. As for the mugs with nude figures as handles, I have quite a few, mostly Japanese imitations but including one genuine Kindell.
"Clinging to the Edge", Louise Rive
Louise's pair of mugs are a couple, one male one female with sculpted complete figures for handles and painted faces as decoration on the bowls.
Website photographs tell me the Edge City shop is open on Fridays and Saturdays for limited hours so if you are tempted to make a visit it may pay to check that they will be open first.
---------
art@edgecitynz.com
---------
22/2/17
Chuck and Louise "are in Canberra on an ANU artist's residency for the next wee while and will be back in early April". Between (anticipated) proceeds from the Crown Lynn Garage sale and selling my late mother's English dinner set I should be able afford these but will just have to be patient now.
---------
17/4/17
They're MY mugs now !!!
(With no apologies to The League of Gentlemen.
---------
21/4/17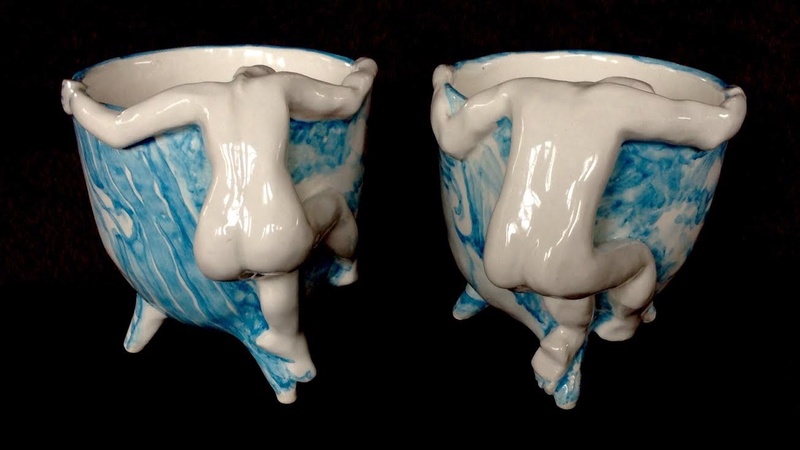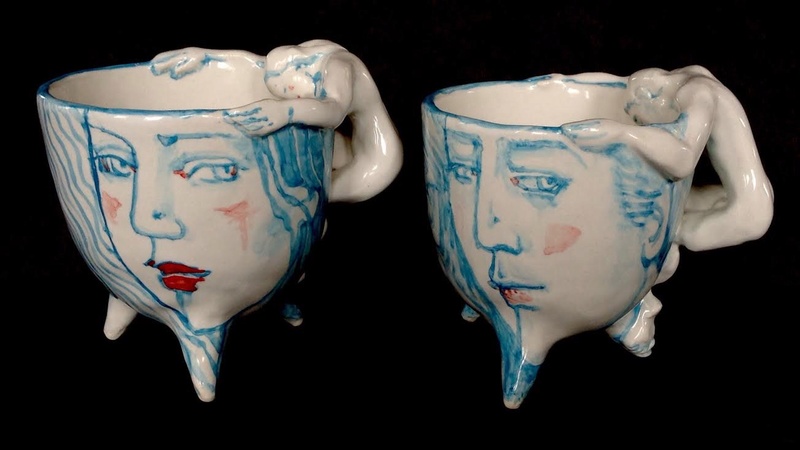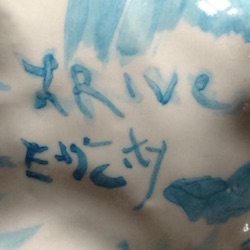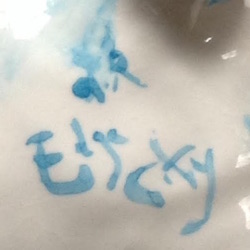 .

Jeremy Ashford




Number of posts

: 3193


Location

: Whangarei, New Zealand


Registration date :

2010-09-11



---
Permissions in this forum:
You
cannot
reply to topics in this forum